---
Editorial by Syah Bahari
Happy New Year 2017! Greetings from the SICOT Newsletter Editorial Board
First of all, I would like to thank the subscribers and readers of the SICOT Newsletter. The number of subscribers has increased over the last few years and we currently have over 55,000. Since April 2014, we have been publishing the SICOT e-Newsletter every 2 months namely in February, April, June, August, October and December. The printed SICOT Newsletter is currently being published quarterly and it is supplied together with the International Orthopaedics journal, which is our society's official journal. Read more...
---
SICOT Events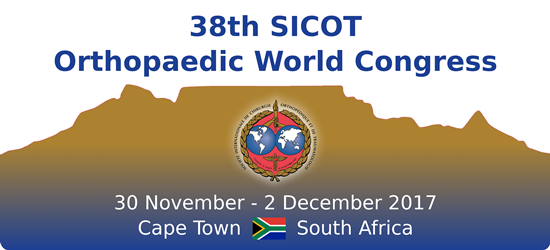 Online abstract submission is open here.
Due to high demand, the deadline has been extended to 23 March 2017!

Online registration is open here.

7th SICOT Educational Day
The aim of the Educational Day, which will be held on Wednesday, 29 November, is to provide a comprehensive review course for the residents and an evidence-based update for the practising surgeons on a specific theme at each SICOT Congress. The format of the day consists of four to six short lectures in each section followed by ample time for case discussions and debates and ample breaks. The theme for the Cape Town meeting is 'The Hip' and the day will focus on all the elements of hip surgery right from anatomy and surgical approaches to complex case discussions. Read more...

24th Cooperative Course for Polytrauma Management - Beyond ATLS
International experts in traumatology will be sharing their experience during this course which will be held on Wednesday, 29 November. By partnering with SICOT the registration fee for this year's course has been reduced to EUR 50. Read more...

Registration for the Diploma Examination is now open!​ The 15th SICOT Diploma Examination will take place on Wednesday, 29 November and will consist of a written part and an oral part. Read more...

Several awards will be granted at the Congress to reward surgeons for their scientific achievement or to help young doctors attend the Congress by supporting them financially. Read more...

Don't miss the exciting African Night which will include a dinner and entertainment. The Welcome Reception will be a great opportunity to meet other orthopaedic surgeons from around the world. Read more...
*************************************************************************
It is our great pleasure to announce this educational event organised by SICOT.
The course is designed for practising surgeons who have an interest in shoulder surgery. The course will provide an understanding of shoulder surgery across Arthroscopy, Trauma, and Arthroplasty. During the 3-day event, participants will learn, discuss and debate a highly diverse agenda on all aspects of shoulder surgeries. Case discussions and highly practical hands-on cadaveric workshops will enable participants to learn from the experts' rich experiences, tips, and tricks.
We have an excellent venue in Bangkok and participants will enjoy both the educational content and the Thai hospitality.
Frankie Leung (Hong Kong)
SICOT Cadaveric Course Director

Tak Man Wong (Hong Kong) & Khongkhet Riansuwan (Thailand)
Course Chairpersons
---
Courses by SICOT Members

CTLS course in Assiut, Egypt - SICOT's Mission to Improve Trauma Care
​We would like to welcome you to the Comprehensive Trauma Life Support Course (CTLS), which will be organised by the Orthopaedics Department, Assiut University in Assiut, Egypt, on 28 and 29 April 2017, with the strong contribution of SICOT. It is an initiative of the International Trauma Anesthesia and Critical Care Society (ITACCS). The CTLS course is an authentic course on acute trauma management being organised for the first time in the Middle East and Africa. The course will be delivered over a 2-day period and will include case-based lectures, evidence-based discussions and skill stations in a very interactive style. This course is part of SICOT's plan to expand CTLS and trauma care around the world. For more information, please visit www.target-conference.com / www.facebook.com/Target.Conference or e-mail [email protected]
---
SICOT News
Specialty Orthopaedic Review Course (SORC) 2016
by Vaibhav Bagaria
SORC 2016 was held between 8 and 9 October 2016 at the Convention Centre of Sir HN Reliance Foundation Hospital in Mumbai, India, under the aegis of SICOT India. This year the theme of the course was 'Simplifying Complexities' and the experts from all around the country and the city of Mumbai ensured that the audience and participants understood the fundamentals in a simple and lucid manner. Being a specialty course the sessions were subdivided into Paediatrics/Spine/Hip and Knee Replacement and Sports Traumatology. Two special sessions - Mann Ki Baat and Therapeutic Conundrum - ensured that the audiences could engage with faculties on various planes: academic, professional and also personal. Read more...

Asia Pacific Regional Orthopaedic Course (APROC) 2017
by Gowerdhan Ingale
​The Asia Pacific Regional Orthopaedic Course (APROC) 2017 was arranged by the Pune Orthopaedic Society (POS) and SICOT India teams on 7 and 8 January 2017 at Hotel Grand Sheraton, Pune. The theme was 'Orthopaedics Made Easy'. Read more...
---

SICOT Global Network of e-Learning - SIGNEL
Article of the Month: International Orthopaedics Journal
Comparison of intramedullary nail, plate, and external fixation in the treatment of distal tibia nonunions
Nabil A. Ebraheim, Brad Evans, Xiaochen Liu, Mina Tanios, Marshall Gillette & Jiayong Liu
Purpose: The purpose of this study was to examine time to union of extra-articular distal tibia nonunions based on fracture type and fixation methods: intramedullary nail (IMN), plate osteosynthesis (PO), and external fixation (EF). Read more...

Article of the Month: SICOT-J
The Paley ulnarization of the carpus with ulnar shortening osteotomy for treatment of radial club hand
Dror Paley
Recurrent deformity from centralization and radialization led to the development in 1999 of a new technique by the author called ulnarization. This method is performed through a volar approach in a vascular and physeal sparing fashion. It biomechanically balances the muscle forces on the wrist by dorsally transferring the flexor carpi ulnaris (FCU) from a deforming to a corrective force. The previous problems of a prominent bump from the ulnar head and ulnar deviation instability were solved by acutely shortening the diaphysis and by temporarily fixing the station of the carpus to the ulnar head at the level of the scaphoid. This is the first report of this modified Paley ulnarization method, which the author considers a significant improvement over his original procedure. Read more...
---
History of Orthopaedics
Discipline of Orthopaedia
by Bassel El-Osta
In this article, I would like to write about what I love most: the discipline of orthopaedia. I was always curious, as a young surgeon, to find out where our discipline originated from and the evolution of the discipline until what it is today. There is a lot of information available, but I will summarise here the most interesting facts which influence our daily practice. Read more...
---
Update in Orthopaedics
Comparative aspects of ilioinguinal approach and its variants in the surgical treatment of acetabular fractures
Comment by Pavel Volotovski
Fractures of the acetabulum are one of the most difficult conditions to manage in orthopaedic surgery. The ability to reduce fragments anatomically is dependent on the ability of the surgeon to have exposure of the surgical field and, of course, it is determined by the surgical approach. The authors raised a highly curious issue and tried to find out if their combined approach could be at least non-inferior to the ilioinguinal approach.​ Read more...
---
Fellowship News
SICOT/APOA Arthroplasty Fellowship 2016 Report
by Christian Weber
The Hip and Knee Sections of APOA (Asia Pacific Orthopaedic Association) and SICOT initiated this great fellowship programme so that young arthroplasty surgeons could visit orthopaedic centres of excellence within Australia in 2016. Read more...

NEW! APSS/SICOT Spine Travelling Fellowship
​Every year, SICOT and APSS (Asia Pacific Spine Society), the Spine Section of the APOA, will offer two selected candidates the possibility to travel to renowned centres in Asia. The travel and accommodation costs will be covered by SICOT and APSS. Deadline: 15 March 2017 - Read more...

NEW! SICOT India Fellowship Programme at Shanta Spine Institute in Nagpur, India
The SICOT India Fellowship Programme added another centre of excellence for training in the field of Spine Surgery. The Shanta Spine Institute SICOT India Fellowship is a year-long fellowship programme offered to postgraduates in orthopaedics who intend to specialise in Spine Surgery. Located in the centre of the country, the centre is a dedicated Spine Unit with more than 350 cases per year. The fellowship programme offered at the centre is a good mix of hands-on training, academics and research in Spine. The fellows will be provided a basic stipend and at the end of their tenure, SICOT India will provide a certificate of completion of training after receiving the fellow and supervisor reports. Interested candidates may contact Dr Manoj Singrakhia, Chair of the programme, at [email protected].
---
Editorial Department
Editorial Secretary: Hatem Said
Associate Editors: Syah Bahari & Mohamed Sukeik
Editorial Production: Linda Ridefjord
Editorial Board: Ahmed Abdel Azeem, Bassel El-Osta & Pavel Volotovski
SICOT aisbl, Rue de la Loi 26-b.13, 1040 Brussels, Belgium
Tel.: +32 2 648 68 23 | E-mail: [email protected] | Website: www.sicot.org
---
Disclaimer: Some of the views and information expressed in this e-Newsletter include external contributors whose views are not necessarily those of SICOT. SICOT is not responsible for the content of any external internet sites.