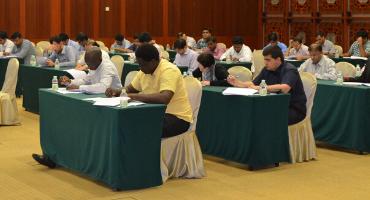 In 2003, for the first time, SICOT held an examination for orthopaedic trainees during its Annual International Conference in Cairo, Egypt. The overall results of this first experience were very encouraging, and a SICOT Diploma Examination has been held every year since then.
The examination aims to set a global standard for examination in Trauma & Orthopaedics. The exam tests the core clinical knowledge and competence of the orthopaedic candidate or surgeon in practice. The syllabus for the exam is broad, covering the whole breadth of Trauma & Orthopaedics, which can be applied globally. The candidate must be able to demonstrate clinical knowledge and competence appropriate to orthopaedic and trauma surgery across the whole breadth. The syllabus can be downloaded here (pdf) and is broadly divided into the following four domains:
Basic Sciences – including Oncology & Infection

Trauma

Adult Pathology – Spine and Lower Limb

Upper Limb and Paediatric Orthopaedics
The Diploma Examination consists of a written part and an oral part. The written part is comprised of 100 multiple choice questions and lasts two hours. For the oral part, each candidate is examined by two examiners in four separate slots lasting two hours in total.
Candidates must be members of SICOT or in the process of applying for membership at the time of registration.
Successful candidates are presented with a diploma.
SICOT Diploma Examinations since 2003
1

Cairo, Egypt

10 September 2003

2

Havana, Cuba

25 & 26 September 2004

3

Istanbul, Turkey

2 & 4 September 2005

4

Buenos Aires, Argentina

24 August 2006

Marrakech, Morocco

27 August 2007

Hong Kong, China

24 August 2008

Pattaya, Thailand

29 October 2009

Gothenburg, Sweden

31 August 2010

Prague, Czech Republic

5 & 6 September 2011

Dubai, United Arab Emirates

26 & 27 November 2012

Hyderabad, India

15 & 16 October 2013

Rio de Janeiro, Brazil

19 November 2014

Guangzhou, China

15 & 16 September 2015

Rome, Italy

8 & 9 September 2016

Cape Town, South Africa

29 November 2017

Montreal, Canada

10 October 2018

Muscat, Oman

4 December 2019

Kuala Lumpur, Malaysia

13 August & 29 September 2022

SICOT Diploma Examination & Review Course

Mumbai, India

4-8 September 2019
Further information
If you have any questions about the SICOT Diploma Examination, please send an e-mail to: [email protected]