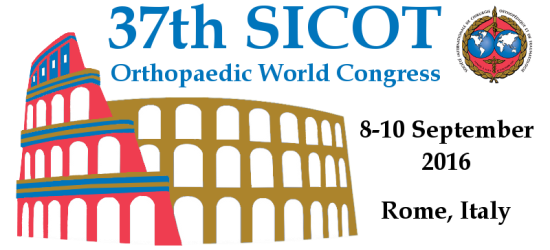 Diploma Examination
Successful Candidates
Imran Ali
Abdulhannan Ashraf
Adrian Jesmond Cassar-Gheiti
Sudhir Kumar Chowdhary
Husam Elbana
Ahmed Medhat Elkhashab
Prasad Ellanti
Ahmed Elsaka
Sameh Fayez Fahim Girgis
Samir Hakeem
Mohammad Omairul Haque Israr
Rakesh John
Mohamed Kamal
Niaz Hussain Keerio
Vishesh Khanna
Prasoon Kumar
Naveen Lokikere

Subramaniam Macherla Haribabu
Mithun Manohar
Saqeb Mirza
Obiora Nonso Muoghalu
Niranjanan Raghavn Muralidharagopalan
Theophil Chunteng Nana
Oliver Ptallah
Bhaskara Kanakeshwar Raja
Akash Saraogi
Ahmed Shaat
Harsh Singh
Pratham Surya
Kar Hao Teoh
Terin Thomas
Abhishek Vaish
Arul Jothi Vaithilingam
Venkata Vakamallu
Naveen Lokikere and Akash Saraogi were granted the German SICOT Fellowships, offering them the opportunity to visit well-known German orthopaedic centres for a period of four weeks. The fellowship is kindly provided by the German Section of SICOT.
General Information
The 14th SICOT Diploma Examination will take place in Rome, Italy, in September 2016 and will consist of a written part and an oral part.
The results of the examination will be announced at the Closing Ceremony on Saturday, 10 September 2016, and successful candidates will be presented with a diploma.
Click here to download the Syllabus for the SICOT Diploma Examination
Eligibility Requirements
The SICOT Diploma Examination is aimed at young orthopaedic surgeons in training. To be eligible, candidates must:
register online using the form below;

provide their CV;

provide a letter from their Head of Department specifying that they have had 4 years of medical practice since obtaining their medical degree and that they are actively engaged in an orthopaedic training programme;

be members of SICOT or in the process of applying for membership at the time of registration and their 2016 membership dues must be paid. For more information about SICOT membership application, please click here;

register and pay the Congress registration fee if they are selected for the exam.
A judging panel will review all applications and reserves the right to refuse any application.
IMPORTANT: A candidate will only be considered eligible once he/she has registered online and the SICOT Head Office has received (at [email protected]) his/her CV, Head of Department's letter, SICOT membership application form (unless already a SICOT member) and full payment of the 2016 membership fee.

Dates & Deadlines
Registration will open on 26 February 2016.
Application and registration deadline: 15 May 2016
Notification of selection: 3 June 2016
Exam Registration Fees
| | | |
| --- | --- | --- |
| Registration fee (except countries listed below) | | EUR 854 (including 22% VAT) |
| Reduced fees for low income countries: Afghanistan, Angola, Bangladesh, Benin, Bhutan, Burkina Faso, Burundi, Cambodia, Cape Verde, Central African Republic, Chad, Comoros, Democratic Republic of Congo, Djibouti, Equatorial Guinea, Eritrea, Ethiopia, Gambia, Guinea, Guinea-Bissau, Haiti, Kiribati, Laos, Lesotho, Liberia, Madagascar, Malawi, Maldives, Mali, Mauritania, Mozambique, Myanmar, Nepal, Niger, Rwanda, Samoa, São Tomé and Príncipe, Senegal, Sierra Leone, Solomon Islands, Somalia, Sudan, Tanzania, Togo, Tuvalu, Uganda, Vanuatu, Yemen, Zambia | | EUR 610 (including 22% VAT) |
Payment
The eligible candidates will be asked to pay the registration fee at a later date. The registration fee for the exam does NOT include registration for the Rome Congress. The exam will take place during the Congress so candidates must pay the congress registration fee to have access to the exam hall. To register for the Congress, please click here.

Cancellation Policy
Cancellations received from 16 June 2016 to 30 June 2016 will secure a refund of 70% of the total amount paid.

Cancellations received from 1 July 2016 to 15 July 2016 will secure a refund of 50% of the total amount paid.

No refund will be made under any circumstances for cancellations received on or after 16 July 2016. This includes cancellations made due to visa refusal. Candidates are therefore advised to start the visa application process well in advance.

Postponing the exam to the following year is only allowed once and on a case-by-case basis. The deadline for postponement requests is 16 July 2016.


Contact
For more information about the SICOT Diploma Examination, please send an e-mail to [email protected].