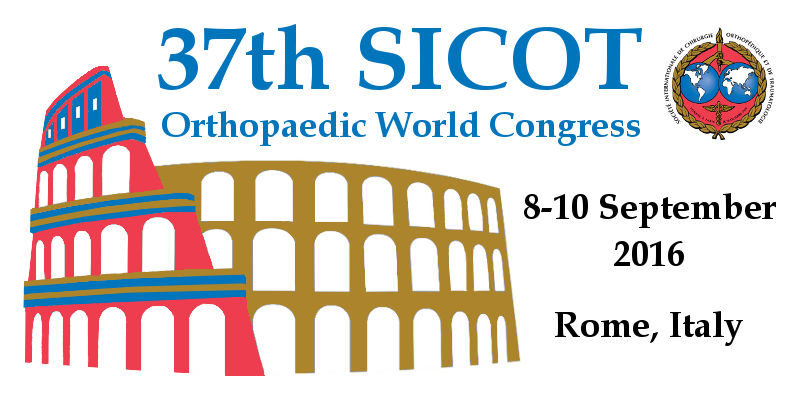 Thank you for your participation in the Congress. See you next year in Cape Town!

---
Scientific Programme

The most up-to-date information about the scientific programme and abstracts can be found here.

Registration

Registration is closed!

For detailed information about registration, please click here.

European CME Credits (ECMEC)

The '37th SICOT Orthopaedic World Congress' is designated for a maximum of (or 'for up to') 21 hours of European external CME credits. Read more...

Awards

The awards available to help young surgeons attend the Congress and other prizes can be found here.

Diploma Examination

Registration is now closed!

The 14th SICOT Diploma Examination will take place in Rome in September 2016 and will consist of a written part and an oral part. Read more...

Social Programme

Click here for details about the Papal General Audience, Opening Ceremony, Welcome Reception, Congress Dinner and Closing Ceremony.

Sports Programme

Click here for details about the Golf Tournament.

Accommodation

Information about hotels and reserving a room in Rome can be found here.

About Rome

Click here to get useful information about the city of Rome and what it has to offer.

Exhibition & Sponsorship

Don't miss out on this unique opportunity to promote your products and services to leading international orthopaedic surgeons, traumatologists and specialists in related fields. Click here for more information.

Visas

For information about visa requirements for entry into Italy, please click here.
Welcome Message

Dear Colleagues and Friends,
Welcome to Rome for the 37th SICOT Orthopaedic World Congress!
After 80 years, SICOT returns to Italy: in 1936, under the Presidency of Prof Vittorio Putti, SICO held its 3rd Triennial Meeting in Bologna and Rome and from then on became known as SICOT by adding the T for Traumatology to its name.
Since then the Society has grown significantly and advanced into more regions around the globe. Its Congress has been held in different countries "to bring together all those devoted to orthopaedics throughout the world". Now after so many years the Society has decided that Italy should host its Congress again and it is for me, as the President of the Congress, a great pleasure to invite all of you, from so many different countries, to Rome, following the dreams of the Society's founders. Many years have passed since they decided to get together "in order to contribute to a more rapid progress and a wider spreading of orthopaedic studies". Techniques, procedures and technologies have changed dramatically and they continue to change, making it fundamental to interact with other orthopaedic surgeons from diverse cultures and with different experiences to constantly improve our knowledge.
The meeting will cover all the most debated and controversial issues in different fields of orthopaedics, both for trauma and reconstruction, with symposia, instructional courses, podium presentations and invited lectures. Particular attention will be given to young orthopaedic surgeons with dedicated sessions aimed at improving not only their knowledge but also their skills in surgical procedures with "hands-on laboratories". All members of the scientific committee will be dedicated to putting together a very comprehensive and varied scientific programme which will make the Congress unforgettable and worth attending for all delegates.
The social programme will allow you to enjoy the "Eternal City" with its thousands of years of history, art and architecture. You will be able to create amazing memories at breathtaking venues of the cradle of culture: the Colosseum, Vatican City, Trevi Fountain and the Spanish steps are only some of the incredible masterpieces that will be included in tours for delegates and accompanying persons.
A golf tournament will be held at the oldest Italian golf club with more than 100 years of history and located in the beautiful countryside outside the city.
For those who wish to do some more travelling before or after the Congress, Italy has some of the most important historical and tourist sites: Sicily with Taormina and Ragusa, Naples with Pompeii and Capri, Florence with Siena and San Gimignano, Venice and Verona will offer you a wealth of extraordinary sights and make the 37th SICOT Congress really memorable.
I look forward to seeing you all in Rome.
Francesco Falez
Congress President
---
Programme
---
Dates & Deadlines
Monday, 15 February 2016
Friday, 26 February 2016
Monday, 9 May 2016
Sunday, 15 May 2016
Monday, 23 May 2016
Monday, 23 May 2016
Friday, 3 June 2016
Tuesday, 7 June 2016
Wednesday, 15 June 2016
to be confirmed
to be confirmed
Monday, 1 August 2016
Monday, 8 August 2016
Thursday, 1 September 2016

Abstract submission deadline
Congress and Diploma Examination registration opens
Notification of abstract acceptance/refusal
Diploma Examination application and registration deadline
Deadline to change the presenting author of an abstract
Registration and payment deadline for presenting authors
Notification of Diploma Examination selection
Deadline to apply for SICOT membership & benefit from early registration fee for members
Early registration deadline
E-poster upload links sent to registered presenting authors
Deadline to upload e-posters
Deadline to apply for SICOT membership & benefit from normal registration fee for members
Normal registration deadline
Deadline to apply for SICOT membership & benefit from on-site registration fee for members
---
Contact
Congress Secretariat

SICOT aisbl
Rue de la Loi 26 - b.13
1040 Brussels | Belgium

Tel.: +32 2 648 68 23
E-mail: [email protected]

Commercial Agent

Lina Salvati
Linsa Inc.
Montreal | Canada

Tel.: +1 514 924 3476 / +1 450 458 1696
E-mail: [email protected]
Skype: ripley9423

Accommodation

AIM Italy - Milan Office
Via G. Ripamonti 129
20141 Milan | Italy

Tel.: +39 02 5660 11
E-mail: [email protected]
Please visit this page regularly for updated information on Rome OWC 2016