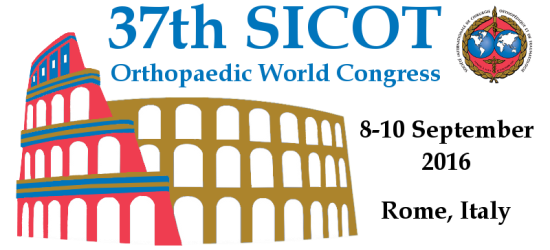 On-site Information
Congress Venue
Rome Marriott Park Hotel & Convention Centre
via Colonnello Tommaso Masala, 54
00148 Rome
Italy
Tel.: +39 06 658821
Website: www.marriott.com/hotels/travel/romau-rome-marriott-park-hotel
Shuttle buses
SICOT Secretariat
The SICOT Secretariat is located in Bernini 2.
Opening hours (subject to change):
Wednesday, 7 September
Thursday, 8 September
Friday, 9 September
Saturday, 10 September

08:00-10:00 / 14:00-17:30
09:00-11:00 / 14:00-16:00
14:00-17:30
08:00-12:00
Registration Area
The Registration Area is located in the main entrance lobby.
Opening hours:
Wednesday, 7 September
Thursday, 8 September
Friday, 9 September
Saturday, 10 September

07:30-18:00
07:30-18:00
07:30-18:00
07:30-12:00
After picking up their badge, participants can access the Tiziano Foyer where the following services are provided:
Congress Bag pick-up

Tickets for Social Events & Courses

Tours & Accommodation desk

Exhibitors' desk
On-site Registration Fees
Registration fees for the Congress include:
access to the

Opening Ceremony
Scientific Sessions
Exhibition Hall
e-Poster Area
AAOS Orthopaedic Video Theater
Closing Ceremony

Congress Bag including notebook and pen
Final Programme
Pocket programme at a glance
21 European CME Credits
Certificate of Attendance
The fees do not include:
tickets for the Educational Day, 19th Cooperative Course for Polytrauma Management, Welcome Reception, Congress Dinner, and Golf Tournament
lunches and beverages
optional tours
accommodation costs
Badges
All registered participants are kindly requested to wear their name badge at all times. Only participants who are wearing their badge will be admitted to the scientific sessions.
Please note that accompanying persons will not be admitted to the scientific sessions.
Name badges are colour-coded as follows:
Blue
Yellow
Red
Green
Orange
Black

Delegates
VIP
Faculty
Exhibitors
Clubfoot Congress Delegates
Staff
Certificates of Attendance
The Certificates of Attendance will be available at the pre-registered desks in the Registration Area as from Friday, 9 September. A hostess will scan the badge barcode and the certificate will be printed automatically with the participant's name.
Language
The official language of the Congress is English. There will be no simultaneous translation.
Presentation Guidelines
Podium Presentations
All speakers are asked to hand in their presentation on a USB stick to the Speaker Preview Room at the very latest two hours before the session in which the presentation is scheduled to take place. The organisers cannot guarantee projection of presentations handed in later on.
The Speaker Preview Room is located in Bernini 1 at the Rome Marriott Park Hotel & Convention Centre and will be open during the Congress hours.
Computers will be available in the Speaker Preview Room for last-minute changes. The technicians will make sure that your presentation will be visible in the correct session hall. All session halls have a technician to assist you and are equipped with a laptop (PC) for power point projection. Speakers will not be allowed to use their own laptops during their presentations.
At the beginning of their presentation, all speakers must state to the audience that they are aware of and have disclosed any potential conflicts of interest or support that might cause a bias in their presentation.
Certificates of Free Paper Presentation and Short Free Paper Presentation will be handed out upon request in the Registration Area. A certificate will be available for each presenting author and only ONE certificate will be issued per abstract. Certificates of Poster Presentation will be sent by email to the presenting author after the Congress.

e-Posters
The e-posters will be available during the entire Congress via computers located in the Exhibition Hall (Tiziano Room). The list of e-posters can be downloaded from the SICOT website at www.sicot.org/rome-scientific-programme.
Scientific Programme & Abstracts
The most up-to-date scientific programme is available to download on your smartphone or laptop during the Congress here. The abstracts of Free Paper, Short Free Paper, and e-Poster presentations are also published here.
Exhibition
The Exhibition is situated in the Tiziano Room & Foyer at the Rome Marriott Park Hotel & Convention Centre.
Opening hours:
Thursday, 8 September
Friday, 9 September
Saturday, 10 September
08:30-17:30
08:30-17:30
08:30-12:00
For more information, please click here.
AAOS Orthopaedic Video Theater
Peer-reviewed, high-quality, non-biased video presentations feature topics from anatomy and arthroscopy to demonstrations of cutting-edge techniques. 10 subspecialties are represented and videos from renowned experts and innovators around the globe are provided in this Video Theater in the Exhibition Hall.
Many of the orthopaedic surgeons who participate in the peer review process are pioneers in their field. Videos are reviewed by topic experts, providing you with valuable information, as well as pearls and pitfalls you need to improve patient outcomes.
Each video includes indications, pre- and post-operative images, references, and many include outcomes information. The videos provide you with perspective from the surgeon's point-of-view, and from the surgeon's side of the table.
Internet
Free WiFi is available in the lobby area of the Rome Marriott Park Hotel.
Tour Desk
Specially designed classic route packages and customised services with competitive and attractive prices are selected for delegates. To ensure that you will enjoy tours in Rome, please visit the tour desk in the Registration Area.
Dining at the Rome Marriott Park Hotel & Convention Centre
Brasserie Restaurant (international food)
Great hall area
Open for breakfast, lunch and dinner

Lobby Bar (sandwiches)
Main hall of the hotel
Open for breakfast, lunch and dinner
Mobile Phones
Participants are kindly requested to keep their mobile phones switched off or muted in the meeting rooms while sessions are being held.
Smoking Policy
Smoking is only allowed in designated areas outdoors.
Insurance & Liability
By registering for the Congress, participants agree that neither the Organising Committees nor the Congress Secretariat assume any liability whatsoever. The organisers will not be responsible for the loss or damage of personal belongings; for any changes in the programme due to external or unforeseen circumstances; or for any individual, medical, travel or personal insurance. While every attempt is made to ensure efficient, trouble-free hospitality, including hotel accommodation, sightseeing and tours, participants are advised that no liability accrues to the organisers in the event of any necessary modifications, including change in itineraries for tours due to delays or cancellations of flights or other exigencies beyond the organisers' control.