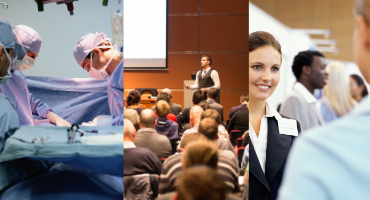 Every year, SICOT holds a congress which attracts thousands of clinicians and researchers from all over the world. Scientific papers and lectures are presented in the traditional fields; world-class invited speakers provide contemporary thought on the latest concepts as well as on conservative and surgical treatment methods. They provide a forum for presentation of original work and for education.
43rd SICOT Orthopaedic World Congress
21-23 November 2023
Cairo, Egypt
44th SICOT Orthopaedic World Congress
25-27 September 2024
Belgrade, Serbia
---
Congress Guidelines
Any National Representative may, with the support of his/her National Orthopaedic Society, invite SICOT to hold its annual Orthopaedic World Congress at a site in his/her country. Applications for meetings should be received in general 4 years prior to the event.
---
Past SICOT Congresses
42nd SICOT Orthopaedic World Congress
28-30 September 2022
Kuala Lumpur, Malaysia
41st SICOT Orthopaedic World Congress
15-18 September 2021
Budapest, Hungary
40th SICOT Orthopaedic World Congress
4-7 December 2019
Muscat, Oman
39th SICOT Orthopaedic World Congress
10-13 October 2018
Montreal, Canada
38th SICOT Orthopaedic World Congress
30 November-2 December 2017
Cape Town, South Africa
37th SICOT Orthopaedic World Congress
8-10 September 2016
Rome, Italy
36th SICOT Orthopaedic World Congress
17-19 September 2015
Guangzhou, China
XXVI SICOT Triennial World Congress combined with the 46th SBOT Annual Meeting
19-22 November 2014
Rio de Janeiro, Brazil
34th SICOT Orthopaedic World Congress
17-19 October 2013
Hyderabad, India
Combined 33rd SICOT & 17th PAOA Orthopaedic World Conference
28-30 November 2012
Dubai, United Arab Emirates
SICOT 2011 XXV Triennial World Congress
6-9 September 2011
Prague, Czech Republic
Seventh SICOT/SIROT Annual International Conference
combined meeting with the Swedish Orthopaedic Association (SOF)
31 August - 3 September 2010
Gothenburg, Sweden
Sixth SICOT/SIROT Annual International Conference
combined meeting with the Royal College of Orthopaedic Surgeons of Thailand (RCOST)
29 October - 1 November 2009
Pattaya, Thailand
SICOT/SIROT 2008 XXIV Triennial World Congress
24-28 August 2008
Hong Kong
---
SICOT Congresses and their Presidents
| | | |
| --- | --- | --- |
| 1930 Paris | Sir Robert Jones† (United Kingdom) | TWC |
| 1933 London | Gabriel Nové-Josserand† (France) | TWC |
| 1936 Bologna / Rome | Vittorio Putti† (Italy) | TWC |
| 1948 Amsterdam | Henry Meyerding† (United States) | TWC |
| 1951 Stockholm | Richard Scherb† (Switzerland) | TWC |
| 1954 Bern | Etienne Sorrel† (France) | TWC |
| 1957 Barcelona | José Valls† (Argentina) | TWC |
| 1960 New York | Joseph Trueta† (United Kingdom) | TWC |
| 1963 Vienna | Philip D. Wilson† (United States) | TWC |
| 1966 Paris | Robert Merle d'Aubigné† (France) | TWC |
| 1969 Mexico City | Juan Farill† (Mexico) | TWC |
| 1972 Tel Aviv / Jerusalem | Ernst Spira† (Israel) | TWC |
| 1975 Copenhagen | Knud Jansen† (Denmark) | TWC |
| 1978 Kyoto | Tamikazu Amako† (Japan) | TWC |
| 1981 Rio de Janeiro | Dagmar Chaves† (Brazil) | TWC |
| 1984 London | John Sharrard† (United Kingdom) | TWC |
| 1987 Munich | Heinz Wagner† (Germany) | TWC |
| 1990 Montreal | Charles Sorbie† (Canada) | TWC |
| 1993 Seoul | Chung-Bin Chu† (Korea) | TWC |
| 1996 Amsterdam | Ben Veraart (Netherlands) | TWC |
| 1999 Sydney | Neal L. Thomson (Australia) | TWC |
| 2001 Paris | Laurent Sedel (France) | AIC |
| 2002 San Diego | Chadwick Smith† (United States) | TWC |
| 2003 Cairo | Galal Zaki Said (Egypt) | AIC |
| 2004 Havana | Rodrigo Alvarez Cambras (Cuba) | AIC |
| 2005 Istanbul | Ridvan Ege† (Turkey) | TWC |
| 2006 Buenos Aires | Bartolome T. Allende (Argentina) | AIC |
| 2007 Marrakech | Thami Benzakour (Morocco) | AIC |
| 2008 Hong Kong | Keith Luk (Hong Kong) | TWC |
| 2009 Pattaya | W. Laohacharoensombat (Thailand) | AIC |
| 2010 Gothenburg | Björn Rydevik (Sweden) | AIC |
| 2011 Prague | Tomas Trç (Czech Republic) | TWC |
| 2012 Dubai | Hashem Alkhatib (United Arab Emirates) | OWC |
| 2013 Hyderabad | Ashok Johari (India) | OWC |
| 2014 Rio de Janeiro | José Sérgio Franco (Brazil) | TWC |
| 2015 Guangzhou | Guixing Qiu (China) | OWC |
| 2016 Rome | Francesco Falez (Italy) | OWC |
| 2017 Cape Town | Doron Frantzen (South Africa) | OWC |
| 2018 Montreal | Julio Fernandes (Canada) | OWC |
| 2019 Muscat | Mohamed Darwish (Oman) | OWC |
| 2021 Budapest | Laszlo Bucsi (Hungary) | OWC |
TWC: Triennial World Congress - AIC: Annual International Conference - OWC: Orthopaedic World Congress