SICOT News
Asia Pacific Regional Orthopaedic Course (APROC) 2017
Gowerdhan Ingale
SICOT Active Member - Pune, India
The Asia Pacific Regional Orthopaedic Course (APROC) 2017 was arranged by the Pune Orthopaedic Society (POS) and SICOT India teams on 7 and 8 January 2017 at Hotel Grand Sheraton, Pune. The theme was 'Orthopaedics Made Easy'.
A complete one and half day programme was filled with live academics. It was a great learning experience for the 130 delegates and 44 faculty members who participated in APROC. 15 different super speciality and trauma sessions were focused on problems commonly encountered by practising orthopaedic surgeons. Two debates added spice to academics and a non-academic talk on 'Life Beyond Orthopaedics' made everyone introspect. Most of the delegates and faculty participated in case discussions which happened at the end of every session. Many newer modalities and recent advances were shared with the audience by the faculty. Plenary lectures on the 'Best Approach for Modern Orthopaedic Problems' and on 'Pelvi Acetabular Fractures' and a session on 'Innovations and Research in Orthopaedics' were the highlights of the course which also included a best paper session and a quiz session. The sessions were very interactive and well discussed.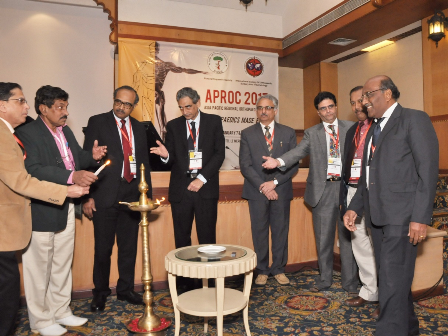 Inauguration of APROC 2017
The live telecast on Facebook helped more than 1,000 orthopaedic surgeons watch the scientific proceedings and comment on it.
We thank Dr A.N. Johari (President of SICOT India) under whose able guidance we could plan this meeting. I wish to thank the SICOT India and POS teams, the delegates, and the exhibitors for their positive response. Dr Kandiah Raveendran from Malaysia and the many faculty members from different parts of the country deserve our special thanks for their participation in APROC 2017.