Fellowship News
SICOT/APOA Arthroplasty Fellowship 2016 Report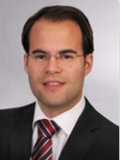 Christian Weber
SICOT Active Member - Bonn, Germany
The Hip and Knee Sections of APOA (Asia Pacific Orthopaedic Association) and SICOT initiated this great fellowship programme so that young arthroplasty surgeons could visit orthopaedic centres of excellence within Australia in 2016.
I was honoured to visit Professor de Steiger in Melbourne, who is not only a distinguished arthroplasty surgeon with more than two decades of experience, but also Deputy Director of the National Joint Replacement Registry. Therefore, it was a pleasure to learn from his tremendous surgical expertise in both joint preserving surgery as well as primary and revision joint arthroplasty. Furthermore, it was a unique opportunity to discuss management strategies (e.g. periprosthetic fractures) with an expert who has this immense scientific activity and knowledge. While in Germany the Joint Registry has just started, it was great to see how registry data has already become implemented into daily clinical practice in Australia.
Being most interested in hip and knee surgery, Prof de Steiger made sure I was involved in the most complex cases in the operating theatre every single day. Having said this, I also have to thank his colleagues, Harry Tsigaras, Sam Patton, and Andrew Tang. They made it possible for me to be involved in a high volume of complex reconstructive operations, including an arthroscopic assisted screw fixation of the posterior wall and labral reconstruction, a high number of total knee and hip replacement surgeries, and the comprehensive management of periprosthetic joint infections. It was a great opportunity to exchange ideas with experts from an Australian high-volume arthroplasty centre and to benefit a lot from their surgical expertise. During my visit I was impressed by the Australian hospitality and the great teaching attitude of the team.
Also, it was great to experience the sporting capital Melbourne! Prof de Steiger invited me to support his favorite AFL team. I was also able to follow the Formula 1 Australian Grand Prix at Albert Park and to follow the Melbourne Storm Rugby Team with their team doctor Jason Chan at the AAMI Park.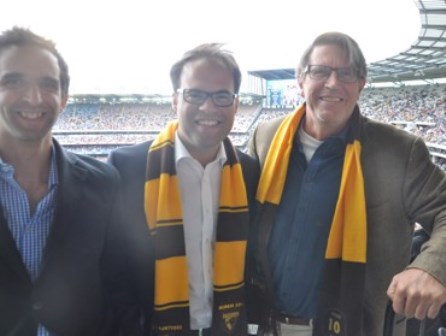 Supporting the Hawks AFL team against the Geelong Cats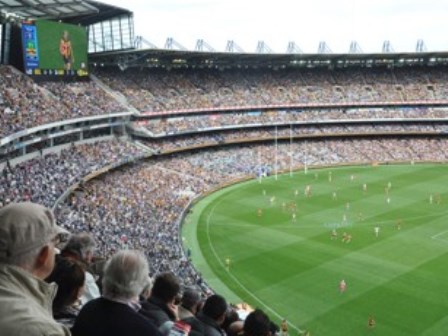 The "Melbourne Cricket Ground" with a total capacity of >100,000
Between 29 March and 1 April we were able to attend the 19th APOA Congress at the Melbourne Convention Centre. The opening ceremony was an impressive event and the Congress started with a great plenary lecture by Freddy Fu on changing paradigms in anatomical ACL reconstruction. The scientific programme covered sessions for hip preservation techniques, state of the art in primary and revision THR, the infected THR, periprosthetic fractures, and multiple knee symposia, including how to achieve soft-tissue balance and alignment in TKA. Furthermore, the Congress Committee and the APOA President, Prof Edward Mah, set up a great social programme, including a great welcome reception and festive congress dinner. I was also able to meet Prof Jochen Eulert, SICOT Secretary General, and thank him for the fellowship selection personally.

Attending the APOA Congress in Melbourne: Drs Chen (China), Dr Ken (Malaysia), Dr Weber (Germany), Prof de Steiger (Australia), Dr Faizan (India) and Dr Chemello (Italy)
From the APOA Congress in Melbourne we then moved on to Clare Valley in South Australia to attend the 9th Clare Valley Bone Meeting in conjunction with the ANZBMS. Participants included basic scientists, clinicians, health professionals and students from all disciplines working on bone. Prof David Finley and the organising committee set up a stimulating programme to share new ideas and allow formal and informal discussions. There were a number of stimulating presentations by the outstanding national and international faculty: Prof Solomon presented a new paradigm for loading after surgical fracture fixation. Asiri Wijenayaka presented a great paper on the role of osteocytes in periprosthetic joint infections. After learning more about the innate immune system (from Prof Takagi, Japan) and microbiological considerations on Small Colony Variants (SCV), it was great to translate basic science to current concepts of single- and two-stage protocols for re-implantation in this context.
There was also the opportunity to taste some great Australian wines from Clare Valley. All participants enjoyed the international atmosphere and cultural exchange.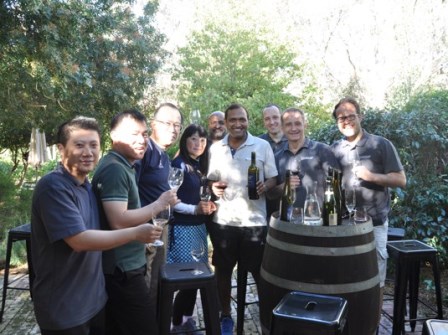 Visiting the local vineries in Clare Valley with Prof Solomon
From Clare Valley we moved on to Adelaide to visit the Royal Adelaide Hospital (RAH). The RAH was founded in 1840 and functions as a major referral and teaching centre, receiving patients from South Australia and nearby states and territories.
The massive dimensions of Australia really were obvious here, since some multiply injured patients with complex pelvic injuries were transferred more than 3000 km to be fixed at RAH. The spectrum and caseload was huge, but my personal highlight remains a complex acetabular fracture, which was fixed by primary hip arthroplasty involving bone graft and trabecular metal components by Prof Solomon and his team. I attended the daily morning conferences, rounds, clinic and internal educational opportunities. For example, a workshop for impaction bone grafting was organised.
We also came back together with friends from Clare Valley, as Prof David Finley and his wife organised a great barbecue at his house for all the international guests in Adelaide. There remains no doubt that Australian lamb is absolutely delicious!
During the time in South Australia, Dr Chemello and I also attended surgeries at the Repatriation General Hospital, a former military compound that is a busy arthroplasty center today. We were able to follow a number of revision surgeries with Dr Mark Inglis.
While in South Australia, we also visited the Sports Medicine Clinic in Adelaide and met Dr Domenic Leonello, who is a busy upper limb arthroplasty surgeon.
The Fellowship was completed by a farewell dinner with Prof Solomon and Prof Mah in Adelaide. We enjoyed great Asian food and received the Fellowship certificates.
I have gained significant experience and knowledge from this fellowship! The opportunity to attend a joint SICOT/APOA Fellowship has stimulated the cultural and scientific exchange between European and Asian fellows tremendously. Furthermore, we developed a memorable friendship throughout the time of the Fellowship.
Finally, I want to thank all the hosts, the APOA, President Professor Mah, and SICOT, especially Professor Jochen Eulert, for providing me with the opportunity to participate in the joint programme, the Fellowship Secretariat of SICOT and APOA, and of course my friends Cesare, Ken, Faizan, and Lin for making the Fellowship a great experience!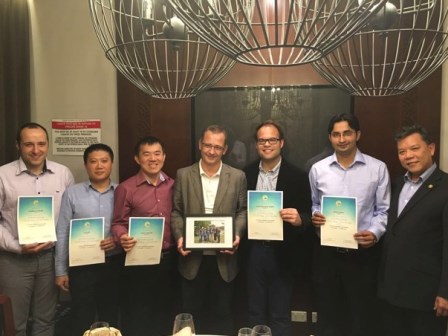 The APOA/SICOT Fellows receive their certificates from Prof Bogdan Solomon (Chairman of the APOA Hip Section) and Prof Edward Mah (APOA President)