Editorial
Happy New Year 2017! Greetings from the SICOT Newsletter Editorial Board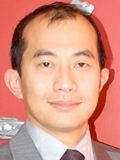 Syah Bahari
SICOT Active Member and SICOT Newsletter Associate Editor - Seremban, Malaysia
First of all, I would like to thank the subscribers and readers of the SICOT Newsletter. The number of subscribers has increased over the last few years and we currently have over 55,000. Since April 2014, we have been publishing the SICOT e-Newsletter every 2 months namely in February, April, June, August, October and December. The printed SICOT Newsletter is currently being published quarterly and it is supplied together with the International Orthopaedics journal, which is our society's official journal.
For the SICOT Newsletter, we publish the latest news and information regarding our society. However, the Newsletter is also a source of academic knowledge where our members can share their opinions and contribute to the Newletter. These sections are the Editorial, Case of the Month, Update in Orthopaedics, Training Around the World, History of Orthopaedics, Expert Corner, and Scientific Debate. Not only that, we also publish fellowship reports from members who have been awarded the various fellowships offered by SICOT. Most recently, we have been publishing a section on course appraisals for members to write reviews on an orthopaedic course that they have attended recently.
I would like to invite our readers to submit articles for the above sections. We would also like to publish articles on events that are being organised by our SICOT members. SICOT fellows are invited to write about their experience during their fellowship. Surely many of our readers would be keen to know how good the fellowship is and possibly apply if they are interested. The Newsletter can be used to share news, experiences, and events with our friends all around the world. SICOT members who are interested can also join our Newsletter Editorial Board. We are looking for enthusiastic members of our society to contribute and help develop the Newsletter. If you are interested, please send your CV to [email protected].
Last but not least, I would like to thank our Newsletter Editorial Board members, in particular Prof Hatem Said who has led the Editorial Board to where it is today. Through the years, some of our members have had to leave the Board for various reasons. They include Kamal Bali, Shalin Maheshwari and Alexander McLawhorn and I would like to thank them for their work and support in editing and writing for the Newsletter. Finally, a huge thank you to the most important member of the Newsletter Editorial Board team, Ms Linda Ridefjord. Without her, the Newsletter would not get published!!
Thank you again to everyone for supporting our Newsletter. The SICOT e-Newletter can be accessed online at www.sicot.org/enewsletter. I wish everyone a great 2017 and hopefully we will meet in Cape Town in November for the SICOT Congress.