---
Editorial by Ashok N. Johari - SICOT Education Committee Chairman & SICOT Vice-President
Global Orthopaedics: SICOT, the Great Leveller
In today's world, despite modernisation, inequalities persist in all spheres of life. This is also true in the field of Orthopaedics. The standards of education, research and patient care differ between nations and such inequalities will continue to persist for years. However, we can certainly define a minimum acceptable standard in these areas. Read more...
---
SICOT Events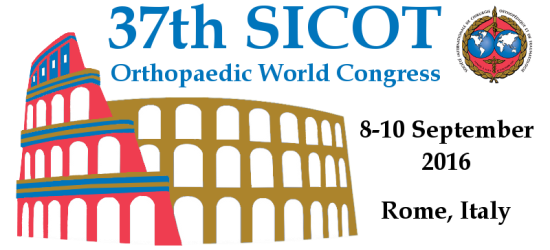 Plenary Speakers: We are pleased to announce that Rodolfo Capanna and A. Seth Greenwald will be the plenary speakers at the SICOT Congress in Rome. Read more...
Educational Day: Don't miss the SICOT Educational Day on 7 September 2016! The themes for the forthcoming Rome meeting are 'Foot & Ankle' and 'Paediatric Orthopaedics' and the day will focus on all the elements of Foot and Ankle and Paediatric Orthopaedic Surgery right from anatomy and surgical approaches to complex case discussion. Dedicated Faculty along with key opinion leaders from over 14 countries will be lecturing on the course. The SICOT Educational Day Committee has worked extremely hard to produce a great programme. So, if you wish to learn, share, debate and discuss ideas and surgical techniques in an exciting environment with a group of international surgeons in one room, the Educational Day is the place for you. Read more...

Congress registration is open here! The early registration deadline is 15 June 2016.
Presenting authors: Once the notifications of abstract acceptance/refusal have been sent, presenting authors must register and pay the registration fee before 23 May 2016.

The 14th SICOT Diploma Examination will take place in Rome in September 2016 and will consist of a written part and an oral part. Registration for the examination is open here! The application and online registration deadline is 15 May 2016. Read more...

The awards available to help young surgeons attend the Congress and other prizes can be found here.

Click here for details about the Opening Ceremony, Welcome Reception, Congress Dinner and Closing Ceremony. Don't miss the Congress Dinner at the beautiful Villa Miani, offering a unique panorama overlooking the city of Rome.

Click here for details about the Golf Tournament which will be held at the oldest Italian golf club with more than 100 years of history and located in the beautiful countryside outside the city.

Information about hotels and reserving a room in Rome can be found here.

Don't miss out on this unique opportunity to promote your products and services to leading international orthopaedic surgeons, traumatologists and specialists in related fields. Click here for more information...

For information about visa requirements for entry into Italy, please click here. Please apply for a visa early since applications may take 120 days to be processed.
*********************************************************************************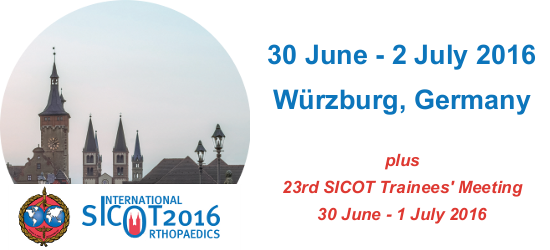 The SICOT International Orthopaedics 2016 meeting will take place at the conference centre of the Marienberg fortress in Würzburg (Germany) from 30 June to 2 July 2016. "Specialized Knee Surgery" is the major focal point of the conference. The parallel programme of the 23rd SICOT Trainees' Meeting will take place from 30 June to 1 July 2016.

The early registration deadline for the SICOT International Orthopaedics 2016 conference and the 23rd SICOT Trainees' Meeting is 30 April 2016. Do not miss the chance to benefit from the reduced fee. Register here

Please click here for the final scientific programme of SICOT International Orthopaedics 2016 "Specialized Knee Surgery". The final programme of the 23rd SICOT Trainees' Meeting will be available very soon.

We would also like to draw your attention to the social programme which includes:
- Social Evening in the "Bürgerbräu Würzburg" (Friday, 1 July)
- Golf Tournament (Sunday, 3 July)

All the latest news can be found on the conference website: www.sicot2016.de
---
SICOT News

SICOT-J accepted in PubMed Central and DOAJ
by Hatem Said & Jacques Caton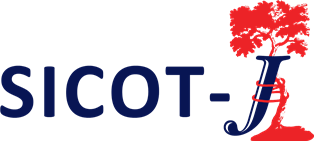 The Editors and the publisher of SICOT-J are delighted to announce two important indexations of the journal: acceptance into PubMed Central and DOAJ (Directory of Open Access Journals). Read more...
To submit an article to SICOT-J, please click here.
SICOT Ortho Excellence Programme
by Ashok N. Johari

The SICOT Ortho Excellence Programme has been one of the most successful initiatives of SICOT and of its Education Committee. Started in August 2012, the programme consists of a number of webinars with a different focus each year. The speakers are eminent orthopaedic and trauma surgeons chosen from different parts of the world for their expertise. The topics are carefully chosen for applicability to day to day practice of Orthopaedics and Trauma. The program chair is Prof Ashok Johari from Mumbai, India, who is also the Chair for the Education Committee. Read more...

Clinical Orthopaedics and Related Research®
SICOT is pleased to announce that through the end of 2017 all its members will have full-text access to Clinical Orthopaedics and Related Research® (CORR®). This member benefit is being provided at no charge to SICOT members as the result of a collaboration with CORR® and its parent society, the Association of Bone and Joint Surgeons. As you may know, CORR® is a high-impact, general-interest orthopaedic journal, which publishes the latest clinical and basic research. Over the last several years, CORR® has undergone a number of changes, and it now also publishes numerous monthly columns, commentaries, features, and interviews with authors. Each month, SICOT will email its members the CORR's electronic table of contents to see what is in that issue, and members can access the full-text content by signing in to the SICOT website and visiting the CORR® web page here.
---

SICOT Global Network of e-Learning - SIGNEL
Article of the Month: International Orthopaedics Journal
Adolescent idiopathic scoliosis: evidence for intrinsic factors driving aetiology and progression
Matthew M. P. Newton Ede & Simon W. Jones
Adolescent idiopathic scoliosis (AIS) is now considered to be a multifactorial heterogeneous disease, with recent genomic studies supporting the role of intrinsic factors in contributing to the onset of disease pathology and curve progression. Read more...

Article of the Month: SICOT-J
Meniscus delivery: a maneuver for easy arthroscopic access to the posterior horn of the medial meniscus
Hatem Galal Said, Saumitra Goyal & Tarek Nabil Fetih
Pathology of posterior horn of medial meniscus is common and often presents a difficult approach during arthroscopy for various reasons. Read more...

Case of the Month
by Alexander S. McLawhorn & Peter K. Sculco
A 56-year-old gentleman, who had undergone a left total hip arthroplasty (THA) eighteen years ago for failed slipped capital femoral epiphysis (SCFE) pinning, presented with increasing pain in his left hip and thigh over the last three years. He had a significant decline in his function over the last year. He ambulated with crutches and was unable to bear weight on the left leg. He had become essentially immobile from his condition. He denied fevers or chills and had no rest or night pain. He took narcotic analgesics for pain control daily. Read more...
---
Expert Corner
How I perform a Total Hip Replacement
by Satish Kutty
I perform a primary Total Hip Replacement (THR) using the posterolateral approach. This is the most commonly used approach for a routine primary THR. Austin Moore first described the currently used posterior approach. He utilised the distal part of the original descriptions by Von Langenbeck and Theodor Kocher. The advantages of the posterior approach include its simplicity, offering an excellent exposure to both the acetabulum and proximal femur with the potential to be extensile while preserving the abductor musculature. Read more...
---
Scientific Debate
Autograft for Primary ACL Reconstruction: HS or BPTB?
by Syah Bahari & Gandhi Solayar
The choice of graft for primary anterior cruciate ligament (ACL) reconstruction can be either an autograft, allograft or synthetic. However, an autograft is universally recognised as the gold standard for primary reconstruction and the common options include hamstring (HS) and bone-patellar tendon-bone (BPTB) grafts. In this article, the benefits of each autograft will be discussed. Read more...
---
Training Around the World
Training in Jordan
by Hasan Yousef
This is a story of how it feels to be a member of the orthopaedic family in Jordan. I will talk about the medical and orthopaedic training in general but will go through a typical day for an orthopaedic resident as well. Read more...
---
Fellowship News
Report after successful completion of fellowship training at Khoula Hospital, Muscat
by Thomas Atibaka
I am very grateful to SICOT for giving me this wonderful, highly sought-after opportunity to receive training at Khoula Hospital in Muscat in the Sultanate of Oman. I considered myself lucky and highly favoured to have been selected out of all the surgeons that applied. Being awarded the fellowship was a dream come true for me as I have always wanted to go to an internationally recognised centre to learn international best practices in orthopaedics. Read more...

Bezmialem Vakif University/SICOT Fellowship
SICOT has teamed up with the Bezmialem Vakif University in Istanbul to offer a new fellowship opportunity. The hospital's subspecialties are arthroplasty and joint preserving surgery for hip and knee. The application deadline is 31 May 2016. Read more...

A new fellowship funded by SICOT and the Ganga Hospital in India is now available to SICOT members. The hospital's subspecialties are trauma and spine. Applications are welcome throughout the year. Read more...

TCH/SICOT Research Fellowship Programme
This fellowship programme at the Texas Children's Hospital (TCH), United States, is an opportunity to work side-by-side with TCH surgeons, physicians and researchers. Fellows will expand their knowledge and exposure to the field of paediatric orthopaedics and become involved in high-quality clinical and/or basic research projects. The application deadline is 1 June 2016. Read more...
---
History of Orthopaedics
The History of Orthopaedics in the Czech Republic
by Theodoros Philippou
Trauma and Orthopaedics is a branch of surgery that deals with musculoskeletal injuries and diseases including the diagnosis and treatment of congenital and acquired limb deformities. It has always been considered as part of general surgery until the 20th century when it began to be recognised as a separate specialty. Some famous universities in Vienna started lecturing on orthopaedics as early as the year 1900. However, the orthopaedic discipline in the Czech Republic separated completely from surgery in 1971. Read more...
---
Exam Corner
Basic Science & Anatomy
Prepared by Mohamed Sukeik
All of the below have an autosomal dominant inheritance pattern except:

Haemophilia

Osteochondromatosis

Ehlers Danlos syndrome

Kniest dysplasia

Metaphyseal epiphyseal dysplasia
---
Industry News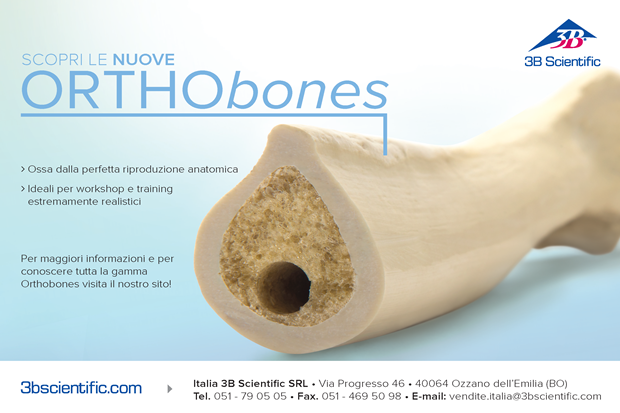 ---
Editorial Department
Editorial Secretary: Hatem Said
Associate Editors: Syah Bahari & Mohamed Sukeik
Editorial Production: Linda Ridefjord
Editorial Board: Ahmed Abdel Azeem, Bassel El-Osta & Alexander McLawhorn
SICOT aisbl, Rue de la Loi 26-b.13, 1040 Brussels, Belgium
Tel.: +32 2 648 68 23 | Fax: +32 2 649 86 01
E-mail: [email protected] | Website: www.sicot.org
---
Disclaimer: Some of the views and information expressed in this e-Newsletter include external contributors whose views are not necessarily those of SICOT. SICOT is not responsible for the content of any external internet sites.