Training Around the World
Training in Jordan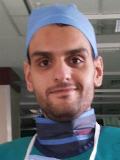 Hasan Yousef
SICOT Associate Member - Amman, Jordan (Specialty Hospital)
This is a story of how it feels to be a member of the orthopaedic family in Jordan. I will talk about the medical and orthopaedic training in general but will go through a typical day for an orthopaedic resident as well.
Jordan has a population of 9 million and Amman is the capital city. In 1972, basic undergraduate medical training started with the establishment of the first medical school at Jordan University. Over time and due to the increased demand for medical education, there are now 6 medical schools in Jordan.
In order to attend medical school, students compete through the national high school exam and top scorers only are able to get into medicine as it is highly competitive.
Basic medical training is composed of six years of basic and clinical sciences. This is followed by an internship year at a teaching hospital after which doctors apply for a residency programme in a specialty of interest or work as general practitioners.
Since 1982, the Jordanian Medical Council (JMC) has been in charge of postgraduate medical training. However, prior to that, doctors had to travel abroad to complete their postgraduate education.
Entrance to an orthopaedic residency programme at one of the teaching hospitals in the military, public or private sectors is very competitive and an exam is held by each of the individual authorities. The exam is difficult to pass and it is not uncommon that a minority of the applicants are granted a place for training in orthopaedics.
It is a requirement that residents accepted into one of the orthopaedic programmes register with the JMC in order to get 'The Jordanian Board in Orthopaedics' certification once training is completed.
The residency programme includes 5 years of training. In the first year, residents rotate in various surgical specialties such as plastics, neurosurgery and vascular surgery and for the following 4 years they rotate in various subspecialties of orthopaedics. A senior orthopaedic surgeon is in charge of the training programme at each hospital monitoring the residents' progress and supervising their educational activities in terms of attending courses, lectures and keeping a surgical logbook of operations performed.
Residents undergo yearly assessments in order to progress to the next level of training and this is organised locally by each hospital. On the other hand, the JMC also assesses the residents after the first year of training in basic and general surgical knowledge and also at the end of the programme in basic sciences and clinical practice in relation to orthopaedics.
An ordinary day of an orthopaedic resident at my hospital starts at 07:30 where all residents and at least 4 to 5 consultants from different subspecialties attend the morning meeting. The night oncall team presents admissions and the consultants and residents discuss the cases to plan treatment. After the meeting, senior residents (R4&5) go to the operating theatres and perform surgeries under the supervision of the consultants and junior residents (R2&3) do the ward rounds and clerk patients from the emergency department.
Over the last few years, I have learnt a lot from my oncalls and performed various surgeries under supervision. I have also developed strong friendships with my colleagues and seniors having spent more time with them than with my own family! In other words, to become an orthopaedic resident in Jordan you become a member of the orthopaedic family in one of the teaching hospitals and it feels great!
Acknowledgement:
Special thanks to my mentor, Dr Yousef Othman, who helped me prepare this article.