Fellowship News
Report after successful completion of fellowship training at Khoula Hospital, Muscat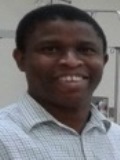 Thomas Atibaka
SICOT Associate Member - Lagos, Nigeria
I am very grateful to SICOT for giving me this wonderful, highly sought-after opportunity to receive training at Khoula Hospital in Muscat in the Sultanate of Oman. I considered myself lucky and highly favoured to have been selected out of all the surgeons that applied. Being awarded the fellowship was a dream come true for me as I have always wanted to go to an internationally recognised centre to learn international best practices in orthopaedics.
My preparation started immediately after I received the email from the SICOT Head Office informing me of my selection. I contacted the Khoula Hospital and was in touch with Dr Mohamad Al Lami, Head of the Orthopaedics Department, who facilitated issuance of my visa which was sent from Oman as there is no Embassy of Oman in Nigeria.
I arrived at Muscat international airport with Etihad Airways on 19 October 2015 and was welcomed by Dr Jatinder, consultant orthopaedic surgeon, who took me to my hotel accommodation where I stayed for the entire period of the fellowship.
I went to Khoula Hospital the next day and was introduced to the entire staff of the Orthopaedics Department by the Head of the Department. I had the necessary documentation completed with the wonderful assistance of Dr Sameh Haddad.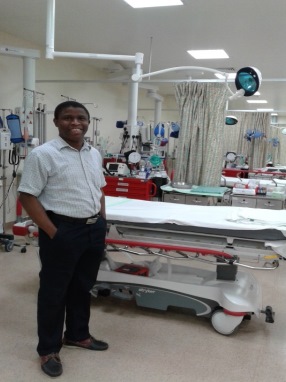 Me standing in the A&E
My area of interest was Arthroscopy/Sports Medicine and Arthroplasty, hence I worked directly under Dr Jacob Varughese, senior consultant at the Sports Medicine and Arthroplasty Unit and Dr Ghassan Al Yassari, senior consultant at the Shoulder and Upper Limb Surgery Unit.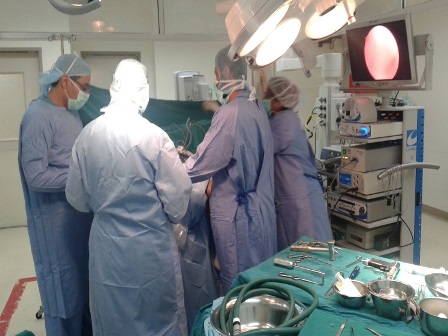 During an arthroscopic surgery session
I actively participated in theatre sessions where I assisted in procedures such as arthroscopic anterior cruciate ligament reconstruction, arthroscopic posterior cruciate ligament reconstruction, arthroscopic meniscectomies, anterolateral ligament reconstruction, posterolateral rotational instability repair, arthroscopic bankart repair, arthroscopic subacromial decompression, total knee replacement surgeries, and more.
I also participated in ward round sessions, outpatient clinics, daily trauma meetings, which have immensely added to my orthopaedic knowledge and exposure to international best practices.
The hospitality I received at Khoula Hospital was superb as the staff members were always ready to offer their assistance to ensure a comfortable and pleasant stay.
I made friends with doctors from Oman, India, Yemen and Egypt, and I intend to keep in touch with them so we can continue to share ideas and experiences.
I couldn't have wished for a better place for fellowship training as I really enjoyed my stay at Khoula Hospital and Oman.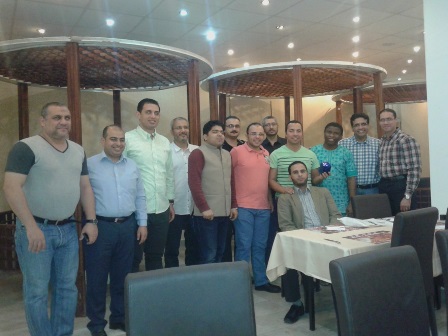 Doctors at an evening get-together
I completed the fellowship training on 17 December 2015, which was the same day I travelled back to my home country, Nigeria. I was given a certificate of completion of fellowship training and a recommendation letter from Dr Mohamad Al Lami.
Finally, I would like to thank SICOT for the great opportunity that was given to me to improve my skills in orthopaedics and to learn new skills in arthroscopy.