SICOT Events
- 23rd SICOT Trainees' Meeting - Würzburg, Germany
- 37th SICOT Orthopaedic World Congress - Rome, Italy
- 36th SICOT Orthopaedic World Congress - Guangzhou, China

SICOT News
- Visit to Kenyata National Hospital (KNH) in Nairobi, Kenya
- OSTEC 2015 - Orthopaedic Surgery and Trauma Experts Conclave
- Report on the African Orthopaedic Society Congress
- Visit to the Alexandria SICOT Education Centre
- Maurice Hinsenkamp elected Associated Foreign Member of National Medical Academy of France

Fellowship News
- Report of the "SICOT meets SICOT" Fellowship at KAT Hospital, Greece
- Alexandria/SICOT Fellowship
- B. Braun Aesculap/SICOT Orthopaedic Scholarships

International Meetings
- 2nd Assiut Shoulder Arthroscopy Course
- 11th German Congress for Orthopaedics and Trauma Surgery
- 2015 Singapore F&A Expert Panel Symposium
---
Editorial by Sharaf Ibrahim
The Evolution of Postgraduate Orthopaedic Training in Malaysia
Dr Abdul Majid Ismail was the first Malayan orthopaedic surgeon to be appointed head of the orthopaedic department in the General Hospital Kuala Lumpur in 1958 after completing his training in the United Kingdom (UK). He had obtained the Fellowship of the Royal College of Surgeons (FRCS) of Edinburgh and the Master of Orthopaedic Surgery (MChOrth) from Liverpool. He then started a programme to establish an orthopaedic department in every state general hospital. Arrangements were made with the University of Liverpool to train the Malayan orthopaedic surgeons who would be assigned to the respective state general hospitals upon their return from the UK. Read more...
---
SICOT Events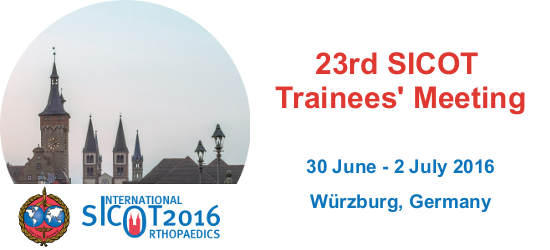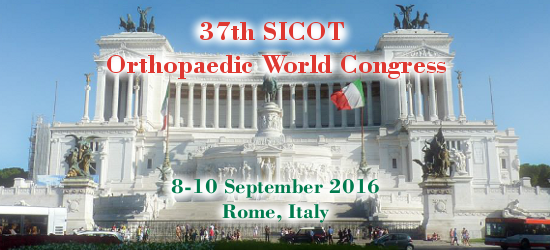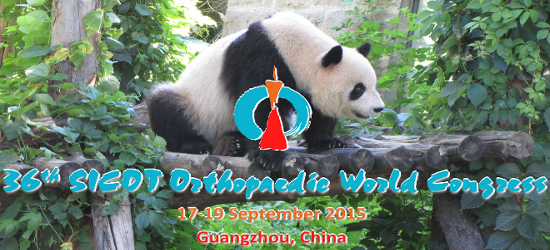 SICOT thanks all delegates for their participation in the Guangzhou Congress!
Congratulations to all awardees who were granted a prize at the Congress. A full list of winners can be found here.

SICOT Diploma Examination
SICOT also congratulates the following successful candidates of the 13th Diploma Examination held on 15 and 16 September:
Muideen Adegoke
Adebowale Adeniyi
Buojayalh Aqwuyidir
Purnajyoti Banerjee
Ahmed Barakat
Kumar Kaushik Dash
Gaurav Garg
Saurabh Gupta
Amruth Kollegal Huchaiah
Vikram Kandhari
Jyothiprasanth Maheshkumar
Mukul Mohindra
Minesh Naik
Jeya Venkatesh Palanisamy
Vijayakumar Palaniyandi
Balaji Saibaba
Ayush Sharma
Amith Shetty
Nikhil Shetty
Deepak Sree
Sarmad Sulaiman
Ashish Vijayan
Hasan A. M. Yousef
Kumar Kaushik Dash and Deepak Sree were granted the German SICOT Fellowships, which offer them the opportunity to visit well-known German orthopaedic centres for a period of four weeks. The fellowship is kindly provided by the German Section of SICOT.
---
SICOT News
Visit to Kenyata National Hospital (KNH) in Nairobi, Kenya
by Hatem Said
As part of the Education Centre assessment, I visited the KNH in Nairobi, one of the main training centres in the country, and attached to Nairobi University. This visit was initiated by Dr Fred Otsyeno, SICOT National Representative for Kenya, and under the care of Prof Atinga, Chairman of the Orthopaedic Department in KNH. This is a 2000-bed hospital, with one floor dedicated to Orthopaedics, having around 160 beds. It was opened in 1981. The hospital is overwhelmed with trauma patients, to the extent that the elective service is greatly reduced. Being a referral centre, the patients might need to wait 3 to 4 weeks to have a slot in the OR. The department beds are full, but the resource limitations have taken a toll on the infrastructure. I had a chance to see the department and the outpatient clinics where undergraduate teaching was ongoing while providing medical service. Read more...

OSTEC 2015 - Orthopaedic Surgery and Trauma Experts Conclave
by Pierre Hoffmeyer, James Waddell & Peter Biberthaler
On 2 April 2015, we received an e-mail from Professor Ashok Johari. It was a proposal to participate in a series of lectures to be given in five major cities of India during a period extending from 13 to 19 July. These lectures were under the auspices of the SICOT India Foundation and were sponsored by Pharmasquire. Indeed, it is not often in the life of an orthopaedic surgeon that one receives an invitation to participate in an educational event of this magnitude. The decision was easy, of course: a resounding yes! What an honour to be invited to participate in such a travelling round of conferences euphemistically called a "Road Show" by Ashok Johari. A quick check of the agenda, a reshuffle of various meeting dates, and a rescheduling of some surgeries did the trick, thanks to our efficient secretarial staff and to the understanding and support of our families. Read more...

Report on the African Orthopaedic Society Congress
by Thami Benzakour
I had the honour and pleasure to represent SICOT at the combined 11th African and 3rd Ivorian Orthopaedic Congress held on 21-24 April in the famous city of Yamoussoukro, Ivory Coast. The first day was dedicated to a basic course on osteosynthesis with several workshops. This course was intended for residents and trainees interested in traumatology. Read more...

Visit to the Alexandria SICOT Education Centre
by Kandiah Raveendran
The Alexandria SICOT Education Centre is the second such centre in Egypt, the first being the Assiut centre. My visit to the centre was arranged to coincide with the Egyptian Orthopaedic Association (EOA) Annual Meeting and the SICOT Trainees' Meeting in Cairo from 15 to 18 December 2014. I arrived at Cairo airport in the evening of 13 December and was whisked direct to Alexandria, a journey of two hours. Alexandria has a very long and ancient history. The city has a beautiful seafront with an esplanade all along the coast. Read more...

Maurice Hinsenkamp elected Associated Foreign Member of National Medical Academy of France
Good news from the SICOT Officers: Prof Maurice Hinsenkamp, SICOT Immediate Past President, was elected Associated Foreign Member of the prestigious National Medical Academy of France on 16 June 2015. He is member of the second Division devoted to the surgical specialties.
---
SICOT Global Network for Electronic Learning - SIGNEL
Case of the Month
by Shalin Maheshwari, Ratna Maheshwari, Jitendra Balakumar & Emily Kong
A 15-year-old boy was hit on his right shoulder, while playing football. Physical examination showed pain, swelling and deformity of the left SC area and of the medial fourth of the clavicle. Hollow area was felt next to the right sternoclavicular joint. Neurovascular examination was normal and there was no sign of dysphagia or dyspnea. Read more...
---
Training Around the World
Orthopaedic Training in Philippines: Blood, Sweat, and Tears
by Pierre Mella
Out of the 7,107 Philippine islands, there are only 3 metropolitans namely Manila, Cebu and Davao. I was born and raised in Cebu City. This is the story of my residency training at the University of the Philippines - Philippine General Hospital, the national university hospital. I can vividly remember the entire scenario during my interview for the orthopaedic residency programme in 2009. I was seated in front of eight attending physicians while the head of the acceptance committee stood up and walked behind me. I saw his hand coming from behind and he suddenly slammed four sheets of paper in front of me. This contained my curriculum vitae and application form. From this gesture alone, I knew that they meant business. These people who became my mentors believed that training residents is a way of life. Read more...
---
Fellowship News
Report of the "SICOT meets SICOT" Fellowship at KAT Hospital, Greece
by Bhanu Kalyan Voguri
Being a fellow at KAT Hospital was definitely one of the best experiences of my life. KAT Hospital has a very important role in the orthopaedic care system in Greece. The Orthopaedics and Traumatology Department of the KAT Hospital is a legitimate leading institution with world renowned surgeons in the different specialties of Orthopaedics. Read more...

Alexandria/SICOT Fellowship
Every year, SICOT will offer two surgeons a six-month fellowship to Hadra Orthopaedic and Traumatology University Hospital, in Alexandria (Egypt). The accommodation will be provided for by Hadra Orthopaedic and Traumatology University Hospital. Travel expenses will be reimbursed by SICOT up to EUR 1,000. The purpose of the fellowship is to receive training in different specialized departments. The candidate will choose between one or two departments. These include arthroplasty, arthroscopic surgery, spinal surgery, paediatric surgery, microsurgery, hand surgery, and orthopaedic oncology. The training programme will start in January and July of each year. Deadline: 30 September 2015 Read more...

B. Braun Aesculap/SICOT Orthopaedic Scholarships
The B. Braun Aesculap/SICOT Orthopaedic Scholarships are open to surgeons from eastern Europe and Asia who want to evolve their knowledge and skills into innovative concepts in orthopaedic reconstructive surgeries of the hip and knee. The Scholarships consist of extensive exposure to innovative concepts in orthopaedic reconstructive surgery carried out at selected German hospitals with proven expertise in Short Stem THA and Computer Navigation. Every fellow who is attached to this programme will be integrated into the surgical programme of a selected German hosting clinical institution in a daily routine by attending surgeries and clinical meetings. Deadline: 30 September 2015 Read more...
---
Exam Corner
Pathology
prepared by Shalin Maheshwari & Mohamed Sukeik
Which deformity in malunited fracture is most likely to be corrected with remodelling:

Angular deformity in the middle of diaphysis in the plane of motion of nearby joint

Angular deformity in plane of motion of nearby joint when deformity is in metaphyseal area

Rotational malalignment

Angular deformity near end of bone when angulation is in a plane 90° to the plane of motion of nearby joint.

Shortening of bone length.
---
Worldwide News
Global trauma: the great divide
comment by Ahmed H. Abdelazeem
When I received an email alert with the new publication in our new open access journal, SICOT-J, titled 'Global trauma: the great divide' and as a person working in the trauma field in a developing country suffering from high trauma rates, I found myself very interested in reading this review article. Just before reading it, I asked myself what I would expect from an article with this attractive title. I expected it to go through the discrepancies in Trauma: types, incidence and problems from the two points of view of developed and developing countries. Going through this article I found much more than expected. The authors succeeded in covering every single point regarding this problem from both points of view. They started with an introduction explaining the current situation and future expectations. Moreover, they compared it with other global health problems, like HIV and malaria. International efforts concentrating on these health problems succeeded in doing something, but on the other side, the negligence of road trauma has led to a slow progress and worse situation. Read more...
---
International Meetings
2nd Assiut Shoulder Arthroscopy Course
The 2nd Assiut Shoulder Arthroscopy Course will take place from 26 to 28 November 2015 at Assiut University, Egypt. The course is targeted to surgeons with good knee arthroscopic skills wishing to start or already performing shoulder arthroscopy. Read more...

11th German Congress for Orthopaedics and Trauma Surgery
Don't miss the 11th German Congress for Orthopaedics and Trauma Surgery (DKOU), one of the largest congresses for Orthopaedics and Trauma worldwide, attracting over 11,000 congress delegates! The Congress will take place on 20-23 October 2015 in Berlin, Germany. Further information about all sessions in English can be found here and any questions you may have will be answered if you email [email protected]. Theorganising scientific societies welcome you to Berlin in October!

2015 Singapore F&A Expert Panel Symposium
The Singapore Foot & Ankle Surgery Expert Panel Symposium 2015 is the second meeting of its kind organized by the Foot & Ankle Service of the Department of Orthopaedics, Tan Tock Seng Hospital, Singapore. This is a regional brainstorming session moderated by local, regional and international experts which is centred on the theme 'How I would manage...'. The topic for 2015 is Trauma in the Foot & Ankle. The symposium will debate current controversies in foot and ankle trauma via case-based discussions and highlight the current state of practice in these areas. The symposium is directed at practising foot and ankle surgeons, senior orthopaedic trainees, sports physicians and senior allied health professionals. CME points will be awarded. Read more...
---
Industry News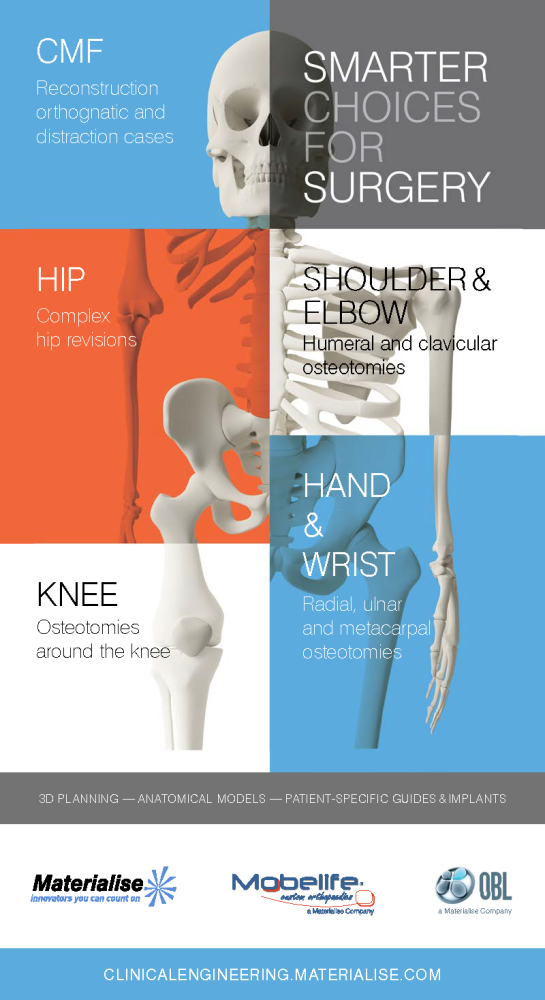 ---
Editorial Department
Editorial Secretary: Hatem Said
Associate Editor: Syah Bahari
Editorial Production: Linda Ridefjord
Editorial Board: Ahmed Abdel Azeem, Bassel El-Osta, Anthony Hall, Shalin Maheshwari, Maximilian Rudert, Mohamed Sukeik
SICOT aisbl, Rue de la Loi 26-b.13, 1040 Brussels, Belgium
Tel.: +32 2 648 68 23 | Fax: +32 2 649 86 01
E-mail: [email protected] | Website: www.sicot.org
---
Disclaimer: Some of the views and information expressed in this e-Newsletter include external contributors whose views are not necessarily those of SICOT. SICOT is not responsible for the content of any external internet sites.
---