SICOT News
Visit to the Alexandria SICOT Education Centre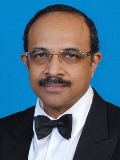 Kandiah Raveendran
SICOT Education Centre Committee Chairman - Ipoh Perak, Malaysia
The Alexandria SICOT Education Centre is the second such centre in Egypt, the first being the Assiut centre. My visit to the centre was arranged to coincide with the Egyptian Orthopaedic Association (EOA) Annual Meeting and the SICOT Trainees' Meeting in Cairo from 15 to 18 December 2014.
I arrived at Cairo airport in the evening of 13 December and was whisked direct to Alexandria, a journey of two hours. Alexandria has a very long and ancient history. The city has a beautiful seafront with an esplanade all along the coast.
The next day I was picked up early in the morning and taken to the Alexandria University and the El Hadara University Hospital. I met the Head of the Orthopaedic Department, Professor Hany Morsy, and most of the consultants. Professor Morsy gave a short presentation of the department's facilities and the training programme. The department has a long and illustrious history with many emeritus professors.
There are six units in the department including a spine and microvascular unit. Professor Ahmad Hassan who is the Head of Unit A is the coordinator of the SICOT Education Centre.
Professor Morsy outlined the 38th Annual Scientific Programme for the academic year 2014-2015, which consists of workshops, symposiums, lectures, journal clubs and conferences involving external lecturers. After a strong cup of Egyptian coffee it was time for the obligatory tour of the hospital.
I was then guided round the El Hadara University Hospital, which was housed in an old building but with modern facilities. I visited the lecture halls, the wards, the emergency department, the clinics and surgical skills workshops. A microvascular laboratory has been set up recently.
Alexandria University also has undergraduates from many parts of the world including Malaysia. The undergraduates are well tutored in orthopaedics and trauma. From 2009 to 2013 the hospital hosted fellows from the following countries: Sudan (4), Yemen (2) and Libya (1) for postgraduate orthopaedic training.
Fellows from Alexandria also had their training in Germany (for spinal surgery), France, and the United Kingdom.
The SICOT Education Centre is proposing to host fellows from Africa and the Middle East to do six-month fellowships. The fellows will be hosted in the hospital complex in single rooms with en suite bathrooms.
In May 2014, a spinal international conference was held in the hospital and this was followed by a knee arthroplasty conference in June 2014.
Although the infrastructure appeared old, the hospital had excellent facilities and a very experienced and qualified teaching staff in all the orthopaedic subspecialties. Major surgery in arthroplasty, spine, microvascular surgery, and complicated trauma such as pelvic and acetabular fractures was the norm in the hospital.
My short visit to the centre ended with a sumptuous lunch in a seafood restaurant with some of the consultants. I was then taken back to Cairo where I attended the SICOT Trainees' Meeting and the Egyptian Orthopaedic Association annual conference and presented a few lectures.