Fellowship News
Report of the "SICOT meets SICOT" Fellowship at KAT Hospital, Greece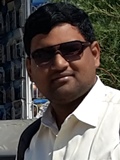 Bhanu Kalyan Voguri
SICOT Associate Member - Guntur, India
Being a fellow at KAT Hospital was definitely one of the best experiences of my life. KAT Hospital has a very important role in the orthopaedic care system in Greece. The Orthopaedics and Traumatology Department of the KAT Hospital is a legitimate leading institution with world renowned surgeons in the different specialties of Orthopaedics.
I am very grateful to Prof George A. Macheras, Head of the Orthopaedics Department at KAT hospital, and the team for their hospitality and kindness to me. I thank Prof Macheras, from whom I learnt various knee and hip procedures, for making this fellowship available to me. I would personally also like to thank each and every resident in the Department.
During my fellowship, I was totally impressed with the hospitality and the warm attitude of the members of the department. Besides this, Greece and the city of Athens, in particular the old ancient city centre, were lovely places.
Being interested in mostly knee and hip surgery, I spent most of my time at KAT Hospital with the knee and hip teams. I saw more than one hundred operations in 6 weeks. In the area of knee surgery, I saw many interesting MIS techniques for total knee and hip arthroplasties, ligament reconstruction procedures using different techniques and materials, arthroplasties with various indications, procedures and revisions of these operations, some of which were completely new to me. I had the opportunity to see very difficult cases of hip revision arthroplasties, among which primary cases and also some hip arthroscopy cases. One thing was certain: whatever the operation, the hands doing it were for sure very experienced and talented.
The department was a real centre of science and research. I enjoyed the staff meetings which were held once a week and were very useful for me. I also had the chance to exchange some ideas with professors and benefit a lot from their knowledge, experience and sometimes advice.
As the department was an attractive centre for orthopaedic surgeons, I met many other fellows from different countries such as Iran and Oman and the interaction between the fellows was also unforgettable.
Above all, I would like to thank SICOT for making such an unforgettable experience available to me. I can definitely say that I have benefitted a lot from this fellowship and I learned a great deal at KAT Hospital thanks to this wonderful programme. Without this programme, it would not have been possible for me to go to Greece and have this fantastic experience which has helped improve my knowledge of knee and hip surgery.
I thank SICOT again for this fellowship.