It is my privilege and pleasure to communicate with you through the first e-Newsletter of 2018. My congratulations to Dr Syah Bahari and the new Newsletter Editorial Board. The Newsletter has served to be a central communication line for all of us and I am sure that the new Editorial Board will take it to new heights. SICOT is now the largest international Society of orthopaedic surgeons with more than 6,000 active members from 119 countries. We are proud to have member representation from every part of the world and this makes our society rich in culture and diversity. We are proud of this fact and hope our membership will continue to grow from every corner of the world. Read more...

It is time for us to chew, gulp, and digest the fact that human factors in surgery is an integral part of our training and practice as surgeons. Human factors in surgery aims to aid us in our goal to provide consistently high standards in our day to day practice while being forewarned with the knowledge that we work in a complex environment that challenges us in our pursuit to perform at our top level. We all know that as we go through our life as human beings we have our good days and our bad days. The whole issue of human factors in surgery revolves around the issues of our interaction with systems. As the definition of human factors goes: "Physical and cognitive properties of individuals are social behaviours which influence the functioning of the technical systems". Read more...

♦ Registration
Online registration is open here! The early registration deadline is 18 July 2018.

♦ Scientific Programme
The congress programme will focus on knowledge transfer and will offer a full scientific programme dealing with the latest advances in orthopaedic surgery in both the high tech and low tech environment. Abundant free paper sessions, symposia, instructional course lectures and plenary presentations promise something for everyone in terms of orthopaedic interest and subspecialisation.
Plenary Speakers
We are pleased to announce that Mohit Bhandari, Timothy Briggs and Alexander R. Vaccaro will be the plenary speakers at the SICOT Congress in Montreal. Read more...
8th SICOT Educational Day
The needs of orthopaedic residents, fellows and practicing orthopaedic surgeons around the world are evolving constantly. At the same time, evidence-based knowledge in orthopaedics is expanding at a rapid rate. Moreover, all the residents around the world need to take examinations at some stage in their career to mark completion of training and/or demonstrate competency. Also, practicing orthopaedic surgeons do have to undergo some form of appraisal and/or revalidation at regular intervals to demonstrate fitness to practice. In both these scenarios, acquiring and updating knowledge in a short span of time is essential. The SICOT Educational Day was conceived with this purpose in mind. Read more...
27th International Course on Polytrauma Management
The idea of this course was initiated by Drs Giannoudis and Pape in 2002 with the first course being held in 2002 in Leeds, United Kingdom. Since then, it has circulated and part of it has also been implemented in the philosophy of the AO. The organisers feel that the widespread implementation of the ATLS algorithm has tremendously improved the acute treatment of severely injured patients. Following the initial resuscitation phase, controversies and ongoing changes have occurred that are worth reviewing. Therefore, these courses address the issues "Beyond ATLS". Read more...
9th International Clubfoot Congress
It is with great pleasure that we announce the 9th International Clubfoot Congress to be held in Montreal, Canada, on 11 October 2018. Our goal is to provide an exciting forum for clubfoot physicians and researchers to share knowledge and exchange ideas on all aspects of clubfoot research. Read more...
♦ 16th SICOT Diploma Examination
The 16th SICOT Diploma Examination will take place in Montreal, Canada, in mid-October and will consist of a written part and an oral part. The written part is comprised of 100 multiple choice questions and lasts two hours. For the oral part, each candidate is examined by two examiners in four separate slots lasting two hours in total. Registration is open until 15 April 2018! Read more...

♦ Awards
Several awards will be granted at the Congress to reward surgeons for their scientific achievement or to help young doctors attend the Congress by supporting them financially. Read more...

♦ Accommodation
The Congress hotels are all within walking distance to the venue, Palais des congrès de Montréal, Canada. There are only a limited number of hotel rooms available. To ensure availability, please be sure to make your hotel reservations as soon as possible. Read more...

♦ Tours
Several day tours in and around beautiful Montreal have been arranged during the Congress. Read more...

♦ Exhibition & Sponsorship
Don't miss out on this unique opportunity to promote your products and services to leading international orthopaedic surgeons, traumatologists and specialists in related fields. Read more...

♦ About Montreal
Click here to get useful information about this dynamic and charming metropolis and what it has to offer.

Cape Town Congress Report
by Doron Frantzen
As we are all looking forward to the 39th SICOT meeting in Montreal upcoming October, I wish to extend my gratitude to everyone who helped to make the SICOT Cape Town meeting such a success. With just over 2,600 registrations for the Cape Town Congress, delegates from all over the world attended this prestigious event at the foot of Table Mountain. Read more...

Cape Town Congress Highlights
by Temiloluwa Olufemi
Every year, thousands of SICOT members gather for a refreshing exchange of knowledge at the Congress which boasts an all-inclusive programme covering every subspecialty of Orthopaedic interest. With more than 2,600 delegates from over 110 countries, the 38th SICOT Orthopaedic World Congress in Cape Town 2017 was an interesting blend of academics, culture and entertainment. If you weren't at the Congress, here's what you missed! Read more...

Awards
Congratulations to all awardees who were granted a prize at the Congress. Please click here to see the list of awardees

SICOT Diploma Examination
Congratulations also to those candidates who passed the Diploma Examination in Cape Town! The full list can be found here. Amit Bhardwaj and Kevin Syam were the awardees of the German Fellowship which allows them to visit well-known German orthopaedic centres for a period of four weeks.

Photos
Have a look at the photos of the diverse scientific sessions and networking events which took place in Cape Town. Enjoy! Click here to view the photos
SICOT Project - "Let's Pledge to Give"
by S. Rajasekaran
SICOT is the largest and truly International Orthopaedic Association of the world with members from nearly 127 countries. I am glad that our Society is growing from strength to strength. Our annual meetings are improving steadily not only in attendance but also in quality and standards. Although the primary aim of SICOT is to promote academics and learning amongst its members, it should also serve as a vehicle to carry the best of modern orthopaedic surgery to those who deserve it most. It would be fruitless if we improve in academics and techniques but the benefit does not reach the patients who need it. The rich expertise and experience of SICOT members should reach those who deserve the best of orthopaedic care but who cannot afford it. Towards this end, I propose that SICOT initiates the project - 'Let's Pledge to Give', where every SICOT member would be encouraged to offer his/her expertise free of charge to at least one deserving patient every year. The motto will be 'Be a blessing to one patient this year'. This will be a novel programme that will increase the value of SICOT to the society around the world and will also have a tremendous public relations value. Read more...

SICOT Research Academy - Open Call for Multi-Centered Grant
These USD 10,000 grants funded by the SICOT Research Academy provide seed and start-up funding for promising collaborative research projects in any area of orthopaedics. Read more...
The SICOT fellowship: a new paradigm for hospitals and doctors around the world
by Khaled Emara
Even now, I recall after finishing my training thinking "now I know everything orthopaedics has to offer!". A few months later, I looked up a limb reconstruction fellowship abroad and decided "why not, it's going to be a piece of cake, after all, I've seen just about everything during my extended residency training". But as you can guess by now, it was no walk in the park. In fact, it was life changing. Let's just say that it challenged most if not all of the concepts I learned during my training. Read more...

Fellowship committee: How is its function and progress?
by Bassel El-Osta
It is well known to everyone that SICOT is offering several fellowships to its members. There are 23 in total and the duration is from 4 weeks to a year. The fellowships are subject to an accurate selection, which is made usually by a committee called the Fellowships Committee that takes care of everything. Read more...

SICOT Fellowships in Africa... 15 Years of Training
by Galal Zaki Said
82 Fellows from 16 sub-Saharan African countries have been trained in the Orthopaedic Department at Assiut University, Egypt, since 2002. As a member of the SICOT Executive Committee for 8 years (as President of the SICOT Conference held in Cairo in 2003 and First Vice-President of SICOT), I had the chance to visit some African countries and to realize the dire need to improve orthopaedic and trauma services in these countries. I made contacts with President of Assiut University, Prof M.R. Mahmoud, and the SICOT President, Prof Rainer Kotz, and that signaled the start of the Assiut University/SICOT Fellowships in 2001. Read more...

Check out all the fellowships that SICOT has to offer here!



Article of the Month: International Orthopaedics Journal
Patient specific instrumentation versus conventional knee arthroplasty: comparative study
by Predescu V, Prescura C, Olaru R, Savin L, Botez P, Deleanu B
BACKGROUND: The key to a successful knee replacement is restoring normal kinematics with a neutral alignment, thus a hip-knee-ankle (HKA) angle of 180° (within 3° limits). Conventional TKR is proven to have excellent results but relies in extensive visual referencing of bony landmarks. Customised cutting blocks provide accurate bone cuts, also lowering the risk of fat embolism, blood loss and operating time. Read more...
Article of the Month: SICOT-J
The effect of corticosteroid versus platelet-rich plasma injection therapies for the management of lateral epicondylitis: A systematic review
by Walid Ben-Nafa and Wendy Munro
INTRODUCTION: Lateral epicondylitis is a common musculoskeletal disorder of the upper limb. Corticosteroid injection has been widely used as a major mode of treatment. However, better understanding of the pathophysiology of the disease led to a major change in treating the disease, with new options including platelet-rich plasma (PRP) currently being used. Read more...

Case of the Month
by Gandhi Solayar
A 56-year-old lady suffered a motor vehicle accident 2 years ago and sustained a posterior wall and posterior column right sided acetabular fracture. Initially, open reduction and internal fixation of her acetabular fracture was performed with a posterior column plate. Unfortunately, she had a tumultuous post-operative period with multiple irrigation and debridement operations of her right hip for infection. Eventually, she had removal of her hardware after 6 months. Following this, she progressively worsened with regards to walking and right hip pain. At presentation, she could only ambulate using a wheelchair. Read more...

Hand
prepared by Asif Parkar & Mohamed Sukeik
Juncturae tendinum in the hand:

​links the tendon slips of the flexor digitorum profundus and may mask proximal tendon laceration

links the tendon slips of flexor digitorum superficialis and may mask proximal tendon laceration

links the tendon slips of extensor digitorum communis and may mask proximal tendon laceration

assists with hook grip

assists with pincer grip
Back to Basics - New Method for X-Ray Assessment of Statics and Dynamics of Cervical Spine
by Vladlen Pustovoytenko & Pavel Volotovski
For many experts, X-ray assessment of statics and biomechanics of cervical spine is important not only to establish a correct diagnosis, but to make a choice between conservative or surgical treatments for spinal trauma and diseases, as well as to control the results of surgical intervention. Both CT and MRI are extremely useful, however, these methods are relatively expensive and sometimes are simply not available for the physician. Read more...

Tibor Vízkelety
It is with deep regret, that we inform the international orthopedic society that Professor Tibor Vízkelety the emeritus professor of the Orthopaedic Department of Semmelwesi University passed away at the age of 88 on 24 August 2017. He bore his illness with patience, and passed away surrounded by his loved ones. Even though we were aware of the severity of his condition, and the frailty of his health, news of his death struck us abruptly. Read more...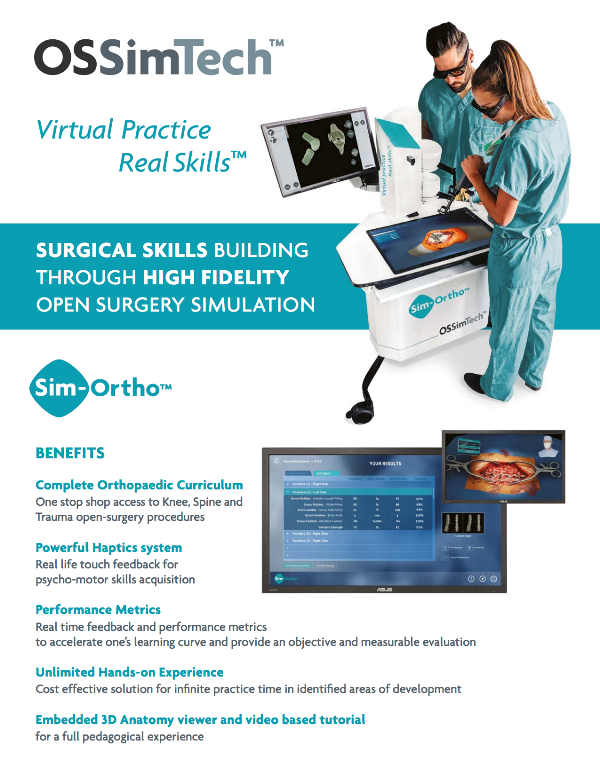 Editorial Department
Editorial Secretary: Syah Bahari
Associate Editors: Ahmed Abdel Azeem & Mohamed Sukeik
Editorial Production: Linda Ridefjord
Editorial Board: Bassel El-Osta, Temiloluwa Olufemi, Gandhi Solayar & Pavel Volotovski
SICOT aisbl, Rue de la Loi 26-b.13, 1040 Brussels, Belgium
Tel.: +32 2 648 68 23 | E-mail: [email protected] | Website: www.sicot.org

Disclaimer
Some of the views and information expressed in this e-Newsletter include external contributors whose views are not necessarily those of SICOT. SICOT is not responsible for the content of any external internet sites.