SICOT Global Network for Electronic Learning - SIGNEL
Case of the Month
Gandhi Solayar
SICOT Newsletter Editorial Board Member - Seremban, Malaysia
A 56-year-old lady suffered a motor vehicle accident 2 years ago and sustained a posterior wall and posterior column right sided acetabular fracture. Initially, open reduction and internal fixation of her acetabular fracture was performed with a posterior column plate. Unfortunately, she had a tumultuous post-operative period with multiple irrigation and debridement operations of her right hip for infection. Eventually, she had removal of her hardware after 6 months. Following this, she progressively worsened with regards to walking and right hip pain. At presentation, she could only ambulate using a wheelchair.
There is no significant past medical history and she was working as a secretary prior to the accident.
AP radiograph of her pelvis: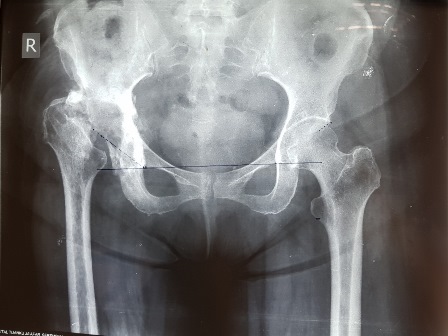 Question: What are your thoughts on the radiograph?
---
---
---
---
Answer: There is complete avascular necrosis of the right femoral head
After counselling, the patient opted for a total hip replacement (THR).
Question: What is this patient at risk of if THR is considered and how would the surgeon prepare for these?
---
---
---
Infection –blood markers (ESR, CRP, WCC) performed pre-operatively. Consider aspiration of the hip for microscopy, cultures and antibiotic sensitivity. Prepare for intra-operative specimen biopsies and potential change to a two-staged arthroplasty.

Dislocation/Poor acetabular bone stock – Further imaging to quantify adequacy (CTs). If necessary, prepare for augmentation of the acetabulum. Care should be taken to avoid negative acetabular cup orientation to facilitate bone stock inadequacy.

Sciatic/Neurovascular injury – Care during exposure of the hip and to avoid excessive lengthening to prevent nerve injury.
During surgery, there were significant superior and posterior wall/column acetabular deficiencies. The decision was made to augment the postero-superior portion with trabecular metal and the rest of the acetabulum using impaction bone grafting. We used a cemented cup and uncemented stem (hybrid THR) with a metal head. She underwent a gradual weight bearing rehabilitation programme and, at 6 months' follow-up, is pain free, ambulating using one crutch and happy with her outcome.
Pelvic radiographs 6 months following surgery: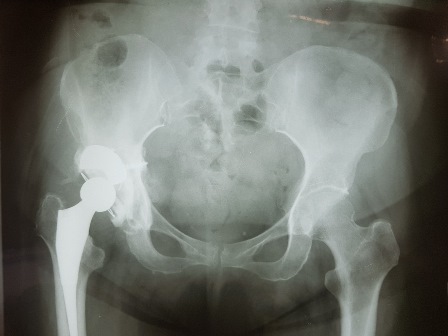 Managing acetabular deficiencies in total hip replacement:
Contained (cavitary) defects

Impaction bone grafting

Cement augmentation

Segmental defects

Structural bone grafts (autografts/allografts)

Porous metal augments

Uncontained or combination defects

Structural bone grafts

Flexible reconstruction meshes (turning uncontained to a contained defect) followed by impaction bone grafting

Porous metal cups/shells/augments

Customised tri-flange prostheses (in extreme cases)
References:
van Egmond N, De Kam DC, Gardeniers JW, Schreurs BW. Revisions of extensive acetabular defects with impaction grafting and a cement cup. Clin Orthop Relat Res. 2011;469:562-73
Issack PS, Nousiainen M, Beksac B, Helfet DL, Sculco TP, Buly RL. Acetabular component revision in total hip arthroplasty. Part II: management of major bone loss and pelvic discontinuity. Am J Orthop (Belle Mead NJ). 2009;38:550-6
Abolghasemian M, Tangsataporn S, Sternheim A, Backstein D, Safir O, Gross AE. Combined trabecular metal acetabular shell and augment for acetabular revision with substantial bone loss: a mid-term review. Bone Joint J. 2013;95-B:166-72
Gross AE, Goodman S. The current role of structural grafts and cages in revision arthroplasty of the hip. Clin Orthop Relat Res. 2004;(429):193-200