Fellowship News
Fellowship committee: How is its function and progress?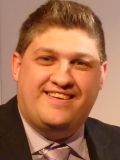 Bassel El-Osta
SICOT Associate Member & SICOT Newsletter Editorial Board Member & SICOT Fellowships Committee Vice-Chairman
- Tripoli, Lebanon
It is well known to everyone that SICOT is offering several fellowships to its members. There are 23 in total and the duration is from 4 weeks to a year. The fellowships are subject to an accurate selection, which is made usually by a committee called the Fellowships Committee that takes care of everything.
This committee is under re-construction following a transitional period. In Cape Town interviews were conducted amongst many applicants and Prof Khaled Emara was appointed as Chair and I was elected Vice-Chair.
Afterwards, the committee members were selected from enthusiastic doctors and professors, who are active in SICOT, and a new strategy has been put forward.
Therefore, in this issue of the e-Newsletter, I will take the opportunity to put forward the long- and short-term plans. The committee will be happy to hear any suggestions that the readers would like to share at [email protected].
The committee has established a fair point criteria for candidate selection. Understandably, the requirements cannot always be met due to different systems in different countries, but this criteria is meant to make it as fair as possible.
The committee is trying to make every orthopaedic surgeon aware of our SICOT fellowships by advertising on the website, through Facebook and other social media, and soon a video will be published on our fellowships web page. The aim is to open the door greatly so that everyone can benefit from our fellowships and to make them accessible to everyone.
The committee is trying hard to have more educational centres involved and to offer different fellowships so that we will get more young orthopaedic surgeons involved and raise the standard worldwide.
Finally, the long-term strategy is to have more subspecialty fellowships that are more dedicated to specialties. We believe that these type of fellowships will encourage more candidates who are interested in a particular field to apply.
The Fellowship Committee also has regular meetings 6 times a year, with the aim of improving the fellowships and making them the most interesting worldwide fellowships.