---
In Memoriam
Francis Adedoyin Olusiji Owosina
Dr Francis Adedoyin Olusiji Owosina was a pracademic Orthopaedic Surgeon in Nigeria and the West African sub-region. Francis, as he was popularly called by his peers in the SICOT International Council, was the pioneer Nigerian SICOT member, the first Nigerian Secretary/National Delegate, and a Vice-President of SICOT for the region of Africa, Near and Middle East (1984-1987). Read more...

On 29 June 2016, one of the fathers of contemporary orthopaedic surgery, Philip D. Wilson, Jr., MD, passed away. He was 96 years old. Professionally, he was most well known for shaping the Hospital for Special Surgery (HSS) in New York, NY, United States, into a preeminent institution for musculoskeletal medicine, research, and education. His character, charm, and wit were widely regarded as the distinguishing characteristics that made him a wonderful colleague, superb clinician, and revered statesman within orthopaedics. He was a remarkable figure, who was as much a part of creating the heritage of orthopaedic surgery as he was a product of it. Read more...
---
Editorial by Gareth Scott

The Doctor-Patient Relationship: A Personal View
​Licencing bodies around the world clearly define the boundaries of the profession's emotional and physical engagement with patients. Essentially we should never exploit our position of authority, knowledge or respect, to obtain any type of advantage over our patients. It is a simple moral code with clear limits and should present no difficulties. A less well taught subject is how to address adversity which is the subject of this essay. Read more...
---
SICOT Events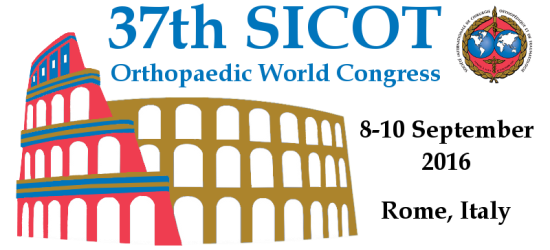 Scientific Programme: The scientific programme can be downloaded here.
Programme at a glance: The programme at a glance can be downloaded here.
Plenary Speakers: We are pleased to announce that Rodolfo Capanna and A. Seth Greenwald will be the plenary speakers at the SICOT Congress in Rome. Read more...
Educational Day: Don't miss the SICOT Educational Day on 7 September 2016! The themes for the forthcoming Rome meeting are 'Foot & Ankle' and 'Paediatric Orthopaedics' and the day will focus on all the elements of Foot and Ankle and Paediatric Orthopaedic Surgery right from anatomy and surgical approaches to complex case discussion. Dedicated Faculty along with key opinion leaders from over 14 countries will be lecturing on the course. The SICOT Educational Day Committee has worked extremely hard to produce a great programme. So, if you wish to learn, share, debate and discuss ideas and surgical techniques in an exciting environment with a group of international surgeons in one room, the Educational Day is the place for you. Read more...
19th Cooperative Course for Polytrauma Management: We are pleased to inform you that from 7 to 8 September during the 37th SICOT Orthopaedic World Congress in Rome, SICOT is organising the 19th Cooperative Course for Polytrauma Management, Beyond ATLS. There will be international experts in traumatology sharing their experiences during the course. It will be conducted in English and all participants will receive a certificate. By partnering with SICOT the registration fee for this year's course has been reduced to EUR 300 (plus 22% VAT). Read more...
AAOS Orthopaedic Video Theater: Peer-reviewed, high-quality, non-biased video presentations feature topics from anatomy and arthroscopy to demonstrations of cutting-edge techniques. 10 subspecialties are represented and videos from renowned experts and innovators around the globe are provided in the AAOS Orthopaedic Video Theater in the Exhibition Hall. Many of the orthopaedic surgeons who participate in the peer review process are pioneers in their field. Videos are reviewed by topic experts, providing you with valuable information, as well as pearls and pitfalls you need to improve patient outcomes. Each video includes indications, pre- and post-operative images, references, and many include outcomes information. The videos provide you with perspective from the surgeon's point-of-view, and from the surgeon's side of the table.

Online registration for the Congress is now closed! On-site registration opens on 7 September at 07:30. Read more...

The awards available to help young surgeons attend the Congress and other prizes can be found here.

Click here for details about the Papal General Audience, Opening Ceremony, Welcome Reception, Congress Dinner and Closing Ceremony.
Papal General Audience: The SICOT Congress in Rome will be taking place during the Holy Year of Mercy. In view of this, tickets for the Papal General Audience on 7 September have been reserved by SICOT for the Congress participants! Don't miss the opportunity to see the Pope at Vatican City during this special time.
Opening Ceremony: The guest speaker at the Opening Ceremony will be art historian Costantino D'Orazio who will speak about "The beauty of Rome through the art of cinema" and guide you through the Eternal City presenting some amazing scenes of famous movies. Watch this video to find out more...
Congress Dinner: Don't miss the Congress Dinner at the beautiful Villa Miani, offering a unique panorama overlooking the city of Rome.

Click here for details about the Golf Tournament which will be held at the oldest Italian golf club with more than 100 years of history and located in the beautiful countryside outside the city.

Information about hotels and reserving a room in Rome can be found here.

Don't miss out on this unique opportunity to promote your products and services to leading international orthopaedic surgeons, traumatologists and specialists in related fields. Click here for more information...

For information about visa requirements for entry into Italy, please click here. Please apply for a visa early since applications may take 120 days to be processed.
*************************************************************************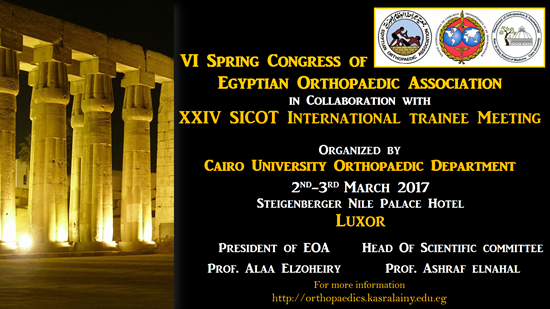 We would like to welcome you to the annual spring Egyptian Orthopaedic Association (EOA) Congress, which will be organised by the Cairo University orthopaedics department in Luxor, Egypt, on 2 and 3 March 2017, with the strong contribution of the SICOT organisation.
The EOA is one of the friendliest and the most active societies affiliated to SICOT. Next March, it will be its 6th successive annual spring congress. This congress has been successfully organised for the last 5 years during the springtime in different cities, with more than 400 participants from all over Egypt and the Middle East area each year.
Every year the scientific content is organised by one of the universities. This year the scientific programme will be organised by Cairo University, which is the oldest school of medicine in the whole Middle East region dating back to more than 150 years.
Looking for the highest level of congress scientific materials, the SICOT Editorial Board members have accepted to participate strongly in our event. Not only this, we will be holding a Trainees Meeting welcoming the contribution of the young generation of SICOT as well.
Luxor is the city of history. It is an open museum with many temples and sights that reflect the ancient Egyptians' great and interesting history. We are sure that your participation will add to our congress and you will enjoy the springtime during your stay in Luxor. For more information, please visit: orthopaedics.kasralainy.edu.eg
---
SICOT News
SICOT General Assembly 2016
Dear SICOT Member,
On behalf of the President of SICOT, Prof Keith Luk, you are kindly invited to attend the SICOT General Assembly during the 37th SICOT Orthopaedic World Congress 2016 in Rome, Italy. The General Assembly will take place on Friday, 9 September 2016 in room Michelangelo 3, from 12:30 until 14:00. Important decisions regarding SICOT will be taken; therefore your attendance will be highly appreciated. Please note that SICOT members must have paid their membership dues in 2016 in order to have the right to vote. You can access the Agenda of the General Assembly here.
Yours sincerely,
Jochen Eulert
Secretary General of SICOT

International Conference of Skeletal Deformities Correction of the Egyptian Orthopaedic Association
During the 'International Conference of Skeletal Deformities Correction' of the Egyptian Orthopaedic Association (EOA) that was held in Cairo from 25 to 27 May 2016, two symposia were organised as a joint activity between the SICOT and EOA. The topic of the first was TKR in knee deformities chaired by Dr Essam El-Sherif the elect SICOT National Delegate of Egypt. The speakers were Dr Rajesh Malhorta and Dr Ravi Mittal from India with two other local faculty. The second symposia titled Osteotomies around the knee was held by six Egyptian SICOT members. Approximately 500 doctors attended the symposia which was very interesting and followed by long discussions.
---

SICOT Global Network of e-Learning - SIGNEL
Article of the Month: International Orthopaedics Journal
Postural stability after patient-specific interpositional knee spacer or total knee arthroplasty: a comparative study
J. Götz, S. Schiessl, C. Baier, S. Dullien, J. Grifka, K. Mueller & F. Koeck
Purpose: Total knee arthroplasty provides excellent results concerning functional demands, patient satisfaction and range of motion. Short-term results after implantation of patient-specific knee spacers also show encouraging results. We hypothesised that patient-specific interpositional devices provide better proprioception and postural stability by preserving the whole bone stock and both cruciate ligaments. Read more...
Article of the Month: SICOT-J
Assessment of outcome after hip fracture: development of a universal assessment system for hip fractures
Thomas M. Bowers & Martyn J. Parker
Background: The aim of the study was to refine current evaluation systems used to assess outcome after a hip fracture and to devise a simple and practical system to assess all hip fracture patients. Read more...

Case of the Month
by Gandhi Solayar & Abdul Rauf Ahmad
A 12-year-old girl referred to the Orthopaedic clinic with a 3-month history of intermittent limping on the left leg. She reports neither prior trauma nor medical illnesses. The limp was initially painless however, at presentation, she did describe occasional bouts of pain when she walked, particularly to her knee. Read more...
---
Scientific Debate
Approach to Total Hip Replacement: Have We Reached Consensus Yet?
Prepared by Mohamed Sukeik & Fatih Kucukdurmaz
Total hip replacements (THRs) are among the commonest orthopaedic operations performed and the numbers are increasing due to an aging population [1]. According to the National Joint Registry (NJR) in the United Kingdom, more than 85,000 THRs were performed in 2014 [1]. Despite the overall high rates of satisfaction, a number of controversies remain surrounding the best surgical approach to be utilized for optimal outcomes [2]. The ideal surgical approach should provide excellent exposure to the acetabulum and femur with minimum violation of the surrounding soft tissues in order to reduce operative time, blood loss and post-operative pain and enhance recovery. It should also be associated with low risk of complications such as periprosthetic fractures, neurovascular injuries, dislocations, infections, thromboembolism and revisions. Read more...
---
Expert Corner
The sinus tarsi approach in displaced intra-articular calcaneal fracture
by Tim Schepers
Since the early nineties the Extended Lateral Approach (ELA) has been the workhorse in the treatment of displaced intra-articular calcaneal fractures. This approach is however hampered by a high percentage of (costly) wound complications [1-4]. There is some evidence suggesting that infectious complications lower overall outcome following the surgical treatment of calcaneal fractures [5]. It is therefore of paramount importance to lower the risks of wound complications. Read more...
---
Fellowship News
HKU/SICOT Training Fellowhip Report 2015
by Divesh Jalan
First of all, I would like to thank SICOT for granting me a lifetime experience both academically and personally by selecting me for the prestigious HKU/SICOT Training Fellowship at Queen Mary Hospital, Hong Kong. I arrived to Hong Kong on 1 December 2015. The accommodation was provided in one of the residential colleges of Hong Kong University, which was comfortable and had all the basic amenities. The hostel was well connected with the hospital with regular bus services. I met Dr YL Lam, head of the division of Orthopaedic Oncology and my guide for this fellowship, on the same day in the theatre, where he introduced me to other colleagues in the division. I went to the operation theatre on day 1 and observed surgeries. Read more...
---
Update in Orthopaedics
The role for arthroscopic partial meniscectomy in knees with degenerative changes: a systematic review
Comment by Ahmed Hazem Abdelazeem
'Degenerative tear in the posterior horn of the medial meniscus associated with Knee OA' is a statement that we frequently encounter and we always ask ourselves: should we operate on this type of tear or not? Read more...
---
Exam Corner



Pathology
Prepared by Mohamed Sukeik
1. The Musculoskeletal Tumour Society staging system is also called:
a. The American Joint Commission on Cancer (AJCC) system
b. The British Joint Commission on Cancer system
c. The Enneking system
d. The National Cancer Institute system
e. The Dukes system
---
Course Appraisal
Hull Deformity Course SICOT Award
by Bassel El-Osta
I was granted this award by SICOT and Hull Hospital jointly. I had always been interested in being part of this course as I had received a lot of positive feedback from previous delegates. The course was held in Hull city, at a beautiful Mercure hotel. Everything started on Sunday in the early morning and the first person you meet is the course organiser with her lovely smile and enthusiasm which makes you feel extremely comfortable and ready for four days of very hard work​. Read more...
---
Industry News
Testing a new type of Osteosynthesis and after care in treatment of ante brachium fractures in children. Read more...
Early minimally invasive percutaneous fixation of displaced intra-articular calcaneal fractures with a percutaneous angle stable device. Read more...
Percutaneous pinning of 3 or 4 part fractures on the proximal humerus in elderly patients in poor general condition : micros versus traditional pinning. Read more...
Modern Minimally Invasive Treatment of Proximal Humeral Fractures. Read more...
Sphera - Percutaneous Neurolysis in the Carpal Tunnel. Read more...
---
Editorial Department
Editorial Secretary: Hatem Said
Associate Editors: Syah Bahari & Mohamed Sukeik
Editorial Production: Linda Ridefjord
Editorial Board: Ahmed Abdel Azeem, Bassel El-Osta & Alexander McLawhorn
SICOT aisbl, Rue de la Loi 26-b.13, 1040 Brussels, Belgium
Tel.: +32 2 648 68 23 | E-mail: [email protected] | Website: www.sicot.org
---
Disclaimer: Some of the views and information expressed in this e-Newsletter include external contributors whose views are not necessarily those of SICOT. SICOT is not responsible for the content of any external internet sites.