Fellowship News
HKU/SICOT Training Fellowhip Report 2015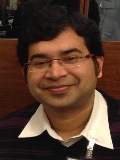 Divesh Jalan
SICOT Associate Member - Gurgaon, India
First of all, I would like to thank SICOT for granting me a lifetime experience both academically and personally by selecting me for the prestigious HKU/SICOT Training Fellowship at Queen Mary Hospital, Hong Kong.
I arrived to Hong Kong on 1 December 2015. The accommodation was provided in one of the residential colleges of Hong Kong University, which was comfortable and had all the basic amenities. The hostel was well connected with the hospital with regular bus services. I met Dr YL Lam, head of the division of Orthopaedic Oncology and my guide for this fellowship, on the same day in the theatre, where he introduced me to other colleagues in the division. I went to the operation theatre on day 1 and observed surgeries.
I had the opportunity to observe plenty of interesting cases of musculoskeletal oncology in the theatres. I attended the outpatient clinic on Fridays and the oncology round on Thursdays. The department had a regular Wednesday clinical conference aimed at the trainees which was very informative and interesting. Another academic activity was the Saturday inter-hospital meeting which was attended by other hospitals as well. There were regular radiology and pathology discussions for complex oncology cases, which had very fruitful discussions. Dr. Lam and other colleagues Dr WY Ho and Dr Raymond Yau were very keen and prompt in responding to my queries. I often had stimulating discussions on various cases, treatment options and anticipated difficulties in the theatres and rounds.
Hong Kong is a beautiful tourist destination and I was lucky to see all the major festivals like Christmas, New Year and Chinese New Year in Hong Kong. I also got acquainted with a different culture and history. I saw all the major attractions and had fun with the other international fellows.
As this was my first international academic visit, I was initially nervous and unsure. However, my guide, Dr YL Lam and other colleagues and residents made all the efforts to make me comfortable and even hosted a welcome dinner for me. No words are enough to thank my boss, Dr Lam, who with his vast experience and knowledge is a great mentor and I learned many things from him. I would also like to thank Dr Ho and Dr Raymond for the wonderful time in Hong Kong.
Last but not the least, I am grateful to SICOT for giving young surgeons like me a great opportunity to learn from other centres and countries. I definitely had one of the best experiences of my life and the knowledge and work culture gained here will definitely help my practice and institute.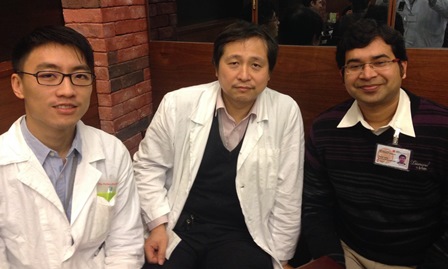 With Dr YL Lam (middle) & Dr Raymond Yau