Course Appraisal
Hull Deformity Course SICOT Award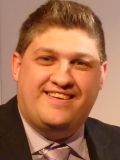 Bassel El-Osta
SICOT Associate Member & SICOT Newsletter Editorial Board Member - London, United Kingdom
I was granted this award by SICOT and Hull Hospital jointly. I had always been interested in being part of this course as I had received a lot of positive feedback from previous delegates.
The course was held in Hull city, at a beautiful Mercure hotel. Everything started on Sunday in the early morning and the first person you meet is the course organiser with her lovely smile and enthusiasm which makes you feel extremely comfortable and ready for four days of very hard work.
The first impression was very positive, with one of the Course Directors, Mr Hemant Sharma, welcoming everyone and making them feel as comfortable as possible.
Starting the first day with the foot and ankle deformity, and with Mr Lahoti taking the lead, we knew that the most difficult part of this course would be passed to us as if it were the simplest thing. The day went by very quickly with saw bones, simple informative presentations, discussions, questions and answers. It was difficult to absorb everything, but it was nevertheless excellent.
The second day didn't differ from day one, but now we were learning the principles of Limb deformity. On the third day, we attended a Cadaveric lab, where we performed a number of procedures on cadavers. This was another amazing opportunity, enhancing our skills and learning curve. This is only a part, as we were again sawing bones, drawing lines and practising the art of deformity correction. The last day was not less tense and we continued at the same level as in the previous three days. During the course, there were instructional lectures, clinically applicable, which were extremely useful. The faculty was amazing and of high standard, and everyone had an opportunity to do something.
This was the first course I have ever attended where there was real drawing, real pictures, real thinking. The lecturers put a lot of effort into giving us a take-home message in an amazing style. We always thought that Limb reconstruction was "a piece of cake". The attitude of the faculty, who are world renowned, was wonderful and positive. They were always approachable and they kept going with us until the final minute.
Altogether, the course is of a very high standard, perfectly organised, and indeed informative and enjoyable. There were 50 candidates from all over the world, and my only observation is that this course is more suitable to doctors who are reaching the end of their training or are already junior consultants rather than candidates who are at the beginning of their training.
I am pretty sure that this course will become more and more popular and a lot of SICOT members will be putting more effort into winning this remarkable prize. In future, it would be a good idea to double the prize and grant it to two awardees.
I would like to thank SICOT, Mr Sharma, Mr De Kiewiet and the entire faculty for this amazing learning course.