Scientific Programme

Vikas Khanduja - Scientific Programme Chairman
Dear Friends,
On behalf of the SICOT Board of Directors and the Programme Committee, I would like to introduce you to our first look at our proposed programme for the 40th SICOT Orthopaedic World Congress, to be held in December 2019 in Muscat, Oman!
First of all I need to thank everyone who was involved in and attended the last Congress in Montreal, Canada – its success is the foundation for this year's event. We will be building on last year's instructional programme to bring you a diversity of speakers from across the globe, covering not just the usual mainstays of orthopaedics and traumatology but also some more unusual but very pertinent subjects such as Road Safety and Injury Prevention. We aim always to bring together surgeons from all walks of life, believing that we all have something to learn from one another. As well as expecting registrants from over 80 countries, we have also looked to ensure as usual that the programme suits surgeons at all levels in their career. The SICOT Diploma Examination, 9th SICOT Educational Day with the theme of Trauma and the 31st International Cooperative Course for Polytrauma Management will all be part of the pre-Congress events on Wednesday, 4 December. Finally, we appreciate that so much learning needs balancing with some fun – the social programme is shaping up to be as phenomenal as SICOT members have come to expect.
I truly believe that magical Muscat is the perfect place to bring you all together as colleagues, teachers, students and friends. The state-of-the-art venue, beautiful weather and mystical city are sure to be a stimulating and comfortable environment to educate, be educated and network in.
I will see you there!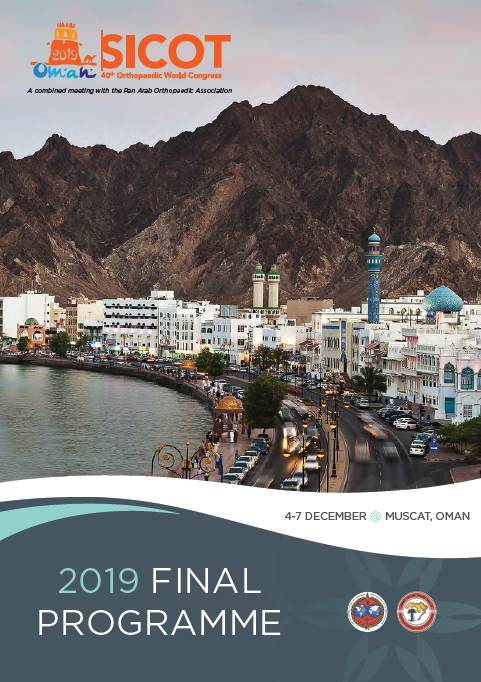 SICOT would like to thank its partner societies for contributing to the scientific programme and organising symposia. Read more...
We are pleased to announce that internationally acclaimed experts Lewis Zirkle, Mahmoud Hafez and Randall Loder will be the plenary speakers at the SICOT Congress in Muscat. Read more...
9th SICOT Educational Day
The needs of orthopaedic residents, fellows and practicing orthopaedic surgeons around the world are evolving constantly. At the same time, evidence-based knowledge in orthopaedics is expanding at a rapid rate. Moreover, all the residents around the world need to take examinations at some stage in their career to mark completion of training and/or demonstrate competency. Also, practicing orthopaedic surgeons do have to undergo some form of appraisal and/or revalidation at regular intervals to demonstrate fitness to practice. In both these scenarios, acquiring and updating knowledge in a short span of time is essential. The SICOT Educational Day was conceived with this purpose in mind. Read more...
31st International Course on Polytrauma Management
The idea of this course was initiated by Drs Giannoudis and Pape in 2002 with the first course being held in 2002 in Leeds, United Kingdom. Since then, it has circulated and part of it has also been implemented in the philosophy of the AO. The organisers feel that the widespread implementation of the ATLS algorithm has tremendously improved the acute treatment of severely injured patients. Following the initial resuscitation phase, controversies and ongoing changes have occurred that are worth reviewing. Therefore, these courses address the issues "Beyond ATLS". Read more...
Hands-on training in knee and shoulder surgical techniques under direct supervision of faculty and staff from 4 to 6 December 2019. Read more...
Dry Shoulder and Hip Arthroscopy Labs
SICOT will host Dry Labs in Shoulder and Hip Arthroscopy in Oman this year. The aim is to help participants interested in starting these fields to get basic arthroscopic information and perform basic skills on dry models. This year's labs are sponsored by Karl Storz, who will provide the models, instruments and anchors. Read more...
LIVE OPERATION - VIDEO: Stem Cell Therapy for Arthritis and Spinal Cord Injury
Watch our live-operation video on 5 December in the SICOT Lounge. Read more...