Hands-on Ponseti Clubfoot Workshop
Date: 5 December 2019
Time: 12:30-14-00
Venue: Junior Ballroom A
Fee: FREE, but advance registration is required
Participants must register and pay the registration fee for the 40th SICOT Orthopaedic World Congress to be able to register for the Workshop.
Registration is open! Click here to register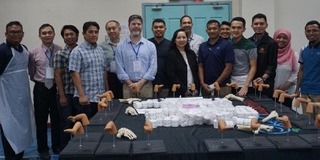 This is an incredible opportunity to get hands-on Ponseti clubfoot casting experience including manipulation and casting using clubfoot models. Learn from the experts in a small group setting. The training includes an introduction to clubfoot and the Ponseti method, foot anatomy and definitions, pathoanatomy, method of manipulation, applying casts, tenotomy, maintenance using Foot Abduction Braces and identification of common problems.