SICOT Global Network for Electronic Learning - SIGNEL
Case of the Month
An unusual cause of hip pain in a fifteen-year-old
Luthfur Rahman, Mohammad Zain Sohail, Georgios Mamarelis - Enfield, United Kingdom
A fifteen-year-old male patient presented to the orthopaedic clinic with a 7-month history of right-sided hip pain. The pain was localised to the right groin with no radiation of the pain. It was worsened by weight bearing and physical activity. There were no back pain, radiculopathy symptoms, fever or constitutional symptoms. There was no previous history of similar episodes and no history of trauma. The patient was otherwise fit and healthy and did not have any significant past medical history.
Examination revealed an antalgic gait and no leg length discrepancy. However, despite full range of movement of the right hip, there was discomfort on flexion and internal rotation. Examination of the spine and right knee were normal. The lower limbs were neurovascularly intact.
What are your differentials?
---
---
---
---
Avascular necrosis

Stress fracture

Femoroacetabular impingement/labral tear

Septic arthritis

Inflammatory joint disease

Malignancy
What are the pertinent investigations in this case?
---
---
---
---
Plain radiographs of the hip showed decreased bone density and did not reveal any other pathology. Laboratory tests including full blood count, inflammatory markers (erythrocyte sedimentation rate (ESR) and C-reactive protein (CRP), bone profile and autoimmune rheumatology screen were also normal.
What further investigations would you consider in this patient?
---
---
---
---
Magnetic resonance imaging (MRI) scan of the right hip was performed.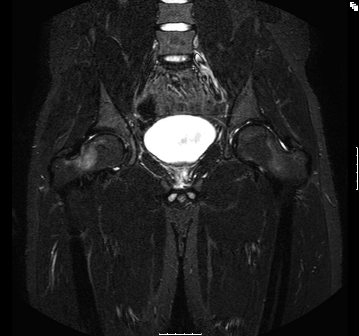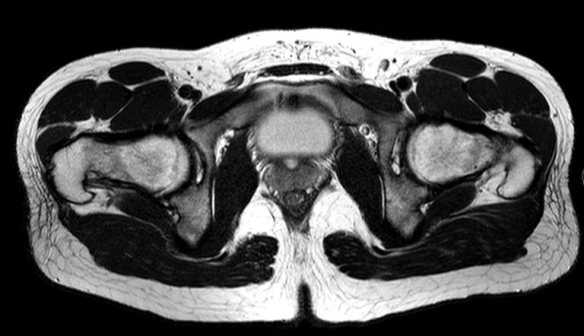 The MRI showed a band of well-defined bone marrow oedema involving the right femoral head and neck. No evidence of a joint effusion or synovial thickening and the acetabulum and labrum were normal. There was no evidence of avascular necrosis or osteomyelitis.
What should be the next step in the management of this patient?
---
---
---
---
A high resolution computed tomography (CT) was subsequently performed and confirmed normal appearance of the right hip joint with no evidence of cortical thickening, periosteal reaction to suggest a neoplasm or fracture.
Definitive diagnosis and management
In the absence of an alternative cause, a diagnosis of transient osteopaenia of the hip (TOH) was made and the patient was advised to refrain from intense physical activity and to weight bear only as comfort allowed.
Over the following 6 months the patient's symptoms significantly improved. A repeat MRI performed at six months after initial imaging confirmed normal appearances of the right femoral head and neck. He subsequently was able to return to full activity and made a full recovery.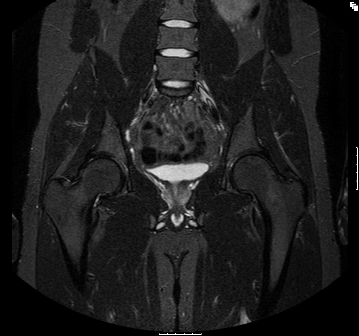 Discussion
Transient osteoporosis of the hip (TOH) is an uncommon condition which was first described in 1959 [1]. It was initially described in pregnant women, but has subsequently been reported in non-pregnant women and middle-aged men as well [2, 3]. The age of first presentation has ranged from 24 to 75 years [4]. In the paediatric population, a similar condition called transient osteopaenia of the hip (TOH) has been reported in a few cases in the literature [3, 5].
The pathophysiology of TOH is not fully understood but it is associated with bone marrow oedema and increased bone turnover [6]. It is part of a group of conditions called transient regional osteoporosis, which can also affect the knees and ankles. Hoffman et al [7] on the other hand, grouped transient osteoporosis of the hip, reflex sympathetic dystrophy (RSD) and regional migratory osteoporosis (RMO) under bone marrow oedema syndrome.
Various aetiological factors have been implicated including hormonal changes in pregnancy, genetic predisposition, vascular and neurological abnormalities.
The diagnosis can be difficult if it is not considered in the differential. The most common presentation is isolated hip pain without any other clinical manifestations.
Laboratory investigations are not particularly useful in the diagnosis but help exclude other causes of hip pain (e.g. septic arthritis). Plain radiographs may show osteopenia of the affected area [8] but this is not always evident. However, MRI is the investigation of choice as it has high sensitivity in showing bone marrow oedema [7, 8]. It is also useful in excluding the important differential diagnoses of avascular necrosis (AVN), stress fractures, septic arthritis, malignancies, inflammatory joint diseases, RSD and pigmented villonodular synovitis [9]. The typical MRI findings in TOH include high signal areas on T2 images and decreased signal intensity of bone marrow on T1 images. Additionally, absence of subchondral changes along with a delayed enhancement is useful in differentiating TOH from AVN [7]. Other imaging modalities such as bone scans can also be helpful in differentiating TOH from the other pathologies mentioned above. [10]
TOH is generally a self-limiting condition, with complete recovery occurring over several months. However, complications such as femoral neck fractures have been reported [11]. Management is generally supportive and includes simple analgesics, physiotherapy and a period of protected weight-bearing [12]. The use of oral bisphosphonates has also been described with good outcomes [13] in the adult population.
Conclusion
Transient osteoporosis of the hip is a self-limiting condition which is poorly understood and perhaps underdiagnosed. It is predominantly reported in pregnant women and middle-aged men. TOH is a diagnosis of exclusion but should be considered in paediatric patients presenting with hip pain. Treatment is generally conservative with analgesia and rest.
References:
Curtiss PH Jr, Kincaid WE. Transitory demineralization of the hip in pregnancy: a report of three cases. J Bone Joint Surg Am 1959;41:1327-33
Lakhanpal S, Ginsburg W, Luthra S, et al. Transient regional osteoporosis: a study of 56 cases and review of the literature. Ann Intern Med. 1987;106:444–450
Schapira D. Transient osteoporosis of the hip. Semin Arthritis Rheum. 1992;2:98–105
Rocchietti March M, Tovaglia V, Meo A, et al. Transient osteoporosis of the hip. Hip Int. 2010;20(3):297-300
Nicol RO, Williams PF, Hill DJ. Transient osteopaenia of the hip in children. J Pediatr Orthop. 1984;4(5):590-2
Hunder GG, Kelly PJ. Transient osteoporosis of the hip: a clinical syndrome? Arthritis Rheum 1967;10:285
Hofmann S, Kramer J, Vakil-Adli A, et al. Painful bone marrow edema of the knee: differential diagnosis and therapeutic concepts. Orthop Clin N Am 2004;35:321–33
Patel S. Primary bone marrow oedema syndromes. Rheumatology (Oxford). 2014;53(5):785-92
Lakhanpal S, Ginsburg WW, Luthra HS, et al. Transient regional osteoporosis. A study of 56 cases and review of the literature. Ann Intern Med 1987;106:444–50
Guerra JJ, Steinberg ME. Distinguishing transient osteoporosis from avascular necrosis of the hip. J Bone Joint Surg Am 1995;77(4):616-624
Moran MC. Iatrogenic femoral neck fracture in transient osteoporosis of the hip. A case report. Clin Orthop 1995;316:207-10
Niimi R, Sudo A, Hasegawa M, et al. Changes in bone mineral density in transient osteoporosis of the hip. J Bone Joint Surg Br 2006;88:1438–40
Kibbi L, Touma Z, Khoury N, et al. Oral bisphosphonates in treatment of transient osteoporosis. Clin Rheumatol 2008;27:529–32