Fellowship News
Hiranandani Orthopaedic Medical Education (HOME) Fellowship Report 2016
Varun Gupta
SICOT Associate Member - New Delhi, India
A defining moment in my career was when I joined the clinical research fellowship in advanced hip and knee reconstruction (Hiranandani Orthopaedic Medical Education (HOME) Fellowship) at Dr L.H. Hiranandani Hospital under the guidance of Dr Vijay Shetty. Staying in a vibrant city (Mumbai) and at one of the best hospitals and learning from one of the pioneers in joint replacement surgery was an experience of a lifetime and, so far, the best time in my career.
The following are salient features of my learning during the HOME Fellowship:
The outpatient (OPD) clinic experience is truly amazing. The experience is one of administration, documentation, clinical examination and making a working diagnosis. OPD was the best place to improve our communication skills with patients and their relatives. We were encouraged to take independent decisions on the overall management of busy OPDs.

HOME conducted regular Journal clubs and combined "Ortho Physio" meetings. This was an ideal platform for interacting and networking.

Pre-op planning involved discussing pre-op X-rays, the type of prosthesis to be used, and the surgical approach. All fellows were involved in the decision-making process and our inputs were well heard and taken seriously. This was the best part and we, as fellows, would get heavily involved in the whole process.

Surgical training: during my tenure, I was largely trained in all aspects of adult hip and knee surgery. This included arthroscopic surgery of the hip and knee, primary and revision arthroplasty of the hip and knee. We also got exposure to occasional complex trauma of the hip and knee. Apart from these, HOME offered biological treatment options such as platelet-rich plasma (PRP) and stem cells for cartilage lesions in the hip and knee. The department is the main home for orthobiologics in India. HOME conducted two major International Orthobiologics Meetings recently.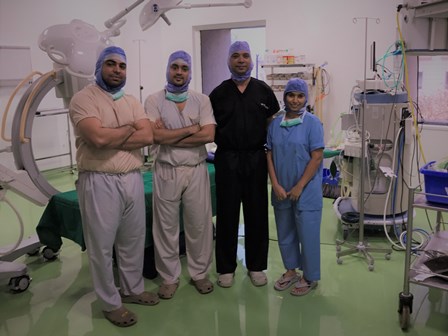 In the OR with Dr Vijay Shetty and his team

Publications: apart from surgical teaching, this fellowship gave me an insight into how to write and review a scientific paper. After the selection for the Fellowship, candidates are usually given research materials and future projects for their term by Dr Shetty well in advance. Every fellow is taken through an induction session after joining the Fellowship. Each fellow is expected to publish a minimum of 4 international publications, national and international podium presentations and, before completion, to guide the successor.

Community camps: there were a number of community and social camps arranged during my tenure. It was fun going as a team and mingling with the local community. I was given the opportunity of delivering patient information lectures at several community meetings.

Special moment during my Fellowship!
I was fortunate to visit one of the largest 3D printing firms in India along with Dr Shetty's team. Dr Shetty uses 3D printing technology for pre-operative planning of complex revision of hip and knee replacements. This allows us to be mentally and technically prepared for any surprises during the surgery. It was a unique experience for me and assisting those surgeries made me feel on top of the world!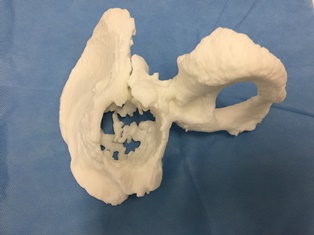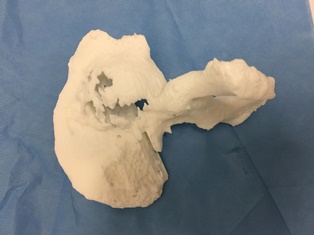 3D printed left hemipelvis
Extracurricular
Meeting with the British Business Group, Mumbai was a very, very different experience and not connected to orthopaedic surgery at all. It is a unique place to collaborate and network with very successful businessmen and women from India and the United Kingdom. I do not think any Fellowship in the world offers this type of opportunity.
Three things I learnt from this Fellowship are punctuality, hard work and commitment to pay back to society. Therefore, I highly recommend this fellowship to young surgeons who aspire to become arthroplasty surgeons.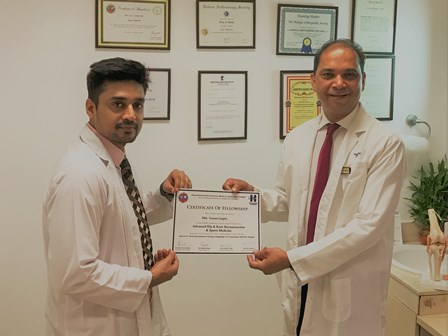 Receiving the fellowship certificate from Dr Vijay Shetty
I would like to thank SICOT and Dr Vijay Shetty for providing me with such an excellent experience and opportunity. I can definitely say that I have benefitted a great deal from this Fellowship.