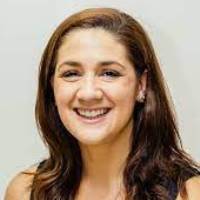 Marí Thiart (South Africa)
SICOT Associate member
Meet Dr Marí Thiart: Trendsetting foundation member of the South African Female Orthopaedic Surgeons' Society (SAFOSS).
Dr Marí Thiart is a consultant orthopaedic surgeon based at Stellenbosch University and Tygerberg Hospital in Cape Town, South Africa. She has a dual appointment as a senior lecturer at Stellenbosch University. She graduated in 2015 from Stellenbosch University and spent two years in Southampton, United Kingdom, first as a fellow and then as a locum consultant, before returning to Tygerberg. She runs the Paediatric unit and has a particular interest in bone and joint infections, cerebral palsy and limb reconstruction.
As one of the 5% female orthopaedic surgeons in South Africa, Marí is passionate about advancing women and promoting orthopaedics as a viable specialisation option for women. She is one of the founding members of the South African Female Orthopaedic Surgeons' Society (SAFOSS).
She is a SICOT member and a member of the South African Orthopaedic Association, the South African Paediatric Orthopaedic Surgeons, South African Limb Lengthening and Reconstruction Society, and the South African Academy of Childhood Disability. In addition, she is a member of the AAOS, the American Academy for Cerebral Palsy and Developmental Medicine and the Ruth Jackson Orthopaedic Society.
The choice of orthopaedics
In my internship, I realised that I wanted to do something surgical but could not decide. It was only in Community service (a year post Internship, in which medical doctors are sent to a rural hospital to serve the community) that I realised I enjoyed Orthopaedics. I enjoyed looking at x rays (but in the light, not the darkened Radiology booth!) and have always enjoyed Mathematics. The patients were relatively healthy, and you can make a difference.
I got a medical officer post in the Western Cape and have not looked back. Unfortunately, I didn't see many female Orthopaedic surgeons as I moved up the ranks. Being in the minority was quite lonely, and it was tough not having someone to soundboard off. After my residency, I went to the United Kingdom for my fellowship and met many female Orthopods. It was refreshing not to be the only woman. I learnt so much from these women and the value of mentoring, however informal.
The birth of SAFOSS and the journey so far
After returning to South Africa, I formed SAFOSS (the South African Female Orthopaedic Surgeons' Society) at the end of 2020 to improve the numbers of women in Orthopaedics and support those already in the field. We currently have 71 members, comprising consultants, registrars, and medical officers.
Thanks to COVID-19, virtual meetings became the norm, and we started with an international webinar on work-life balance with three incredible surgeons from the US. After that, we had a few more webinars on pregnancy and motherhood in training; Mentoring: is a two-way street with the incredible Prof Mamokgethi Phakeng, the Vice-Chancellor of the University of Cape Town who also holds a PhD in Mathematics Education. We were also fortunate to have a whole hybrid Diversity session at the annual South African Orthopaedic Association Congress in November 2021.
We are running a three-part webinar on "Mastering your personal power" this year. The idea behind this is to improve interview and oral examination techniques.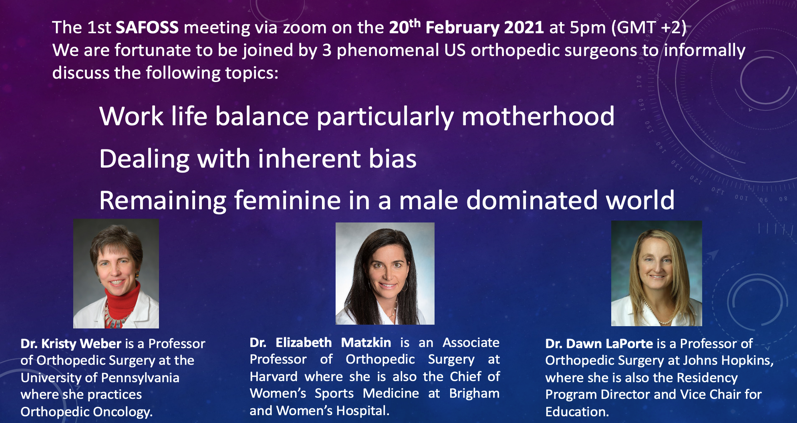 We started an (in)formal mentoring program, and this received some great feedback. Mentees reported that they felt comfortable sharing personal issues and have gained great advice. That even discussing non-orthopaedic related things helped. They also admitted that mentorship was a two-way street and that both parties needed to make an effort.
We have a solid social media presence on all the major social media channels (Twitter, Facebook, Instagram and LinkedIn). We love showcasing our members doing great things at work – you can't be what you can't see!
SAFOSS created branded merchandise like buffs and an extraordinary ring holder necklace. The necklace does not need to be unclasped to place your rings securely on it whilst you are scrubbing!
Because we know doctors choose their specialisation in their junior years (even as soon as medical school), we wanted better exposure to Orthopaedics for our female and minority group students. Therefore, we piloted an introduction to Orthopaedics workshop #soyouwanttibiasurgeon in October 2021 at Stellenbosch University, Tygerberg Hospital, Cape Town. Fifty-seven students attended this workshop in three groups. The workshop was well-received, and we hope this paves the way for more collaboration between industry and undergraduate education.
Our future goals include continuous education and self-growth for our members. We hope to become a financially sustainable organisation by requesting annual fees and arranging paid workshops. In addition, we hope to continue networking globally with other female surgeons. An international mentoring collaborative with the United Kingdom is currently in the pipeline for our consultant members.
Watch this space; the sky is the limit!