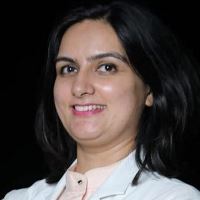 Ravisha Bhardwaj (India)
SICOT Associate Member
https://drravishabhardwaj.wordpress.com
@Linkedin, Facebook, Youtube, Instagram
Accepting challenges and finding new ways of doing things, are my two greatest strengths which have helped me excel in sports like fencing and my professional career, as an orthopaedic surgeon.
Inspired by my doctor parents, I have always loved biology and now medicine. I've always been an enthusiastic child, bubbling with energy, which is one of the reasons my father decided to enrol me for fencing classes as early as in grade V. I was awarded 3 Gold medals at the 51st and 52nd School National Fencing games; and 21st Senior National Fencing games along with several other accolades. Due to the sportsman spirit inculcated in me early on in life, I never gave up even after encountering several failures in life and I was never bothered with what society thinks of me. During my graduation years, I was awarded a Short term studentship (STS) by the Indian Council of Medical Research, New Delhi, India for doing two research projects.
I got my government job as well as admission to my orthopaedic residency after my marriage. Despite the many challenges and questions raised, I excelled in my chosen career with the support of my husband and parents. Being a sportsperson, I never had a problem with multitasking and managing pressure.
Turning challenges into opportunity
During my residency, I got a research study which was not a cakewalk, as my guide saw potential in me so I didn't let go of this opportunity. A few years later, I published this article in the renowned journal which was a great feat for my age & experience (Indian Orthopaedic Journal).
In 2010, at the Annual Conference of the Indian society, I was awarded 'Young scientist Investigator Award'. During my residency, I was awarded the first prize for poster presentation and oral presentation at a national level conference (31st ISBTI Annual conference, TRANSCON 2014).
I have been actively involved in surgeries involving spinal trauma, Ilizarov, hip and knee arthroplasty and arthroscopy. I also got training in arthroscopy at several workshops at the national level. I have been recently associated with AOSpine and SICOT.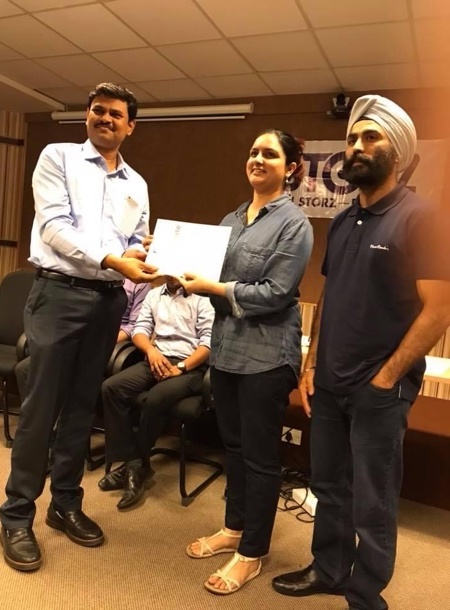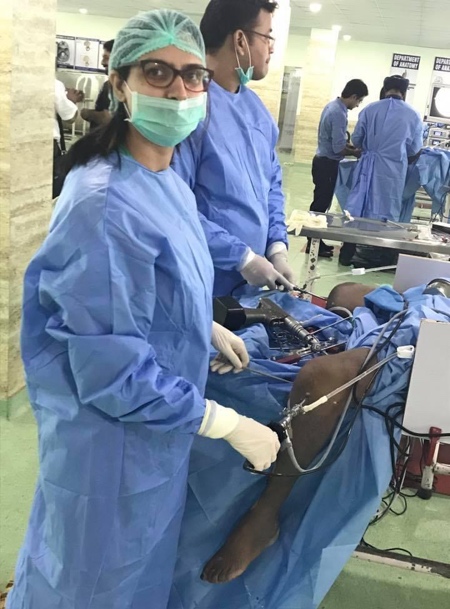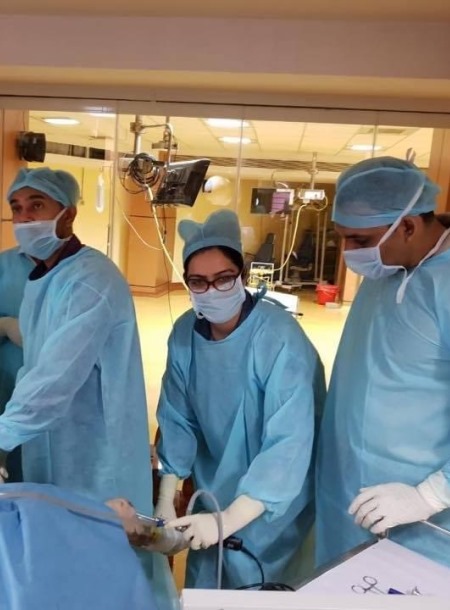 Arthroscopy cadaveric course completion under guidance of Dr IPS Oberoi (President Indian Arthroscopy society)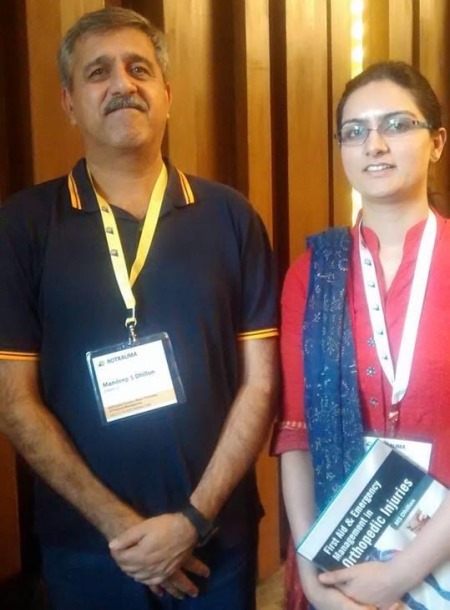 Awarded book at AO Trauma course by Dr Mandeep Dhillon, Professor and Head of department of Orthopaedic, Physical medicine Rehabilitation at the Postgraduate Institute of Medical Education and Research. Past President Indian Orthopaedic Association
I have always been a staunch supporter of child safety and a fighter against child abuse. After I was blessed with a son, I found myself to be very protective of him, a natural instinct in all mothers, and I didn't want people kissing my son all over his face. One such incident made me think about how I could change that and also educate both children as well as their parents. So one day I penned this down into a rhyme which I later published as a children's book titled 'The Sticky Tricky Kisses'. I got a really good response from the readers, most of whom were parents who felt the same way.
After my senior residency at Government Medical College, Patiala, Punjab in India, I got posted to the Mata Kaushalya Government hospital, Patiala. I went with an aim to treat 10,000 women with osteoarthritis in a year. There was a 40% increase in operations and at last, I did the very first total knee replacement of the hospital, a milestone, both for myself and the hospital.
I believe the word 'NO' doesn't exist in my dictionary and I wish to inspire more females in the field of orthopaedics. The quotes that keep me going are: 'slow and steady wins the race' and 'persistence is the key to success'.
A message to my colleagues:
Break the barrier of thinking and have a new perception.
Never doubt yourself.
Always be ready to learn new things.
Accept any challenge and try to make the best out of it.
Read more Women in Orthopaedics articles