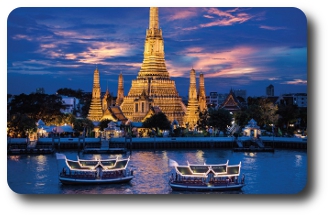 SICOT Course on Pelvic and Acetabulum Injuries
with Cadaveric Dissection
17-19 August 2016
Siriraj Hospital, Bangkok, Thailand
This course is now full!
Welcome Message
It is our great pleasure to announce this educational event organised by SICOT. The theme is pelvic and acetabular injuries which are the most challenging topics in orthopaedic trauma.
The aim of the course is to provide an understanding to evaluation, emergency treatment, and treatment strategies of pelvic and acetabular injuries. Our target groups are general orthopaedic trauma surgeons and surgeons preparing for further specialisation in pelvic and acetabular surgery. After the course the participant should be able to perform independent decision-making and emergency treatment. The course can act as a solid basis for further studies and pelvic fellowships.
We have put together an exciting programme of lectures, interactive case discussions and also cadaveric dissections. We have also selected an excellent venue in Bangkok and participants will enjoy both the educational content and the Thai hospitality.
Frankie Leung (Hong Kong) & Khongkhet Riansuwan (Thailand)
Course Chairpersons
Faculty
David Chua (Singapore)
Christian Fang (Hong Kong)
Poon Kein Boon (Singapore)
Tak-Wing Lau (Hong Kong)
Hans-Christoph Pape (Germany)
Likit Rugpolmuang (Thailand)
Theerawoot Tharmviboonsri (Thailand)
​Zhou Xiang (China)

Programme at a glance

Lectures:
Anatomy and classification of pelvic ring and acetabulum

Diagnostics and radiological anatomy of pelvis and acetabulum

Emergency treatment of pelvic trauma and decision making

Approaches pelvic ring

ORIF anterior pelvic ring and posterior pelvic ring

Indications and decision making in fractures of acetabulum

Choice of approaches and basic management

The Kocher-Langenbeck approach

The ilioinguinal approach

Surgical technique posterior wall and column / transverse & posterior wall

Surgical technique for anterior wall / column, anterior column & post hemitransverse, both column fractures

Surgical technique transverse fracture, t-type fractures

Practical (including cadaveric dissection):
External fixator/ C-clamp application

Approach pubic symphyses

Anterior approach SI-joint

Posterior approach SI-joint

Kocher-Langenbeck approach

Trochanter flip extension and surgical dislocation

Ilioinguinal approach

Modified Stoppa approach

C-clamp position

Systematic technique SI-screws

Anterior and Posterior column lag screw
Registration & Fees
Course fees:
EUR 600 for SICOT members

EUR 750 for non-members

Registrants should:
have an account on the SICOT website. If you do not already have an account, please create one here.

e-mail the SICOT Head Office at [email protected] for course registration and payment details. Payment can be made by credit card.

Registration deadline: 15 July 2016
Places are limited so early registration is recommended.
Hotel Booking
Please click here to book a room at the Royal Princess Larn Luang Hotel in Bangkok.