Fellowship News
Report of the SICOT meets SICOT (2018-2019) Fellowship at St. George University Teaching Hospital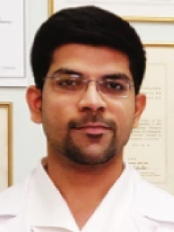 Kunal Aneja SICOT Associate Member - New Delhi, India
I was pleasantly surprised when, one fine afternoon of 2018, I received an email congratulating me for being a successful applicant for the prestigious SICOT meets SICOT fellowship, to be pursued at my preferred choice of center: St. George University Teaching Hospital situated at Székesfehérvár, Hungary. After a few email communications with the SICOT Head Office and Prof László Bucsi (my mentor for the fellowship and Head of Department of Orthopaedics of the Institute) I could prepare well for my intended travel in the month of April 2019.
Once the flight tickets and visa requirements had been fulfilled, I flew to Budapest to be warmly greeted by Prof. Bucsi at the airport on a Sunday afternoon. He graciously drove me to the hospital accommodation and familiarised me with the hospital. I was introduced to the orthopaedic nursing staff who had prepared a hearty lunch for me. I was allotted a hospital mobile phone, keys to a personal OT locker, hospital white apron with white dress and a special electronic key to easily pass by all the hospital doors/lifts. I was acquainted with the huge supermarket close by (Interspar) where I could exchange some currency for Hungarian Forints (HUF) and could buy items for daily needs. I spent the rest of the day unpacking and preparing for the work ahead.
The first day, Prof. Bucsi helped me with the medical fitness by a physician, which gave me a medical clearance for working in the hospital theatre. Each working day started with early morning ward rounds followed by a morning meeting with all the consultants, residents, head nurse and physiotherapists. We discussed any problems with the inpatients during ward rounds, any cases for clinical discussion, X-rays of planned OT cases for the day and X-rays of previous-day operated cases. Prof. Bucsi ensured I was actively involved in the meetings by discussing cases, explaining protocols and asking my opinion/questioning me on numerous clinical scenarios. Each day was well planned by Prof. Bucsi by ensuring I was washed in as many cases as possible, more so in the complicated ones. I got the opportunity to participate in a huge variety and number of procedures like Total Hip Arthroplasty, Total Knee Arthroplasty, Unicondylar Knee Replacements, Revision Hips, Staged procedures for PPJI, Mosaicplasty, arthroscopic ACL/PCL reconstruction, Meniscus repairs/excision, knee loose body excision, Arthroscopic and Open Procedures for Recurrent Patellar Dislocations, Total and Reverse Shoulder Arthroplasty, Arthroscopic Rotator Cuff repair, A-C joint reconstructions, Arthroscopic Bankart Repair, and a few trauma/hand/foot and ankle cases. Each day was interesting with a variety of cases and the opportunity to learn while working with different surgeons of the department. Prof. Bucsi is a meticulous surgeon who explains each and every step in detail while operating. He ensures a bloodless field during surgery with the art of reproducing the exact same steps in every case, primary or revision, making the procedure look quite simple. I got acquainted with a variety of hip and knee prosthesis, including the Hungarian ones and also a few new arthroscopic fixation devices for ligament reconstructions/meniscal repairs. There is a fixed Arthroplasty protocol laid down by Prof. Bucsi of painting, draping and operating step by step which all the surgeons have been following for years, ensuring reproducible excellent outcomes in all the cases. I got the opportunity to operate with Dr. Ferenc Dobos who has been working with Prof. Bucsi for more than two decades now and is an excellent surgeon himself, keeping the OT atmosphere lively and ensuring maximum productivity of the staff. Other surgeons of the department whom I worked with and learned from were Dr. Ignac Kovacs, Dr. Horváth Sazbolcs, Dr. Czifra Attila and Dr. Jánvári Kristóf. The sports medicine team comprised of Dr. Abkarovits Geza, Dr. Karoly Gulyas and Dr. Peter who are doing exemplary work in knee, ankle, shoulder and hip arthroscopies, both in terms of quantity and quality of cases. I got the opportunity to visit one day clinics away from the city with Dr. Geza and Dr. Peter, where the procedures sometimes last well up to 10:30 pm and I did quite a number of independent knee arthroscopic procedures. I was able to visit the Budapest University to attend a meeting, where a PhD student, Dr. Károly Schandl, successfully defended his research work on the role of Albumin coated allograft in BTB grafts for ACL reconstruction. Prof. Bucsi also took the effort of taking me through his research work, publications, lecture series and discussed a few difficult revision cases.
During my stay there, some new friendships were bonded with the hard working residents there, Dr. József Szarvas, Dr. Kovács Tibor, Dr. Zsófia Balogh, Dr. Horváth Zsolt and Dr. Mátyas Vajda, all of whom were ever helpful. The theatre staff, nursing staff, physiotherapists and cleaners all worked very efficiently to ensure maximum productivity on a daily basis. The orthopaedic nursing staff were warm and ensured my breakfast and dinner were ready each day while I had lunch in the hospital canteen. I am also thankful to the staff at the hospital accommodation who ensured my living space was cleaned timely and helped me with anything I needed, making my stay comfortable.
I had an opportunity to deliver a presentation on my professional journey, personal life, orthopaedics in India, my research/clinical work in India and what I gained from this fellowship. It was quite well received by the department and enabled a better understanding of my personal and professional working environment in India.
While I kept busy working in the hospital on the weekdays, I was able to plan my visits to a few cities over the four weekends: Vienna, Prague, Budapest and Bratislava. I was lucky to experience the Easter festivities and the local culture as one of the weekends was a long one. Dr. Dobos was kind enough to spend an evening with me at Lake Balaton, largest freshwater lake in Central Europe, and take me around the vineyards. Another evening, Prof. Bucsi took me for a long walk around Székesfehérvár city centre and we had a memorable time discussing history, family and our profession, amongst other things over dinner. The last Sunday, he hosted me for a sumptuous lunch at his beautiful house in Érd where I was acquainted with his family and got connected with him personally. He ensured I was dropped off at the airport, well in time for my morning flight to Delhi. I left Hungary with a heavy heart but a mind full of rich memories which I will cherish for a lifetime.
I have gained a lot from this fellowship training, both professionally and personally. Each and every consultant went out of their way to explain and resolve my neverending queries, making it a wonderful learning experience. I am thankful to SICOT for this golden opportunity offered to competent young professionals and specially to Prof. Bucsi for ensuring my fellowship was full of learning while being eventful and comfortable at the same time. It is well said that "A truly great mentor is hard to find, difficult to part with and impossible to forget" and I am proud to have found a mentor in Prof. Bucsi. I am certain that this experience would be a stepping stone for me to progress further in my professional career, and for that I am forever grateful.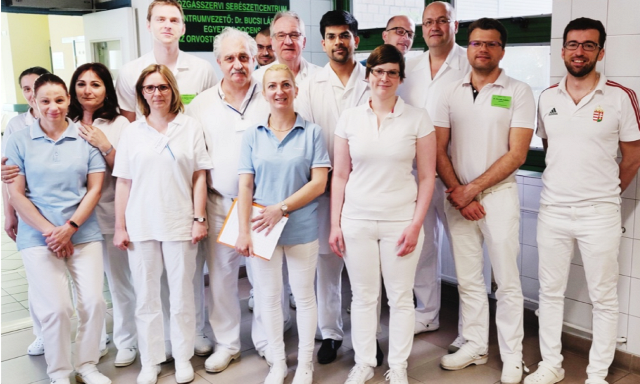 With the team of the Department of Orthopaedics at St. George Teaching Hospital
(from left to right): Dr József Szarvas, Dr Abkarovits Geza, Dr Kovács Tibor, Prof László Bucsi, myself, Dr Zsófia, Dr Czifra Attila, Dr Dobos, Dr Sazbolcs, Dr Peter, Head nurse and physiotherapists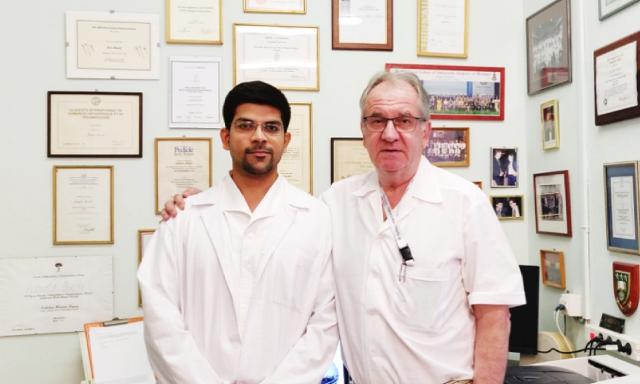 With my mentor Prof László Bucsi at his hospital chamber