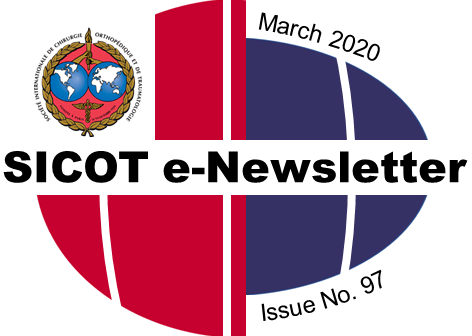 SICOT History

The Known History of the Origins of SICOT

Source: The SICOT 75th Anniversary Book
A book by Charles Sorbie
with the kind assistance of Rocco P. Pitto
The first reference relating to an international orthopaedic association, which eventually became SICOT, is found in a letter written by Robert William Lovett of Harvard University in Boston, U.S.A. Lovett wrote on 25 November 1913 that he had found enthusiastic support among his American colleagues for the formation of an international society of orthopaedic surgery. His letter was sent simultaneously to Professors Hans Spitzy of Vienna and Vittorio Putti of Bologna. It is clear from its content that he had discussed the idea with both Putti and Spitzy and they were both receptive. Lovett was a member of the American Orthopaedic Association, the oldest of all orthopaedic associations (founded in 1887). He was, therefore, quite familiar with the structure of a national society prior to his international reach. Several international societies had already been formed for dermatologists, otologists, genito-urinary surgeons and general surgeons. There may have been others of which he was unaware.
During a talk at the 1936 Congress, Putti implied that he was the first promoter of the Society and said his interests were in improving orthopaedic surgery throughout the world by means of an international society.
Vittorio Putti was the Congress President in 1936 when it took place partly in Bologna and partly in Rome. He said in this opening address:
"I imagine this is the way you have chosen to show me your appreciation for the success of this Society which I have been the first and the most convinced promoter of. In this regard, let me point out something which may be of some relevance in the history of our Society.
Going back to 1913, in the course of a conversation I had in London with two eminent colleagues, now both deceased, Robert Lovett from Boston and Robert Jones from Liverpool, I suggested the timeliness, in order to contribute to a more rapid progress and a wider spreading of orthopaedic studies, of creating a society that would bring together all those devoted to orthopaedics throughout the world. The proposal was consented to with keen interest and a scheme of statutes was already being prepared when the world war broke out and interrupted all our plans.
The idea was seriously taken up again in 1923, in the course of a second meeting I had in Boston with Lovett and Jones, but even that time it had to be set aside because of Lovett's unexpected death.
Convinced as I was of the rightness of the cause, I was but waiting for a new occasion to resume the design. The occasion did occur in London in 1929 when the American Society and the British Society of Orthopaedics met at a joint congress presided by Albee. I then expounded the whole idea to Albee, and it was a special merit of the rapid and strong action undertaken by this eminent colleague from New York if, within a few months, the foundations of the Society were laid and the first Congress could be summoned in Paris on 2 October 1930."
There is no doubt, however, from the tone of Lovett's letter of 13 November 1913, that he had discussed an international society with Hans Spitzy and Vittorio Putti prior to November 1913. A former President of SICOT, Calogero Casuccio, was able to find this letter at the Rizzoli Istituto, but not earlier correspondence that must have preceded it from Lovett. His long letter contained a list of "statutes" that might govern the Society, which he gleaned from other international societies and, in particular, the International Society of Surgeons. He went on to suggest that the American Orthopaedic Association President, Secretary and a member plus the President of the Orthopaedic Section of the American Medical Association and two representatives from western orthopaedic societies, be founding members.
Lovett outlined the structure of a 'review' or a 'journal' to be called "The International Journal of Orthopaedic Surgery". He considered the journal to be an essential part of the society. It is remarkable that he was concerned that the members of the proposed society should have some clear benefits from being members and not simply the prestige of belonging.
He was keen to meet with Spitzy and Putti in Europe to establish the international society.
Hans Spitzy asked for and received the backing of the German Society of Orthopaedic Surgery.
Putti responded (13 July 1914) by suggesting that the three of them meet that summer of 1914 in Courmayeur on the eastern slopes of Monte Bianco (Mont Blanc). He felt that the Alpine air would be very attractive to all of them whom he hoped were "alpinists". Courmayeur is at the top of the Valle d'Aosta and certainly would have been a delightful place for them to plan the form and nature of the international society and to fix a time for its inauguration.Misurina,in Italy on the border with Austria,was suggested as an alternative meeting place, thought also to be suitable and with recommended excursions.
It is interesting that at the very same time in 1913, the Suffragette demonstrations for the franchise of women, were taking place in London. Mrs Pankhurst, a feminist leader, was sentenced for inciting persons to place explosives in British Prime Minister Lloyd George's house. Women chained themselves to railings to help their justifiable cause. It was the year in which Richard Nixon, former American President, was born, Thomas Mann wrote "Death in Venice" and D.H. Lawrence "Sons and Lovers", the dialogue of which takes place in the snows of the fashionable Alps. Stravinsky's ballet "Le Sacre du Printemps "was written, the Geiger counter was invented and Rene Lorin advanced the theory of jet propulsion. It was also the year that Albert Schweitzer opened his famous hospital at Lambarene in the French Congo.
In 1914, however, on 28 June, just about the time Lovett, Putti and Spitzy were planning for a July rendez-vous, Archduke Francis Ferdinand, heir to the Austrian throne, and his wife, the Duchess of Hohenberg, were assassinated in front of the town hall in Sarajevo. A month later, on 28 July 1914, Austria declared war on Serbia. Many other countries in Europe declared war on each other. In August, the guns of war roared and thousands died.
Two comforting acts, however, in that awful year were the opening of the Panama Canal and Edward Shackleton's memorable journey to Antarctica.
In 1914 Robert Lovett was 55 years old, Hans Spitzy 43 and Vittorio Putti 34.
All plans for the International Society were suspended during the First World War and until 1923, when Lovett, Putti and Sir Robert Jones met in Boston. At that time, they attempted to revive the plans but unfortunately the following year, on 2 July 1924, Robert Lovett died in England, actually in the home of Sir Robert Jones. His death, at age 65, was attributed to 'angina pectoris' – a symptom of more serious coronary artery disease. Lovett had been born in Beverly, a small town in Massachusetts. He taught at Harvard University and worked as a surgeon at the Massachusetts General Hospital.
SICOT Founders in Paris