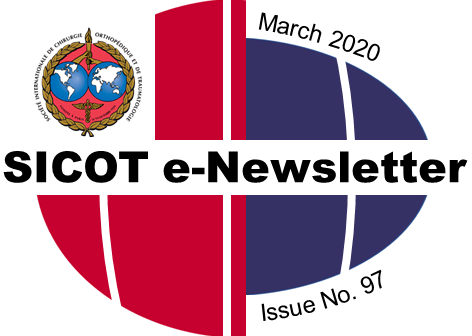 SICOT & Its Partners

The Hip Society
The Hip Society was established in 1968 by Frank Stinchfield, MD, as a by-invitation only academic society together with 20 elite hip surgeons. The mission of The Hip Society is to advance the knowledge and treatment of hip disorders to improve the lives of our patients. The vision of The Hip Society is to lead in the discovery and dissemination of knowledge related to disorders of the hip. Together with its sister organisation, The Knee Society, The Hip Society owns and presents several premier educational forums: CCJR® (Current Concepts in Joint Replacement®), JAMM® (Joint Arthroplasty Mountain Meeting®), Contemporary Approaches in Adult Hip and Knee Reconstruction®, as well as partners with the American Association of Hip and Knee Surgeons (AAHKS) on the Specialty Day programme that is an integral part of the AAOS Annual Meeting. Over its 50+ years of remarkable legacy, The Hip Society has fostered numerous internationally recognised thought leaders in the field of arthroplasty who have helped shape the profession and contributed greatly to research, education and quality of patient care. The Hip Society sees its continued relevance in broadening its international outreach and strengthening its ties with related professional organisations that share its principles and values.
In 2019, for the second time The Hip Society, under the presidential leadership of Dr Josh Jacobs and in collaboration with Programme Chair, Mr. Vikas Khanduja planned and conducted a symposium for the 40th SICOT Orthopaedic World Congress in Muscat, Oman. The symposium focused on the issue of infection, and was titled 'Orthopaedic Infections: Recent Developments and an Update'. The symposium was chaired by Prof. Javad Parvizi and a number of well-known faculty were recruited by the Society to speak, including: Javad Parvizi, James Waddell, Eduardo Salvati, Alberto Carli, David Blaha, Amar Ranawat and Fares Haddad.
The combined session was attended by almost 200 people. Despite assigning a large meeting room to this symposium, many audience members were standing against the walls until the end of the lectures and discussion. There was a very engaging question and answer at the end that spilled into the area of venous thromboembolism (VTE) prophylaxis. The latter was fortuitous as Dr Salvati, a world renowned figure in VTE prophylaxis, was in attendance.
This combined session was a resounding success by all measures.