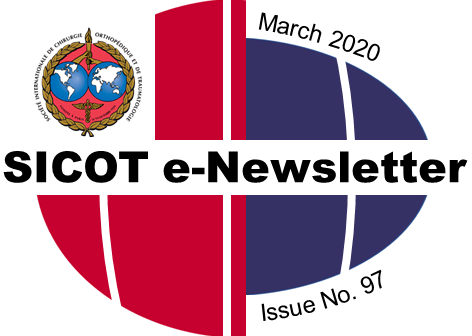 News From the Head Office

New Appointments
SICOT welcomes three new members of its Board of Directors. We are pleased to announce that Mohit Bhandari from Canada is our new Research Academy Chair, Essam El Sherif from Egypt is the new Vice-President of Africa, Near & Middle East, and Ahmed Abdel-Azeem also from Egypt has been elected as the Editorial Secretary.
We would also like to welcome the new SICOT National Representatives: Mourad Oubira (Algeria), Andrew Stephens (Australia), Ayaz Humbatov (Azerbaijan), Mikhail Herasimenka (Belarus), Julio Fernandes (Canada), Mauricio Guarda (Chile), Alan Ivkovic (Croatia), Vojtech Havlas (Czech Republic), Levan Natchkebia (Georgia), Vasileios Kontogeorgakos (Greece), Lehel Balint (Hungary), Anant Mahapatra (Ireland), Aigards Vugulis (Latvia), Bassel El-Osta (Lebanon), Marc Hirner (New Zealand), Chukwuemeka B. Eze (Nigeria), Anjum Parwez (Pakistan), Alexander Gubin (Russia), Chii-Jeng Lin (Taiwan), Sofiene Kallel (Tunisia), and Matthew Dobbs (United States).
The newly appointed Chairmen of the Standing Committees are:
Education Centres - Pietro Ruggieri (Italy)

Education - Frankie Ka Li Leung (Hong Kong)

Educational Day - Hitesh Gopalan Uchilkar (India) & Arindam Banerjee (India)

Fellowships - Bassel El-Osta (Lebanon)

Scientific Programme - Gowreeson Thevendran (Singapore)
The recently appointed Chairmen of the Subspecialty Committees, who help create our fantastic scientific programme for the annual Congress, are:
Hand - Margaret Fok (Hong Kong)

Hip Arthroplasty - André Ferreira (France)

Infections - Khaled Emara (Egypt)

Knee Arthroplasty - Francesco Benazzo (Italy)

Orthopaedic Microsurgery - Qing-Tang Zhu (China)

Sports Traumatology & Arthroscopy - Wai Pan Peter Yau (Hong Kong)

Trauma - Gershon Volpin (Israel)
A big congratulations and thank you to all!