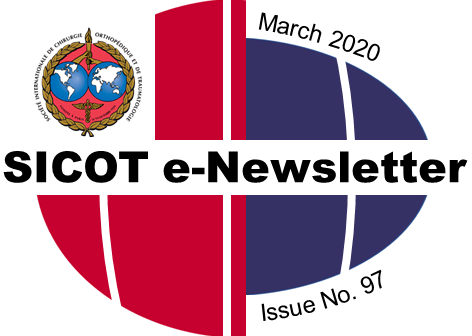 SICOT Education

SICOT meets SICOT Fellowship Report

Rahman Rasool Akhtar
SICOT Associate Member
I am really privileged and honoured to have been awarded a "SICOT meets SICOT" Fellowship in 2019 at the Klinik für Unfall-, Hand- und Wiederherstellungschirurgie, Homburg, Germany, under the supervision of respected Prof Dr Tim Pohlemann for a period of 4 weeks (from 20/01/2020 to 16/02/2020).
I reached Homburg on 19 January 2020 and my fellowship started on 20 January 2020. On my first day, I reached the office of the secretary of Prof Pohlemann at 07:30. Here she introduced me to Dr Antonius Pizanis. He took me to the conference room of the Orthopaedic department where the morning clinical meeting would start after a while and introduced me to Prof Tim Pohlemann (a very kind gentleman with a charming smile on his face). Prof Pohlemann warmly welcomed me to his department and introduced me to all the members of the department and also the other SICOT Fellowship colleague from Russia (Dr Petr Bondarenko). The morning clinical meeting then started (a typical day usually starts at 07:40 with the morning clinical meeting) where the cases of the previous day were reviewed. Afterwards, I participated actively in the operating session.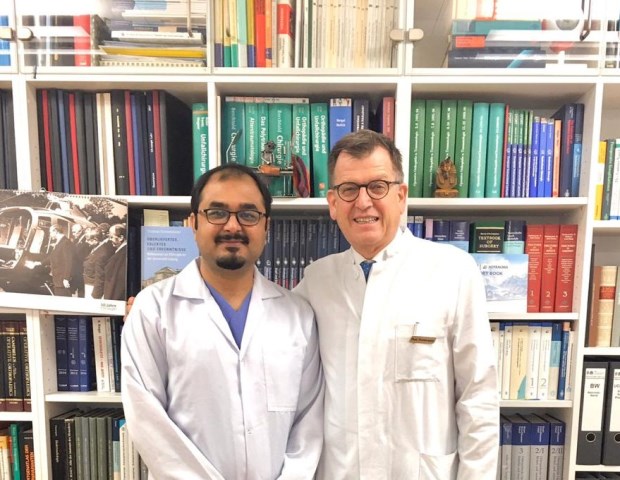 Dr RR Akhtar and Prof Dr Tim Pohlemann
There was also a clinical meeting of the department in the afternoon at 15:00 in which the operated cases of the same day and operation list cases of the next day were reviewed. The operating theatre used to start at 08:00 until 16:00-17:00.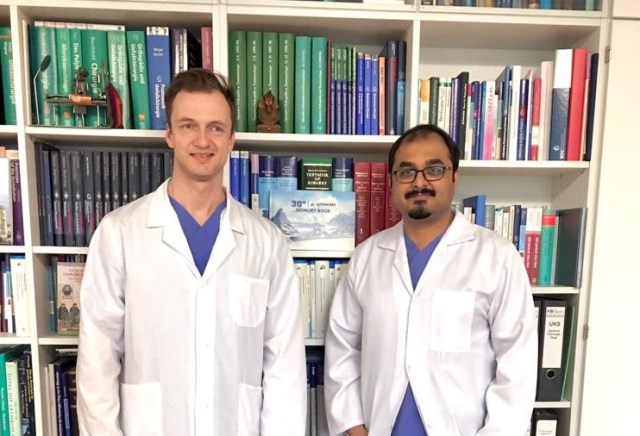 Dr Petr Bondarenko (Russian SICOT Fellow) and Dr RR Akhtar (Pakistani SICOT Fellow)
At the end of the first week, Prof Pohlemann hosted a welcome dinner for the SICOT Fellows. It was a very wonderful evening with delicious food. I am extremely thankful to Prof Pohlemann for this hospitality.
During my stay, I learned pelvic and acetabular reconstruction techniques from Prof Pohlemann and Prof Tina Histing who were always ready to provide answers to all my enquiries.
I picked up fine arthroscopic techniques of shoulder and knee from the very skilled and experienced Dr Antonius Pizanis who thoroughly briefed me in every arthroscopic surgical procedure. I also learned the technique of shoulder Hemiarthroplasty (anatomical fracture shoulder stem) in shoulder fractures and operative techniques for ankle fractures from Dr Steven Herald.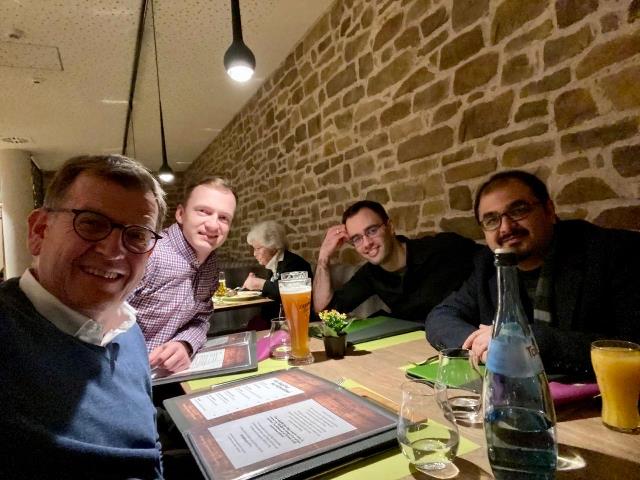 Dinner hosted by Prof Dr Tim Pohlemann
From left to right: Prof Pohlemann, Dr Petr Bondarenko, Dr Marcel and Dr RR Akhtar
During the third week of my fellowship, a Board member team was there in the department for the selection of Prof Tina Histing for the post of Chief of Orthopaedics in another center. She performed the acetabular surgery in front of the team and I was her assistant in that case. I wish Prof Histing all the best.
I also assisted the cases of Periprosthetic Femur Fractures, Femoral Neck System (FNS) for Neck of Femur Fractures, Hand fractures, Wrist arthroscopy and Dupuytren's contracture surgeries.
On my last day, Prof Pohlemann gave me a book as a gift for which I am very grateful.
The weather in Homburg was very cold but I enjoyed my stay in Germany very much and had the opportunity to travel within the country. I made many new friends and had a wonderful time with them.
I am especially thankful to Dr Marcel, with whom I was in contact before my fellowship. He thoroughly supported me before my fellowship in getting all the documents from the hospital for my visa.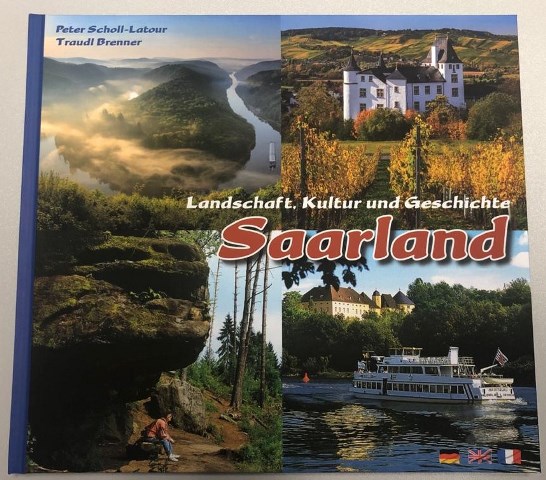 Present from Prof Dr Tim Pohlemann
I am very grateful to SICOT for awarding me this excellent opportunity to learn directly from experts in the field of Orthopaedics and Traumatology, especially in the field of Pelvic and Acetabular reconstruction surgery.
I do not have enough words to express my gratitude to Prof Tim Pohlemann (he is not only a good teacher and excellent surgeon, but also a very kind person), Prof Tina Histing, Dr Antonius Pizanis and all team members for their hospitality, encouragement and above all for imparting their knowledge to me. The experience gained and the exposure has greatly benefited me and I will incorporate this in my practice in Pakistan which will also be beneficial to my patients in the long run.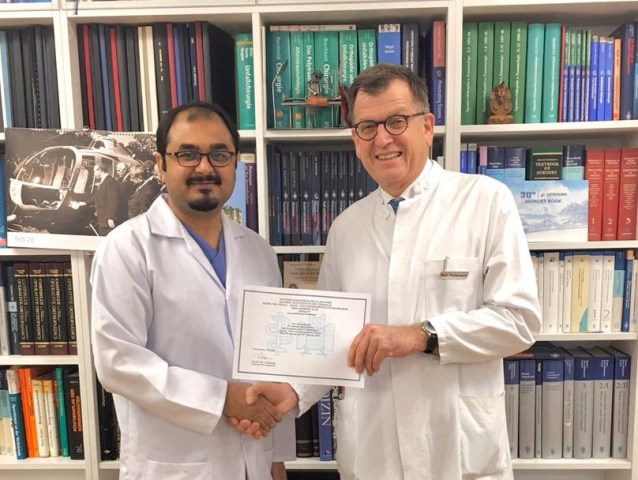 Award of certificate by Prof Dr Tim Pohlemann
I am also thankful to my Head of Department in Pakistan, respected Prof Dr Riaz Ahmed who continuously supported me and guided me before and during this prestigious fellowship. My gratitude also goes to my loving wife (Sabeen Ashraf) and to my children (Taha & Talha) for their sacrifice during my fellowship period.
I once again wholeheartedly thank and compliment SICOT for offering me this prestigious fellowship. Without SICOT it would have been impossible. I am of the firm belief that one should never miss such an opportunity of a lifetime as it is extremely useful.