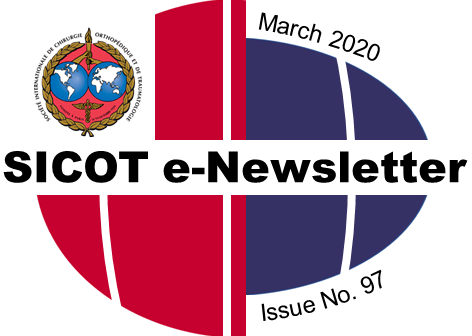 Editorial

Our Face and Tongue

Ahmed H. Abdelazeem
SICOT Editorial Secretary
Despite the advances in social networking, the societies' newsletters, either electronic or hard versions, remain the cornerstone of communication and exposure. The SICOT Newsletter has gone through a lot of changes since its development. As the new Editorial Secretary responsible for the 'Face and Tongue' of our prestigious international organization, I have thought of many things to be done in stages, to maintain and improve this highly effective method of communication.
As a believer that this Newsletter is "the tongue" through which the society decision-makers talk, and "the face" that the Society components show to the outside world, I will adopt the theme that this Newsletter "must be written by SICOT authorities and decision-makers".
Making use of SICOT's well-organized powerful structure, I decided to re-arrange the corners to fit regular updated news from different groups inside the organization. For example, new corners will be added under the titles: "Committee News", "SICOT by Region" and "News From the Head Office". Reports from the different committees' chairpersons/members and regional Vice Presidents will act as a mirror, regularly reflecting the vision, work and future of the SICOT structure. The Head Office staff will be responsible for supplying the readers with news available from SICOT such as newly appointed persons and new groups, system changes and developments. In my opinion, this will open a non-stop updated channel between our society's different levels, advertising them and encouraging others to join or follow.
Looking at our treasures, SICOT as the unique international orthopaedic society with more than 110 member nations and experts from all over the world with vast experience in our Subspecialty Committees, the chairs and members of these groups will be responsible for not only sharing in the committees' news corners, but also running a highly scientific and knowledgeable pre-existing "Expert Corner". Every committee is invited to share their expert opinion in a specialized scientific article. Moreover, they will be invited to write and share new innovations and researches in their fields of expertise. In my opinion, this will add a scientific taste to our Newsletter fed by our society experts. Furthermore, introducing our experts and subspecialty teams will promote them and SICOT as whole.
Education and research are the two main pillars of SICOT; special academies have been introduced to the SICOT structure to endorse them. These academies will of course have a special corner to help and promote their vision and work. Fellowship reports and the Exam Corner will continue to be an integral part of "SICOT Education". Moreover, SICOT events, annual congresses and publications, each will have a specialized corner to update, advertise and announce new topics.
SICOT's heritage for over 90 years will be recalled in the "SICOT History" corner. Part of this corner will be covered by chapters from the prestigious book written by Charles Sorbie. Former congress presidents will be invited to share their memories and photos.
To maintain all this work, we must re-arrange the structure from inside. Each corner management will be assigned to a "Corner Editor", who will be responsible for collecting and arranging data for his/her corner, to be rotated on an annual basis. Design and style development are also very important issues. We started by creating a new logo which was developed internally by us with the news icon theme. I hope it will find your acceptance…! We will work further with developing a more user-friendly style. Connecting our Newsletter to more and more social networks, promoting it and the society, is another target soon.
Lastly, we cannot forget the current circumstances that we are living in. The whole world is now fighting the nightmare of the CORONAVIRUS pandemic. This will be addressed by our Society members in the "Worldwide News" corner in this issue. We have invited two eminent SICOT surgeons to share their experience from two of the majorly affected countries, namely Italy and Spain. We must all read, understand and learn from our peers.
I hope that we can "All Work Together" to maintain and improve the welfare of this over 90-year international society. I am inviting everyone who sees that he/she can add something or has experience to join our editorial team. Please send [email protected] your CV, expectations, feedback and/or ideas.

"Alone we can do so little; together we can do so much" - Helen Keller