SICOT News
II International Student's Orthopaedic Conference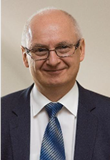 Andrzej Bohatyrewicz - Szczecin, Poland
I have the pleasure to inform you that the II International Student Orthopaedic Conference took place in Szczecin, Poland, on 25-26 October 2018. The Conference was endorsed by SICOT.
It was organized by the Pomeranian Medical University Team, directed by me, with the great support of the Polish Orthopaedic and Traumatology Society represented by the President, Professor Marek Synder, President Elect, Professor Leszek Romanowski, and numerous other orthopaedic professors and doctors, namely Tomasz Mazurek, Łukasz Matuszewski, Maciej Kołban, Łukasz Kołodziej, and many others. It gained the patronage of the Rector of the Pomeranian Medical University, Professor Bogusław Machaliński, represented during the Conference by the Dean of the Faculty of Health Sciences, Professor Beata Karakiewicz, and Curator of the Students Scientific Society, Professor Jerzy Sieńko.
The local Students Scientific Society was represented by Sylwia Morawska who has generously contributed to organizing activities.
The Conference was kindly supported by Zimmer Biomet Poland and Urgo Medical Poland.
Only orthopaedic and traumatology subjects were presented: 13 in English and 5 in Polish. Foreign participants came from the Czech Republic and India.
Four SICOT awards were given to the following presentations supplemented with a three-year SICOT Associate Membership for the presenter:
Gabulova Agnesa (Brno, Czech Republic)
Comparison of elastic and rigid intramedullary nailing in tibia fractures in older children

Ruzik Kacper, Mostowy Marcin, Pełka Anita, Pełka Robert (Łódź, Poland)
High Tibia Osteotomy

Rogacki Radosław, Dąbrowski Filip, Mazurek Tomasz (Gdansk, Poland)
Epidemiology of the proximal femoral fractures in the material of the Department of Orthopaedics and Kinetic Organ Traumatology MUG

Grodzicki Wojciech, Budkowski Michał, Mazur Małgorzata, Ruszała Monika, Szymonik Dawid, Warda Katarzyna (Lublin, Poland)
Pulsoksymetry in disturbed blood supply to the upper limb after supracondylar humerus fracture in children
Mrs Zuzanna Duda from Gdansk was specially awarded by OSTO (Polish Orthopaedic Scientific Society) for her presentation "Feet of medieval citizens of Gdansk".
The photo gallery of the Conference is already available: http://stn.pum.edu.pl/blog/ii-miedzynarodowa-studencka-konferencja-ortopedyczna
This was a very impressive student activity, both educationally and scientifically, which motivates us, the tutors, to organize the next III Polish Students Orthopaedic Conference on 22-23 November 2019 in Łódź.