Fellowship News
2018 SICOT Danish Travelling Fellowship Report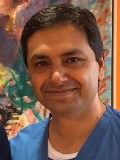 Prakash Sitoula - Biratnagar, Nepal
I would like to thank SICOT for awarding me this travelling fellowship for the year 2018 and I would also like to thank Professor Cody Bunger for accepting my fellowship application. This was an invaluable learning experience for me and this will definitely make a lot of impact in my practice as a spine surgeon. I received an excellent support from SICOT office as well as Professor Bunger's secretary for making logistic arrangements for travel to and stay at Aarhus. I received a nice room for my accommodation at the Vennelyst Kollegiet, which is part of Aarhus University Housing. It was an excellent location for travel to the hospital as well as close to the city centre.
Dr Kestutis Valancius was my contact person in the department and he had made all the arrangements for inducing me smoothly into the system. I joined the spine team for the morning conference where I received a very warm welcome from my host, Professor Cody Bunger, and other members of his team (Dr Ebbe Hensen Stender, Dr Kristian Hoye, Dr Peter, Dr Haisheng Li, Dr Kestutis Valancius, Dr Thomas Bender and Dr Anne Kirstine Hansen). A new University Hospital building had recently been completed at Skejby in Aarhus and the Spine Department had moved to this new building only two months before my visit. I, therefore, was fortunate to be working at this new location. The hospital was so huge that it was overwhelming for visitors like me initially to be able to confidently navigate through. It was interesting to see doctors 'on call' cruising through the immense corridors in their 'on call' bicycles and scooters.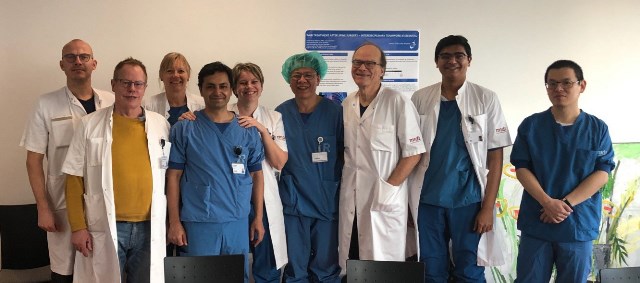 I found the Danish work culture to be very unique; friendly and devoid of hierarchy at all levels. All the consultants in spine surgery were easy going and eager to answer all the queries that I had. In addition, they discussed the operative cases in detail before every surgery and explained their reasons for choosing a particular procedure in a case. Two theaters were allocated for spine surgery and there were approximately 3 to 5 spine surgeries every day. I had ample opportunities to learn with the chance to be the first assistant in many cases. I assisted in tumor surgeries, trauma and complex deformity surgeries for congenital, neuromuscular, adolescent, and degenerative scoliosis as well as severe kyphotic deformities. It was a great opportunity for me to assist Professor Cody Bunger for transoral odontoid biopsy and thoracic disc herniation surgery as well as deformity surgeries. I also had an opportunity to learn three column pedicle subtraction osteotomies with Dr Stender, cervical spine surgeries with Dr Hoye, TLIF with Dr Li, tumor decompression with Dr Peter and cemented pedicle screws with Dr Bender. It was great to learn from the young and dynamic spine surgeon, Dr Valancius about his insights and techniques in various spine surgeries. Being a referral center, there were ample opportunities for me to observe and learn revision spine surgeries, which included broken rods revision for deformity surgeries as well as revision decompression and fusion surgeries including extension of fusions. I also participated in emergency surgeries, which included spine trauma, decompression and stabilization for spine tumors and infective spondylodiscitis. It was interesting to see PEEK rods being used in patients with metastatic spine disease as PEEK rod can avoid reducing the effect of radiation.
The Spine Department of Aarhus University Hospital is well known for being one of the biggest spine centers in Europe and many spine fellows from all over the world visit this center for training in spine surgery. Thereby, I could meet spine surgeons from around the world who visited the spine department during my stay and make new friends. This included Dr Lin Ding (China), Dr Tetsuo Hayashi (Japan), Dr Sanjay (India) and Dr Ankit Patel (India). We joined surgeries and conferences together and enjoyed some parties in our dormitory. This fellowship has been meaningful for me not only to learn spine surgery, but to make some good international friends too.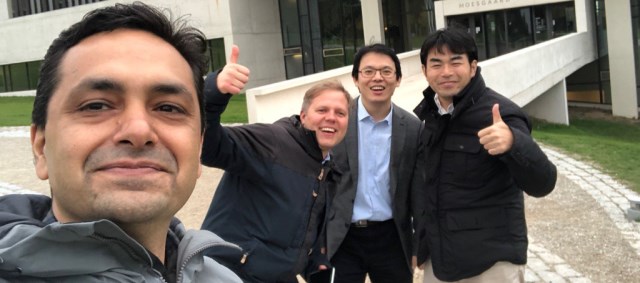 I was amazed by the Danish hospitality. Professor Cody Bunger invited us to his farm for dinner. It was kind of him to take us for a tour of the Castle Museum and his farm, followed by a hearty Danish dinner at his farm house. Thereafter, it was nice to get invited by Dr Kestutis Valancius, Dr Ebbe Stender Hansen, Dr Kristian Hoye, Dr Haisheng Li and Dr Anne Kirstine Hansen to their homes for dinner. It was wonderful to meet the families of my mentors and friends. I would like to thank them all for being such great hosts.
Lastly, I would like to thank SICOT and Professor Cody Bunger once more for giving me this opportunity and I would highly recommend this prestigious fellowship to all young spine surgeons. I would also like to thank Dr Kestutis Valancius for arranging all my daily routines and surgeries.