SICOT News
Report on the 2018 SICOT Comprehensive Shoulder Course
Tak Man Wong
Course Chairperson 2018
With the success of the first and second SICOT cadaveric courses in 2016 and 2017 respectively, the third SICOT cadaveric course was held on 9-11 August 2018 at Siriraj Hospital in Bangkok. The theme this time was again "Shoulder Surgery", which was designed for practicing surgeons who had an interest in shoulder surgery. Prof Frankie Leung (Hong Kong) was the SICOT cadaveric course director. Kongkhet Riansuwan (Thailand) and I were the chairpersons of this course. We were also glad to have Richard Page (Australia), In Ho Jeon (South Korea), Denny Lie (Singapore), Chanakarn Phornphutkul (Thailand), Ekavit Keyurapan (Thailand), Peter Yau (Hong Kong), Tak Wing Lau (Hong Kong), Yau Bun Wong (Hong Kong) and Dennis Yee (Hong Kong) as faculty members.
The course provided an understanding of shoulder surgery across Arthroscopy, Trauma and Arthroplasty. There were lectures, case discussions and cadaveric dissections.
This year, with the constraint of the cadaveric workshop set-up, there were a total of 39 participants form different countries and they were split into two groups. On 9 August, basic theories of shoulder arthroscopy were taught to all participants, followed by hands-on practice in one group. While other groups were engaged in lectures and case discussions. Anterior shoulder instability, rotator cuff pathology, bicep pathology and surgical techniques of shoulder arthroscopy were covered on day 1.
On day 2, fractures around the shoulder were taught, including surgical approaches around the shoulder, ACJ injury, fractures of the proximal and shaft of humerus. During the cadaveric dissection session, participants could learn the surgical approaches as well as fracture fixation.
On day 3, the programme covered mainly shoulder replacement surgery, including biomechanics, surgical indications, and tips and tricks of surgical techniques of reversed shoulder replacement and shoulder hemiarthroplasty. The participants especially enjoyed reversed shoulder replacement since they could have a hands-on experience.
During the 3-day course, all the experts demonstrated their master techniques in shoulder surgery, including arthroscopy, trauma and arthroplasty.
The cadaveric dissection was held at the Dissection Laboratory at Siriraj Hospital. All safety precautions were strictly adhered to according to international guidelines. All instructors and participants also signed a waiver of liability beforehand. The local Thai staff were very helpful in the preparation as they were experienced in handling the cadavers according to international standards. The response for the cadaveric dissection was very good as the participants could directly view the important anatomical structures along the surgical approaches and implant placements.
This time, most of the participants came from developing countries where shoulder surgery is still developing. The evaluation of the course by these participants was very satisfactory and surpassed our expectations. This of course depends on the theme and is also attributed to the educational cadaveric workshop. Most participants requested that such course should be organised once or even twice a year. Participants suggested a knee course could be organised. This event also serves as an example of what SICOT can bring to the orthopaedic community, especially developing countries, besides our annual congress.
On behalf of the organising committee, I would like to express my gratitude to SICOT, Siriraj Hospital, Depuy Synthes as commercial partner, and all the faculty members. The course would not be a success without their generous support.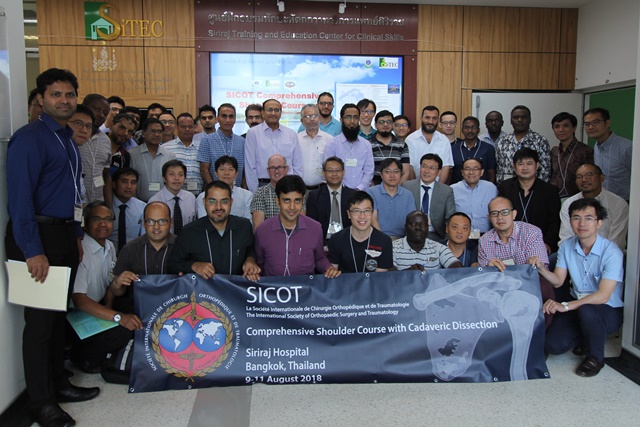 Group photo of all participants and faculties at Siriraj Hospital

Lecture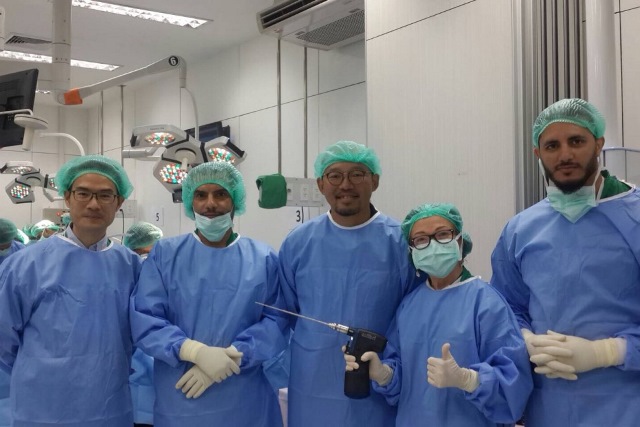 Cadaveric dissection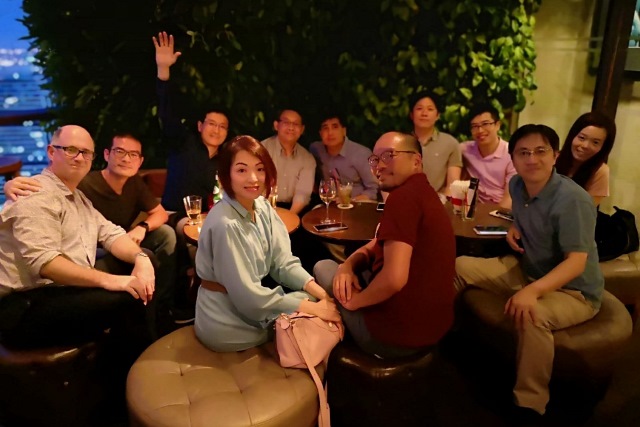 Dinner gathering with faculty members and working staff