Saudi Women Experience in Orthopaedics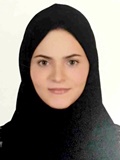 Ruba H. Jamalallail

Jeddah, Saudi Arabia
During my 6th year of medical school, I observed a couple of orthopaedic procedures as part of my medical school training, which really caught my attention. I was especially fascinated by all the science behind it in so many ways; by the entire pre op planning strategies and problem solving that the surgeons carry on before they operate on crippled patients no matter how difficult it might get.
Treating, for example, a patient who has suffered from hip arthritis for a long time and getting him to finally walk independently again. Changing his life drastically made me fall in love with this field, just the thought of having the ability to relieve a person from his suffering inspired me.
That critical moment of cementing during an arthroplasty procedure that kept surgeons and anaesthetists on the edge, the hour and a half spent each round on analysing and criticising an X-ray image post op and plotting the pros and cons and what could've been done better drastically allured my analytical senses.
During my internship year, I had my orthopaedic rotation in one of the well known trauma hospitals in Jeddah. As part of the rotation, I was attached to a resident during on-call sessions. This attachment was to open my eyes to the field of orthopaedic trauma and gave me a sense of general prospect of how it was going to be if I chose to apply for the training programme. On one of the on-call sessions, it started off very quietly, not having that much to do, just routine paper work, but suddenly out of the blue it started to rain heavily and the ER cases started to flood in, literally! I couldn't remember how many patients we encountered during that disastrous night, but observing and assisting the residents, managing every single patient, fulfilling the patients need from an orthopaedic perspective, and jumping from one patient to another was inspiring.
That night I felt a flare of certitude that this was the path I wanted to follow, thus I applied that year to the local orthopaedic training programme. Since I've consistently aced physics since high school and junior high, I found it captivating how much physics and orthopaedics are pretty much connected and I didn't find it boring to read and work on myself to earn a spot in the training programme. Just before the start of the new academic year, I was thrilled when I saw my name on the list of accepted candidates.
I received mixed reactions when I started my residency. Most of them were from an anti-feminist prospective since it's a male dominant field. I was not expecting how narrow-minded the Saudi society can be and how bad it can get. I was called once with " Hey you?! Can I get a blanket!!". One of the worst moments that I've ever faced is when a male patient with an elbow dislocation yelled at me: "What! You want to reduce my dislocated elbow!! I don't trust a woman's judgment and I don't think you'll be able to do it!! Call the doctor!!"
But against all the odds, all the difficulties we've faced in our conservative society we've succeeded in reaching our goal. We are increasing in number annually. This year we've reached a total of 32 female residents, with four acting consultants and 5 specialists who are still pursuing their career.
Starting a family was one of the biggest challenges that any female trainee could face. My colleague, Dr Haneen Hafiz, a senior resident in her last year of training shared her story with me of how marriage had been always a conflict as it has its own responsibilities. It was a huge load on her back to bear as residency by itself has it challenges.
She got married in the second year of residency. Getting married in the junior phase of residency was hectic with all of the long hours spent at the hospital that sometimes reflected negatively on her relation with her husband, but she was able to go through it all by having an understanding partner along with a supportive family to reach her goal. As time went by, a system was created that kept her relation in peace and harmony.
We have earned our spot in this field with hard work and dedication, I am hoping that we will evolve in the future and serve our community with the best evidence based science care.