Just another flight ticket?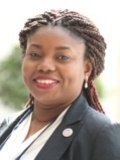 Temiloluwa Olufemi
SICOT Associate Member -­ Lagos, Nigeria
"Pursuit is proof of desire" - Anonymous
Like all women in the male-dominated field of Orthopaedics, mine is a road less travelled. But thanks to SICOT, my world literally changed in the year 2013. I had just qualified as an Orthopaedic Surgeon, one of three practising females in the entire country amidst about 300 males. I was consumed by a desire for change in trauma care in my sub-region and was highly motivated to be an agent of the same.
I joined SICOT in 2012 as a Senior registrar and applied for the 2013 Lester Lowe Award. At the time, it gave an opportunity for Associate Members to attend the Annual Congress by sponsoring a return ticket. While most people would have been content with 'just' a flight ticket, I decided to maximize the opportunity. There were no direct flights from Lagos, Nigeria, to Hyderabad, India, so I decided to have a stopover in Dubai to attend the AOTrauma Basic Principles Course, registered for the SICOT Diploma Examination, applied for a Clinical Fellowship in a highly competitive centre in Hyderabad, and registered for an ATLS Student Course in New Delhi... Quite impressive, right? Today, the story is different. On that single trip to India for the 2013 SICOT Congress, I bagged a SICOT Diploma and participated in a life-changing fellowship at the Sunshine Hospitals in Hyderabad. Due to an excellent performance at the ATLS Course, I became the first international candidate recommended to be an ATLS Instructor at the training centre in New Delhi. With a zeal for excellence, I became actively involved with the AO Socioeconomic (AOSEC) arm of the AO Foundation (now the AO Alliance) with a mandate to improve fracture treatment in developing countries. And now, I'm an ATLS Instructor and Regional Faculty for both AO Alliance and AOTrauma courses.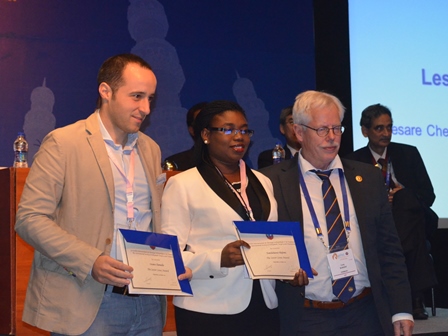 Although I was already an Orthopaedic Surgeon and Fellow of the West African College of Surgeons, I decided to pursue my passion for clinical research by undertaking a study and writing a dissertation for the National Postgraduate Medical College of Nigeria (NPMCN) titled 'Irrigation solutions in open fractures of the lower extremities: Evaluation of isotonic saline and distilled water'. The NPMCN is at the apex of medical education in Nigeria and upon completion of this original work, I was awarded a fellowship of the NPMCN in November 2014. The academic gown of the College's Orthopaedic faculty is a beauty to behold with its distinct lilac panel. However, wearing this lovely gown alone for 3 years is dreary and I am really excited to have others wear it soon too! But I did not go through the rigors of the dissertation just for the lilac panelled gown - my dream was to publish this original work. This dream came to pass with the article featuring in SICOT-J in 2017 and going on to win the prestigious 2017 Marcela Uribe Zamudio Award.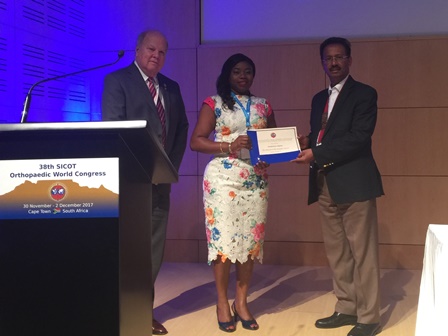 Unlike other SICOT awards, the Marcela Uribe Zamudio Award is dedicated solely to motivating young female researchers and clinicians in the field of Orthopaedics. So, if you are a woman in Orthopaedics (surgeon or trainee younger than 40 years) with an original scientific work in orthopaedics and traumatology published in the English language within the last three years, this can be yours too!! A list of previous winners includes:
2008: Yuliya Cherniakova (Belarus) & Rujuta Mehta (India)

2011: Peace Amaraegbulam (Nigeria) & Ratna Johari (India)

2014: Chasanal Rathod (India) & Chinyelu Menakaya (United Kingdom)

2016: Clara Terzaghi (Italy) & Nariman Abol Oyoun (Egypt)
It has only been four lovely years with SICOT and I am so thankful my flight ticket was well maximized. If in your pursuit for excellence you read this and you are encouraged to join SICOT, then my job is done!
Dear woman in Orthopaedics, do you have a dream? ...Carpe diem!!