SICOT Global Network for Electronic Learning - SIGNEL
Case of the Month
Pavel Bobryk & Pavel Volotovski
National Scientific and Practical Center for Traumatology and Orthopedics, Minsk, Belarus
History
A 46-year-old woman suffering from rheumatoid arthritis presented with severe pain in the cervical spine and weakness in the limbs.
The pain lasted for about 6 months. Palpation of the cervical spine was painful in the area of the С2 vertebra. Spastic tetraparesis was revealed.
X-ray of the cervical spine in the lateral view showed enlargement of the atlantodental interval (ADI). MRI examination showed anterior displacement of the C1 vertebra and stenosis of the spinal canal.
Q: What is your provisional diagnosis for this patient?
---
---
---
---
Diagnosis
Pathological transligamentous dislocation of the atlas associated with compression of the spinal cord on the background of rheumatoid arthritis.
Q: What would be your next step in the management of this patient?
Immediate surgical decompression and stabilisation

Further investigations – MRI/CT Scan

Observation and conservative treatment
---
---
---
---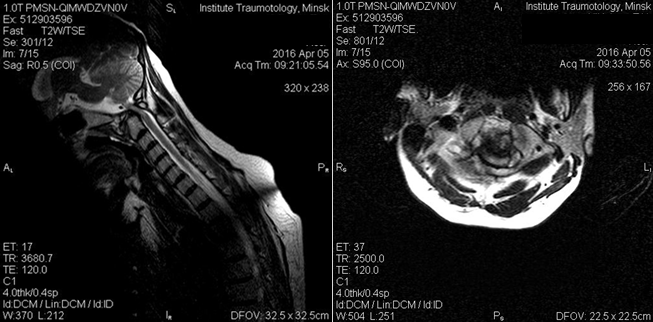 Fig. 1 - MRI examination of the cervical spine
Q. What are your thoughts on the MRI of the cervical spine?
---
---
---
---
MRI examination of the cervical spine revealed anterior displacement of the C1 vertebra with significant stenosis of the spinal canal and compression of the spinal cord.
Q: How will you manage this further?
Intervention: decompression & stabilisation

Conservative treatment
---
---
---
---
Treatment
Surgical treatment – the first stage: closed reduction and fixation of the cervical spine using halo crown.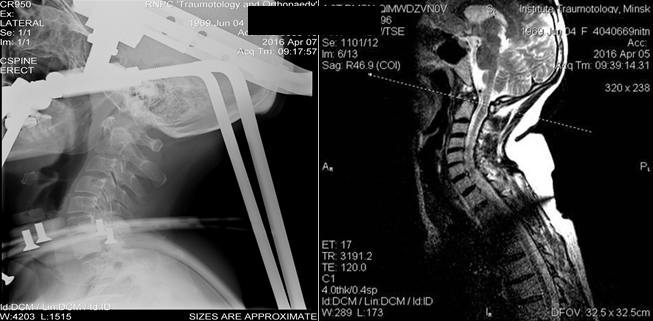 Fig. 2 - X-ray and MRI С0 – С2 after first stage of surgical treatment and second stage: dorsal occipitocervical spondylodesis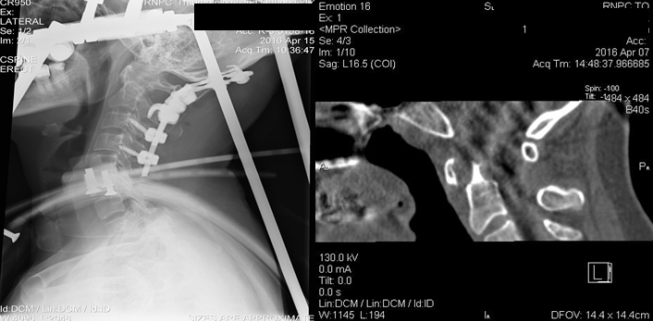 Fig. 3 - X-ray and computed tomography С0 – С2 МРТ after second stage of surgical treatment
Follow-up of the patient – pain completely resolved, no neurological disorders, no signs of dislocation recurrence after 2 years.
Discussion
The problems of upper cervical spine in patients with rheumatoid arthritis are usually associated with atlantoaxial instability, which causes compression of the spinal cord [1] and in severe cases can even lead to the patient's death. Therefore it is extremely important to use state-of-the art diagnostic methods [3] allowing to evaluate not only the upper cervical spine, but also spinal cord at this level for well-timed and adequate surgical treatment at the early stages of the rheumatoid arthritis. It is undoubted, and it is proved by the experience of many clinicians around the world, that mortality and complication rates in patients treated conservatively are higher than in those treated surgically [2].

References:
Gillick J.L. Rheumatoid arthritis and the cervical spine: A review on the role of surgery / J.L. Gillick, J. Wainwright, K. Das // Int. J. Rheumatol. — 2015. — Vol. 20, № 15. — E. 252456.
N. Tanaka, H. Sakahashi, K. Hirose, T. Ishima, H. Takahashi, and S. Ishii, "Results after 24 years of prophylactic surgery for rheumatoid atlantoaxial subluxation," //The Journal of Bone and Joint Surgery—British Volume – 2005 - Vol. 87, №7, pp. 955–958.
T. Yurube, M. Sumi, K. Nishida et al., "Accelerated development of cervical spine instabilities in rheumatoid arthritis: a prospective minimum 5-year cohort study," PLoS ONE, vol. 9, no. 2, Article ID e88970, 2014.