Fellowship News
Report of the B. Braun Aesculap/SICOT Short Stem Hip Arthroplasty Fellowship at Annastift Klinik of Hannover Medical School, Germany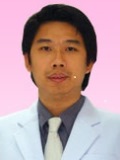 Sittichai Thanumpai
SICOT Associate Member - Bangkok, Thailand
To begin with I would like to thank SICOT and B. Braun Aesculap for selecting me for this esteemed fellowship.
Hannover is a beautiful, clean and green city, the capital city of the Lower Saxony region of Germany, with abundant forest cover in and around the city. I reached Hannover on 1 April 2017 and my fellowship started on 3 April 2017. I met Prof Dr Windhagen and he introduced me to his consultants and doctors. I started attending clinics and operating rooms. The Annastift Endoprosthetik unit has been doing short stem arthroplasty for more than 10 years with more than 2,000 cases.
The operative theatre used to start at 08:00 and end at 16:00. I had a wonderful opportunity to observe short stem primary hip arthroplasty in supine position with minimally invasive approach (anterolateral or transgluteal approach). This approach has not been popularised in Thailand (almost all approach cases in Thailand are done in lateral decubitus position with posterior or modified Hardinge approach). I found that the advantage for this approach in supine position is that you can better evaluate the leg length, and with c-arm guidance operation you can get a more perfect acetabular cup placement (c-arm is more affordable than computer-assisted navigation in Thailand). There were plenty of interesting cases to observe including revision hip and knee arthroplasty. Every revision hip arthroplasty case was done in supine position with the transgluteal approach, which means you can get a perfect acetabular view, and therefore it is easier to do the acetabular reconstruction. I also had the opportunity to assist in Ganz's periacetabular osteotomy and arthroscopic assisted mini open hip approach for cam type impingement. Prof Dr Windhagen and his colleagues taught me the tips and tricks in difficult surgeries as well as the key steps in different surgeries.
| | |
| --- | --- |
| At Annastift Klinik | With Prof Dr Henning Windhagen |
I would like to thank Prof Dr Henning Windhagen and his colleagues at the Annastift Klinik for taking good care of me and sharing their experiences. This SICOT fellowship programme was a great learning experience and will allow me to improve my practice in Thailand, which will be beneficial to patients in the long run.
I would again like to thank SICOT for this superb fellowship and would definitely like to participate in similar fellowships in the future.