Fellowship News
Report on the "SICOT meets SICOT" Fellowship Programme at Infanta Leonor University Hospital in Madrid, Spain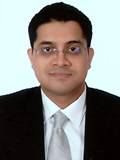 Nipun Rana
SICOT Associate Member - New Delhi, India

The "SICOT meets SICOT" programme allows surgeons, who are members of SICOT under 45 years of age and have finished their residency, to undertake a fellowship at a centre of excellence. It was my pleasure to have received the 2016 "SICOT meets SICOT" fellowship award that allowed me to visit the Infanta Leonor University Hospital in Madrid, Spain, under the supervision of Dr Oliver Marin-Peña. Dr Oliver Marin-Peña is a stalwart in the management of hip disorders, such as femoroacetabular impingement (FAI), in young patients and has many published books and research articles in the field of hip replacements, arthroscopy and re-surfacing procedures.
It was my honour to have gone through this enriching orthopaedic experience in Madrid. I travelled for the month of June 2017 and reached the hospital on 1 June as per plan. Madrid is the political, economic and cultural center of Spain, lying on the river of Manzanares, with a true blend of modern infrastructure and preserved look and feel of many of its historic neighbourhoods and streets. My accommodation was comfortable and 25 minutes away from the hospital using the nearest metro/bus service. On the first day of my visit, the Head of Department, Dr Larrainzar Garijo welcomed me and took me around the department and briefed me with the orthopaedic staff and services. All the residents and staff in the OR and anaesthetist were warm and welcoming.
Dr Oliver Marin-Peña, my mentor, is a jovial and enthusiastic person with a friendly way to teach and share his experience with colleagues and fellows. He made me scrub in as first assistant in all cases of hip replacement. I got the opportunity to assist in primary total hip replacements, revision total knee replacements, peri-prosthetic fracture management, unicondylar knee replacement, navigated primary total knee replacement, and hip arthroscopy, and I gained knowledge of certain trauma cases like arthroscopic assisted scaphoid fracture fixation, ultrasound guided injection techniques in hip joint.
The day usually started at 08:00 with an hour of clinical discussion on pre- and post-operative cases, emergency cases, case presentations and journal clubs by residents followed by daily routine work as per timetable of each surgeon. Each week, out of the five working days, 4 days were in the operation theatre with Dr Marin-Peña or other team members, including Dr Fernando Onorbe, Dr Raul Garcia, Dr David Murillo from 08:30 to 16:00 and one day as clinic. The overall surgical experience was outstanding with respect to reciprocating the pre-operative plans to actual post-operative results by use of specialised and scientific surgical tips and tricks. Identification of the inter-muscular plane between pyriformis and gluteus minimus, correct placement of Steinman pins and other retractors, intraoperative measure of offset and leg length were a few of the many intricacies I observed and cherished. Those perfectly planned fixed surgical principles while approaching hip by either posterolateral or lateral approach have fully engraved a permanent mark in my memory and they surely do and will further help me provide a better surgical outcome for my patients. I was lucky to have assisted a case of hip arthroscopy with limited absolute indications.
At the clinic, apart from learning to deal with cold orthopaedic cases, I was much impressed and influenced by the method of patient record/data collection and near 100% follow-up. Dr Marin-Peña emphasised on giving importance to patients' symptoms and a quick clinical examination for best patient care rather than to make decisions over radiographs of the hip joint. Spending time with Dr Marin-Peña gave me the insight to follow scientific and ethical practice in clinics and encouraged me to make an adequate preoperative plan for implant choice, size and position in each case.
I visited several places in Madrid, the most impressive being the Santiago Bernabéu stadium and evening strolls at Sol and Gran Via listening to music, watching street shows and spending time at Tapas bars. Being a big fan of music I enjoyed the Flamenco dance show and Spanish songs on guitar. After finishing the fellowship I had the opportunity to drive down to Porto, Lisbon and Sintra in Portugal, which are equally scenic places.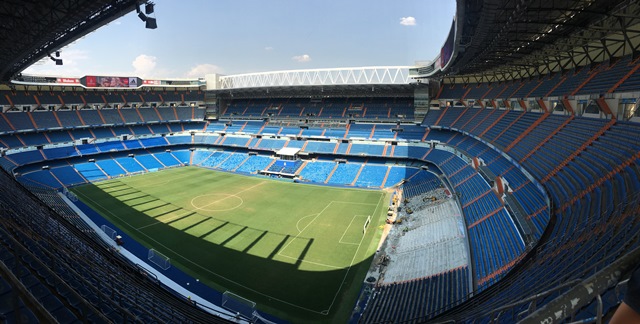 Panoramic view of Santiago Bernabéu Stadium
I would like to thank SICOT, Dr Oliver Marin-Peña and his entire team at Infanta Leonor Hospital for the enormous exposure to management of hip disorders in young patients suffering from FAI. It has definitely helped me expand my horizon and thought process. This report does not end without mentioning the name of my friend and co-fellow Dr Radi, who was my yardstick for a swift journey. Finally, I thank my parents, wife, son and other family members for their encouragement and constant support throughout my travel.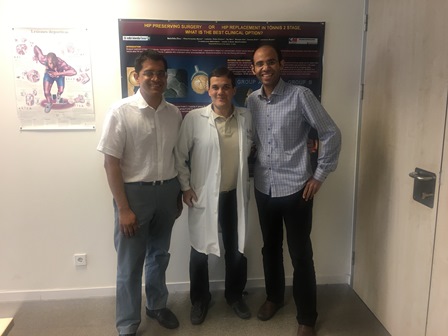 At the clinic with Dr Oliver Marin-Peña (middle) and Dr Radi