SICOT News
Report of the "Cadaveric Knee Dissection and Arthroscopy" workshop held under the auspices of SICOT India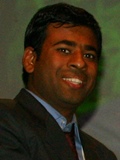 Vaibhav Bagaria
SICOT Associate Member - Mumbai, India
An update and hands-on training workshop on "Cadaveric Knee Dissection and Arthroscopy" was held in Mahatma Gandhi Institute of Medical Sciences, Sevagram on Sunday, 5 February 2017. The workshop was jointly organised by the Anatomy, Orthopaedics & Radiodiagnosis departments of MGIMS and SICOT India. Maharashtra Medical Council, Mumbai, had accredited the workshop and granted credit hours for delegates and faculty.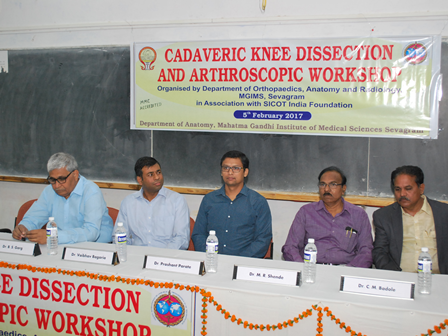 Inauguration of the day long cadaveric workshop on exposures around Knee and Arthroscopy technique held at Sevagram, Wardha India
The inauguration of the workshop was done by the hands of the Secretary of Kasturba Health Society, Dr B.S. Garg, as Chief Guest, Dean of MGIMS, Dr K.R. Patond, as Guest of Honour, Medical Superintendant of Kasturba Hospital, Dr S.P. Kalantri, as Guest of Honour, and Dr Vaibhav Bagaria, SICOT India faculty from Sir HN Reliance Foundation Hospital, Mumbai. Around 90 delegates attended the workshop including postgraduate students and faculty of different medical colleges of the Wardha and Vidarbha region.
Faculties Dr Vaibhav Bagaria and Dr Prashant Parate interacting with delegates on various tips, tricks and traps
during the arthroscopy in the cadaver workshop
Dr Vaibhav Bagaria demonstrated the surgical approaches to the knee for replacement and fracture management whereas Dr Prashant Parate, arthroscopist and visiting faculty at MGIMS demonstrated surgical approaches to the knee for ligament injury management and graft harvesting methods in cadaveric knee dissection while video camera projected the live dissection on screen. Delegates were also given opportunities to interact during dissection.
Dr Bagaria also expressed his views that the Anatomy department can develop a "Cadaver Lab" of international standards by acquiring the facility of suitable pre-treatment and storage of cadavers and develop MGIMS as a SICOT skill enhancement centre for the Southeast Asia region. Later Dr G. Chintawar, Assistant Professor in Orthopaedics, explained the basics of the arthroscopy set-up and positioning of a patient. Dr Prashant Parate explained the portal placement and triangulation method in knee arthroscopy and conducted a hands-on arthroscopic training session of meniscal repair. Tunnel drilling and graft fixation was also demonstrated. Residents were then allowed to practise the triangulation technique on Alex knee.
Prof C.M. Badole, Head of the Orthopaedics Department and Organising Secretary of the workshop, expressed a vote of thanks. He, on behalf of the organisers, also stated this to be the first workshop of its kind at MGIMS using a method of cadaveric dissection and expressed a hope that more such workshops would be held in future.