Fellowship News
Fellowship Report: Bezmialem Vakif University/SICOT Fellowship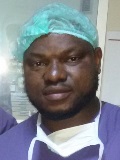 Saheed Yakub
SICOT Active Member - Ilorin, Nigeria
I had my SICOT fellowship at the Department of Orthopaedics and Trauma of Bezmialem Vakif University Hospital in Istanbul, Turkey. It was indeed a wonderful experience that will continue to linger in my memory. The fellowship award was a dream come true after six years of persistent application for a SICOT fellowship. I was therefore very elated when I received the congratulatory message from Dr Fatih Kucukdurmaz informing me of my selection for the newly announced Bezmialem Vakif University/SICOT Fellowship. This made me one of the first beneficiaries of the fellowship.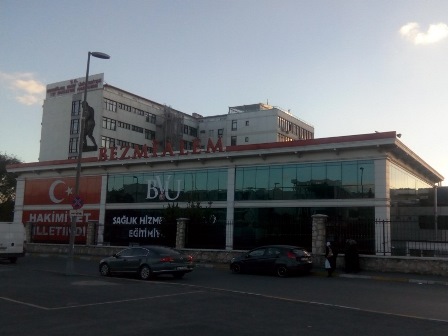 Bezmialem Vakif University Hospital
I immediately began the necessary preparation for the programme which was to be held from 19 September to 18 December 2016. After some initial delays occasioned by the need for proper documentation and registration by the university, I finally received the official invitation for the fellowship programme, with which I obtained the entry visa to Turkey. I then arrived in Istanbul on 25 September 2016 to commence the programme.
Initially, I had some trouble trying to secure accommodation. I was eventually assisted by the international office of the university and secured one through a private arrangement after first staying at a hotel. I was warmly welcomed to the department by Dr Fatih Kucukdurmaz, who then introduced me to other departmental staff. I was very well received from all hospital staff members, in particular theatre staff. Each one of them was willing to offer me any needed assistance. The warm hospitality I experienced within the hospital virtually erased all thoughts of my initial trouble when I first arrived in Istanbul.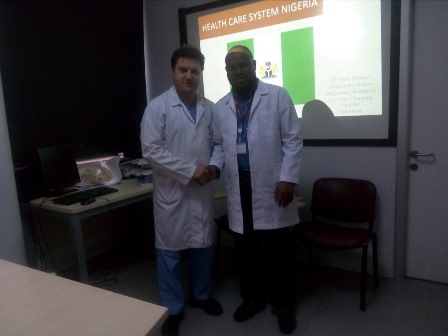 With Dr Fatih Kucukdurmaz after a departmental presentation
The Hospital subspecialises mainly in arthroplasty and joint preserving surgeries of the hip and knee. A typical day begins with an early morning clinical meeting where the cases of the previous day and the schedule of cases for that day were reviewed. This offers opportunities for discussion around the cases. From there we proceeded to the operating room. I was allowed to scrub in right from my first day in the operating room. I was able to assist in all ranges of procedures from primary hip and knee arthroplasties to revision surgeries, and tried my hands on a few. I also assisted many cases of unicondylar knee arthroplasties and had exposure to the use of mobile inserts. Dr Kucukdurmaz was ever willing to explain necessary points and provided answers to my queries. I enjoyed working with Prof Ibrahim Tuncay and learnt greatly from his distinct way of performing the procedures. He frequently asks questions to set the tone for clinical teachings which were all very educational. Working with Dr Fatih Yildiz was a distinct experience that I will forever cherish.
I also took part in other surgeries such as shoulder arthroplasty and arthroscopy. I am particularly thrilled with the zeal and expertise of Dr Kerem Bilsel. His enthusiasm to teach and offer assistance readily is second to none. Working with him demystified shoulder pathologies and made shoulder arthroscopy in particular look rather simple. I witnessed and scrubbed in for cases ranging from rotator cuff repair, bankart repair, biceps tenodesis, latarjet procedures to reverse shoulder arthroplasty.
Other surgeries I took active part in included knee arthroscopy, ACL reconstruction, tumour surgery, paediatric cases and some spine surgeries. I remain grateful to all consultants and resident doctors in the department and all the operating room staff for their very cordial relationship.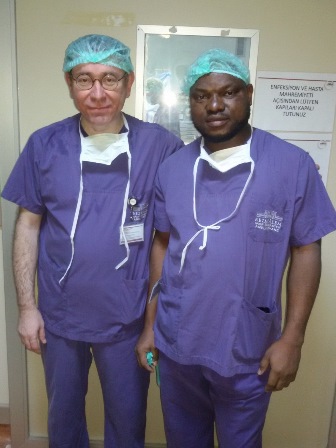 With Prof Ibrahim Tuncay in the OR
During the course of the programme, apart from the involvement in clinical activities, I also took part in two major orthopaedic meetings. The first was a 2-day fully packed programme on knee surgeries (high tibial osteotomy, unicondylar knee replacement, and total knee arthroplasty) and shoulder arthroplasty (reverse shoulder arthroplasty). It included live surgery sessions and practical hands-on workshop. I was also registered for the 13th Turkish Sports Traumatology, Arthroscopy and Knee Surgery Congress which was held on 22-26 November 2016. It featured several top-rated presentations from orthopaedic experts across the globe. It was indeed a highly educational congress that I benefitted very much from.
This fellowship also offered me the opportunity to work with Dr Kucukdurmaz in an area of special interest to him which is orthopaedic infections, particularly Periprosthetic Joint Infections (PJI). We were able to produce the draft of an article which hopefully will be available for publication. I also had insights into other areas of research interest. This has opened a strong channel of continuous collaboration.
On the social front, Istanbul is a great city despite its population of over 14 million. I enjoyed the well organised transport system and visited interesting places such as the Blue Mosque, Hagia Sophia, Topkapi Palace, Galata Tower, among others. They are all wonderful sites to behold. I equally enjoyed the regular lunch provided by the hospital.
I wish to express my sincere appreciation to SICOT and Bezmialem Vakif University for this fellowship. It has indeed opened a new chapter in my professional life. I am also indebted to all staff members of the orthopaedics department, starting with the HOD, Prof Nurzat Elmali, Prof Ibrahim Tuncay, Dr Kerem Bilsel, Dr Fatih Kucukdurmaz, and a host of others.