​

In Memoriam
Einhard H.W. Erken
1937-2016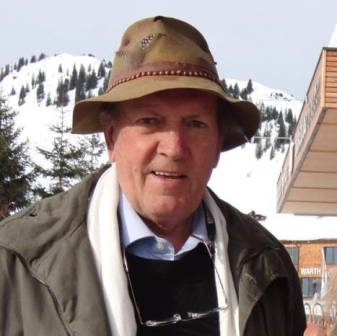 Emeritus Professor Einhard H.W. Erken, a doyen of orthopaedic surgery, teacher, musician and athlete passed away on 19 September 2016.
Einhard Erken was born in Austria. He grew up in northern Germany. He studied for his undergraduate medical degree at Ludwig Maximilian University of Munich. During this time, he married Dagmar (Dagi), also a medical doctor. He did his internship in Germany. The family then moved to South Africa and he worked at Baragwanath Hospital in the Department of Orthopaedic Surgery. They then moved to Bulawayo in Rhodesia where he worked at the Mplia Hospital. He returned to South Africa, joining the Department of Orthopaedic Surgery at the University of the Witwatersrand, where he specialised in Orthopaedic Surgery under Prof Louis Solomon.
Einhard then furthered his professional development by doing a Fellowship in Paediatric Orthopaedic Surgery at the Royal Children's Hospital in Melbourne, Australia, with Peter Williams and Malcolm Menelaus. On his return to South Africa he entered private practice but returned to full-time academic practice within a couple of years. He built up the Department of Orthopaedic Surgery and was Head of the Department from 1988 to 2000. During his tenure he was renowned as a teacher and researcher. His Wednesday morning ward rounds were not to be missed. His Saturday academic meetings filled the Marie Curie Lecture Theatre, and provided a forum for interaction between the public and the private sector. His attention to detail and his enquiring mind stimulated a whole generation of orthopaedic surgeons to conduct research and present their findings in a host of different forums. After his retirement Professor Erken was invited back as Emeritus Professor of Orthopaedic Surgery to further postgraduate orthopaedic education and was posted at Chris Hani Baragwanath Academic Hospital.
He maintained a life-long passion for paediatric orthopaedic surgery. During his tenure as Head of Department he was also Principle Specialist in charge of the paediatric orthopaedic service. He was instrumental in developing this service across all the academic hospitals. He was also intimately involved in providing medical care for the children at the Hope Home. Here he followed in the footsteps of Carl Moller and Jimmy Craig, both leaders in the field of paediatric orthopaedic surgery. All visitors to the Department were taken there to experience the institution that the Hope Home is and was, but also to enjoy the view over Johannesburg, especially when the Jacarandas were flowering. He particularly enjoyed hearing the lion roars from the nearby Johannesburg Zoo when he was showing guests around. He was a founder of the South African Paediatric Orthopaedic Society (SAPOS) in 1987, and was President of this Society until 2001.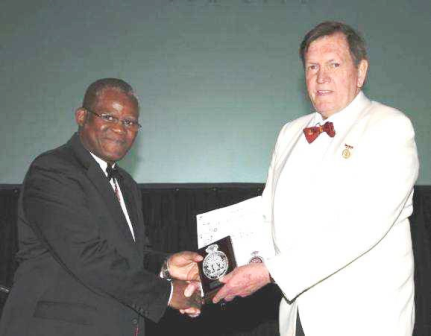 Emeritus Professor Einhard H.W. Erken being presented with the Medal of Education of the South African Orthopaedic Association (SAOA)
He was President of the College of Orthopaedic Surgeons in the College of Medicine of South Africa from 1992 to 2002. He fought to unify the examination for MMed(Orth) and FCSOrth (SA) which he achieved. He was also instrumental in introducing the Higher Diploma of Orthopaedic Surgery. He also introduced the National Registrar In-Training Examinations to help prepare candidates. He was awarded the Medal for Education by the South African Orthopaedic Association (SAOA) in September 2011.
Professor Erken played a vital role in various professional bodies. He was the Chairman of the Southern Transvaal and later the Southern Gauteng Branch of the SAOA for many years. He was a member of the SAOA Executive Committee from 1992 to 2001. He was the Chairman of innumerable organising committees for the Annual Congress of the SAOA as well as other meetings. He was also Co-founder and Vice-President of the South African German Orthopaedic Foundation (SAGOF) which was established in 2001. Internationally he was held in high esteem and was the SICOT National Representative of South Africa for many years. To this end he enthusiastically promoted SICOT in South Africa and throughout the continent.
He was also Editor-in-Chief of the South African Journal of Bone & Joint Surgery from 1991 to 2002, which was accredited by the Department of National Education (DNE) in 1992, and was also the Chairman of the Advisory Editorial Board of the Journal of Bone & Joint Surgery, African Edition from 2006.
His outside interests were diverse and intense. He and Dagi travelled throughout the country and the sub-region as well as internationally. He enjoyed the natural history as well as the history and the pre-history of man. On his travels he invariably had a whole reference library with him, on such diverse subjects as the stars, the birds and bushman paintings. His determination was obvious when it came to his running. He went on to complete numerous marathons as well as many Two Oceans Ultra-Marathons in the Cape. He had a deep love for classical music, and was a regular at the many concerts in the Linder Auditorium. He also made an annual pilgrimage to the musical events in Skukuza. He composed a piece specially for Baroque in the Bush called "Baroque Celebration" which was performed last year in Skukuza.
He is survived by his wife Dagmar, children Benno, Astrid, Felix and Kristen, as well as seven grandchildren and a great-grandchild.
Written by Dick van der Jagt