Fellowship News
Report on my SICOT Fellowship in Würzburg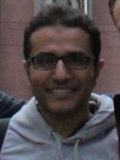 Amr Eisa
SICOT Active Member - Assiut, Egypt
It gives me great pleasure to report on my experience at König-Laudwig-Haus in Würzburg, Germany. I would confidently say that this opportunity has positively influenced me and left a wonderful impression that will stay in my memory forever.
It is indeed a hard job to put together my impression in a short report. So, I would rather go through different headings to be able to cover various points and reflect on all sides of my experience.
Getting inside the powerful German system
In König-Ludwig-Haus, you will be immediately considered a valuable member of the big family. People here are accustomed to receiving guests and integrate them smoothly in the daily work routine. From my humble point of view, the German system is a strict, well organised and structured one, which appears to be difficult to grasp in the first instance. Here comes the role of the wonderful personnel, who start teaching you every piece of information you need to be integrated into the work environment. I've learned from the Germans how to be attentive to detail and to stick to the system. I'm really grateful to the help of the nursing staff and young doctors in this hospital. They strive to guide you through your first steps and even teach you the German names of the instruments!
Broadening my scientific knowledge
Prof Maximilian Rudert, the Chief of the Hospital, made it clear to me, and to everyone at the morning meeting during my first minutes at the hospital, when he said "ask everyone about everything; everyone knows English!" I have enhanced my basic knowledge on various types of arthroplasty. With such a high volume of hip, knee and shoulder replacement surgeries, both primary and difficult revision cases, one can fill the gaps in one's knowledge and broaden one's view. I would especially mention a totally new experience for me in the anterior approach of the primary hip arthroplasty, which is a landmark for König-Ludwig-Haus Hospital.
A considerable number of foot and ankle cases and arthroscopies added also to my orthopaedic knowledge. I'm grateful to the young surgeons for the help provided in the outpatient clinic and for clarifying how to deal with the pre- and post-operative issues.
Prof Rudert is keen to keep the young surgeons educated and broad-minded. I therefore attended a cadaveric course for approaches to the hand and forearm for the first time. I'm also thankful for the opportunity to attend the scientific meeting and SICOT Trainees' Meeting held during the 100-year celebration of the hospital's foundation.
All in all, I can say that I had a well concentrated and up-to-date dose of orthopaedic practice, which will improve my future way of thinking and patient care.
Chance to visit two hand surgery centres
I'm deeply thankful for the support given to me by Prof Rudert to join two outstanding centres for hand surgery. The first was the Hand and Plastic surgery department with Prof Meffert and the outstanding Jakubietz twins. No words can express my gratitude to the Jakubietz brothers, Prof Rafael and Dr Michael, for all the knowledge and skills they provided me with. I consider myself lucky to add such talented surgeons to my network, and I plan to keep a lifelong relationship with such wonderful twins!
The second invaluable opportunity was to join the Hand Surgery Campus in Bad Neustadt. This renowned centre performs over 6,000 operations per year and manages over 15,000 patients in its clinic. I was impressed with the hard-working chief surgeons, Prof Prommersberger and Prof van Schoonhoven. I had the honour of seeing how they decide for patients, how they operate, and how they actively run such a huge institute, not to mention the variety of cases I was exposed to in both the clinic and the operating theatres.
Enjoying learning the German Language
I would quote the clever saying of Nelson Mandela: "If you talk to a man in a language he understands, that goes to his head. If you talk to him in his language, that goes to his heart".
These brilliant words are true. And when it comes to the German people, it is a golden piece of advice for visitors of Germany to know even basic phrases. Germans are proud of their language and are impressed when you try to speak it. Moreover, they help you in this hard task! I hadn't realised that a 6-month stay would allow me to jump from A1 level to B2/C1 level!
The German scientific and social literature is full of wonders and treasures that lose their original taste after translation! I would also emphasise the dialogue with German kids, which enables you to realise how these amazing people raise their children to be extremely polite, organised and clever!
Developing my personality
Exposure to such a variety of people and to three different working groups allowed me to strengthen my extrovert attitude and trained me to be tolerant, while working with a totally new system and language. This experience was a real challenge that tested my ability to integrate myself into a totally new atmosphere and culture and to live in harmony with all the surrounding variables. This fills me with a lot of passion and trust in having a rich and successful career.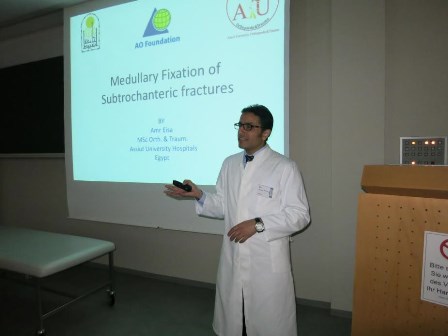 My presentation in the scientific meeting of the hospital held for SICOT fellows
Long-lasting relations and a wider network
There is a German quote that says: "Das größte Geschenk des Lebens ist Freundschaft, und ich habe es erhalten" which means: "The greatest gift of life is friendship, and I have received it".
I'm really glad to have such a large number of friends, both in my professional and private lives, who will be there, ready to provide advice and support whenever needed. My close friend, Martin Lüdemann, the consultant of arthroplasty, is a good example of a sincere friend. He is a classic model for what a moral and successful surgeon should be. The treasure of getting to know people is really priceless!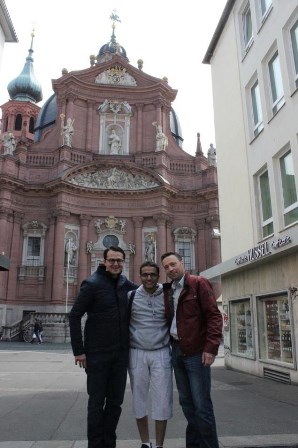 My closest friends: on my left is Dr Lüdemann, and to the right is Dr Jörg during the city tour organised for us to see the cultural and historical places in Würzburg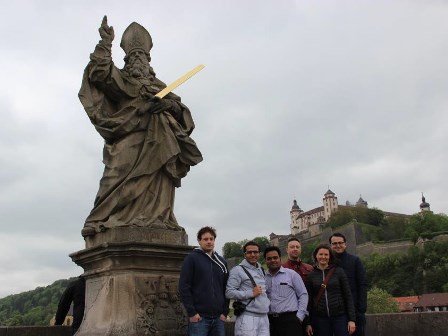 The characteristic picture of Würzburg with Saint Kilian carrying the golden sword and the Festung Marienberg (the castle to the right at the top of the photo) - we are standing on the Old Bridge of the Main River (die alte Mainbrücke) after finishing the city tour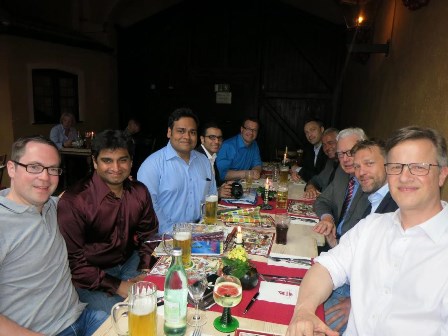 During the dinner for SICOT fellows:
on the left: Dr Walcher, Dr Deepak Sree, Dr Kumar Kaushik Dash, myself, and Prof Hoberg
and on the right: Prof Rudert with the white shirt, Dr Stefan, Prof Eulert, Prof Raap, Dr Lüdemann
Final remarks
It gives me the utmost pleasure to appreciate the support provided by SICOT to make this progress in my life a true story. The support and encouragement from Prof Rudert is invaluable. Despite being preceded by ten fellows, I felt like I was the first and only guest! I would like to extend my gratitude to all those working in König-Ludwig-Haus for their hospitality and generosity.
Last but not least, I'm deeply indebted to the original founders of such an opportunity: Prof Jochen Eulert, Prof Hatem Said, and Prof Galal Said.
I hope I have met their expectations and been a good representative to my country and my beloved Department of Orthopaedic and Trauma Surgery at the Assiut University Hospital.
I'm full of hope that I can propagate what I've learned to my colleagues, and to be the best candidate for the best mentors.