In Memoriam
Prof Sir Dennis Paterson - Past President of SICOT

1930-2015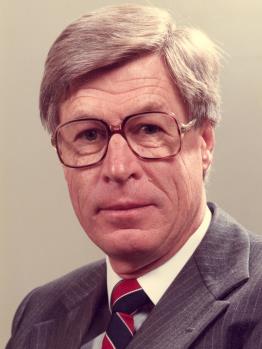 Sir Dennis Paterson was born in Adelaide on 14 October 1930. He attended St. Peter's College, won a Commonwealth Scholarship, studied medicine at the University of Adelaide and graduated MBBS in 1952.
Sir Paterson's training in medicine was at the Royal Adelaide Hospital (RAH) and the Adelaide Children's Hospital (ACH). He worked extensively in the Orthopaedic Unit with children suffering from polio and orthopaedic deformities. His training continued in 1956 in the United Kingdom at the Robert Jones and Agnes Hunt Orthopaedic Hospitals (RJAH) at Oswestry, Shropshire, obtaining the Fellowship of the Royal College of Surgeons of England in 1958.
In Adelaide he was Senior Registrar at the RAH in 1960 and later worked at the Memorial, St. Andrews, and Calvary Hospitals. He was awarded the ABC Travelling Professorship in 1965.
His appointments were Director and Chief of Orthopaedic Surgery at ACH from 1966 to 1997 and Senior Consultant in Orthopaedic Surgery at the RAH, Modbury Hospital, and Queen Victoria Maternity Hospital. He was responsible for the introduction of surgery to correct deformities in children with cerebral palsy and served on the Board of the Crippled Children's Association, becoming President in 1970.
Sir Paterson was instrumental in organising or instigating the Regency Park Centre for Physically Handicapped Children opened in February 1976.
In June 1976 Sir Paterson was knighted for his services to medicine and children with disabilities.
His other achievements were numerous:
Australian National Delegate to the International Society of Orthopaedic Surgery and Traumatology (SICOT) and President from 1987 to 1990.

He served on the National Road Trauma Advisory council for 6 years. A personal approach to the then Prime Minister regarding helmets for bike riders was a prime mover in the establishment of a National Road Trauma Advisory Council.

He was a member of the Australian Orthopaedic Association and the Royal Australian College of Surgeons.

A member of the generation who developed the Australian Orthopaedic Association's Orthopaedic Training Programme.

Examiner in Orthopaedic Surgery for the Royal Australasian College of Surgeons.

Board member of the ACH and the Children's Medical Research Foundation of South Australia.

Awarded the L.O. Betts Medal of the Australian Orthopaedic Association in 1980.

Sir Paterson was awarded the degree of Doctor of Medicine at the University of Adelaide in 1984.

Clinical Professor in Orthopaedic Surgery at the University of Adelaide in 1989.

President of the Australian Paediatric Orthopaedic Society in 1996.
On a lesser note, in 1987 Sir Paterson bought a boutique vineyard in the McLaren Vale area, which supplied the red wine for the delegate's reception at the SICOT Triennial World Congress in Sydney, Australia, in 1999.
Mary Hardy, his wife, passed away in 2004 and he married Kathy Line in 2006.
Sir Paterson died in December 2015. He is survived by Kathy and children Tom, Cecily, Belinda, Lucy and ten grandchildren.
Special thanks to Neal L. Thomson for writing this obituary