Fellowship News
'SICOT meets SICOT' Fellowship: My experience after the fellowship in Erlangen, Germany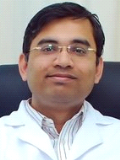 Pankaj Joshi
SICOT Associate Member – Aurangabad, India
I was very grateful to be selected for the 'SICOT meets SICOT' Fellowship at Alexander Friedrich University Hospital in Erlangen, Germany, in 2013.
I would like to share my thoughts and experiences with the SICOT e-Newsletter readers. Three years after the fellowship I feel that my skills, care and management of cases in trauma, orthopaedic and spine surgery have improved tremendously.
It was a refreshing experience undergoing this fellowship. It was like being back in residency training. When you are in practice, you may be too busy and unable to keep up-to-date with the latest orthopaedic knowledge. During this fellowship, I learned new techniques and skills in the management of hip, knee replacement and complex fracture cases.
During my fellowship, the exposure to various surgical cases was more than adequate. I was involved in a variety of cases from hip, knee and shoulder replacement to arthroscopic shoulder reconstructive surgery. I was also exposed to the navigation technique in scoliosis spine surgery.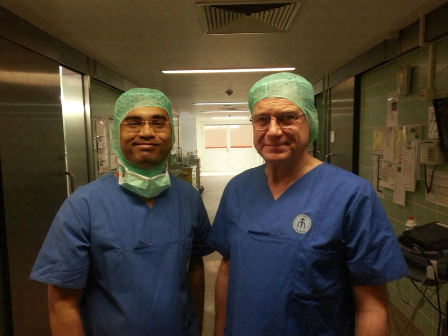 Myself and Prof Raimund Forst in the operation theatre
Not only did I learn surgical techniques during the fellowship, but I was also involved in educational activities such as an orthopaedic forum where we discussed surgical cases, surgical planning with pros and cons of each surgical approaches. The forum was attended by residents, orthopaedic surgeons as well as the senior orthopaedic surgeons. At times, failed cases with complications were discussed openly and everyone was welcome to give opinions. At times, we also discussed recent updates in the management of complex surgical cases.
During the orthopaedic forum, I was able to present cases and this improved my communication skills and piqued my interest in pursuing research of my own.
As I ponder and look back at my experience during the fellowship, I think, as orthopaedic surgeons, at some stage through our careers, we will encounter complications and failures. We may get anxious and apprehensive about sharing these cases with colleagues or seniors. In my 8 years of practice in orthopaedic and spine surgery, I have had my share of successes and failures. After undergoing training at international level, my confidence grew and I believe that we should share the complications and failures so we can learn from our mistakes.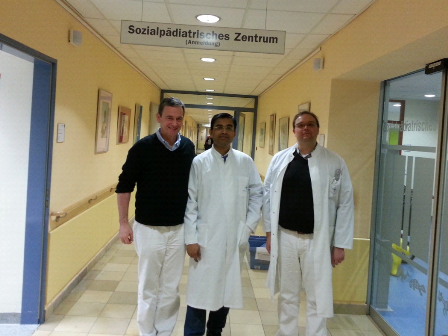 Dr Fujak Albert, Myself, and Dr Herde at the Paediatric Scoliosis Clinic
To my host, Prof R. Forst, Prof J. Forst and Dr Kress, it was a great opportunity for me and I am grateful for the teaching, particularly in techniques of muscle release in case of neuromuscular disorder and postoperative care.
Finally, I would like to thank the SICOT Fellowship Committee, Prof Jochen Eulert, Prof Raimund Forst and Linda Ridefjord from the SICOT Head Office for planning an excellent fellowship schedule.