SICOT News
Commissioning of Lagos SICOT Education Centre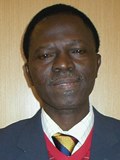 Wahab Yinusa
SICOT National Delegate of Nigeria – Lagos, Nigeria
The Commissioning of the Lagos SICOT Education Centre took place on the second day of a three-day Arthroplasty Workshop on the hip and knee. The workshop was well attended with about fifty orthopaedic surgeons and residents from different parts of Nigeria in attendance. Prof Maher Halawa, who represented the SICOT President, participated and made useful contributions at the Workshop.
The commissioning ceremony of the centre which took place on 6 August 2015 in the Clinical Conference Hall of the National Orthopaedic Hospital was witnessed by about two hundred guests. Keynote messages were delivered by the President of SICOT, ably represented by Prof Maher Halawa; the Permanent Secretary, Federal Ministry of Health; the Medical Director of the Hospital and the SICOT National Delegate of Nigeria. Other highlights of the ceremony included the unveiling of the plaque, the tour of the facilities in the centre and the signing of the Memorandum of Understanding.
The event was widely publicised on the national television news and in the national newspapers.
It is my pleasure to thank the Executive Committee of SICOT, Prof Maher Halawa who ably represented the SICOT President at the event, the Chairman of the SICOT Education Centres Committee and all the SICOT members who attended the ceremony.
Commissioning Ceremony
Unveiling the plaque

Assiut Fellows