Fellowship News
Report of the SICOT Danish Travelling Fellowship at Århus University Hospital, Denmark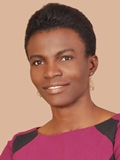 Peace Amaraegbulam
SICOT Associate Member – Enugu, Nigeria
I applied for the SICOT Danish Travelling Fellowship at the Århus University Hospital with high hopes. It was a dream come true when I received the letter from SICOT that I had been accepted for the fellowship. It was a while before I would get a date confirmed for my visit, but once I received that I started preparing for the trip.
My stay was billed for 7 April until 30 June 2015, but I lost a couple of weeks due to accommodation logistics. However, finally, I was in Århus after a ten and a half hour flight, with one stop at Amsterdam, and an almost 4-hour train ride from Copenhagen. On my arrival, the room meant for my stay was ready at the Vennelyst Kollegiet, about a 10-minute walk from the hospital.
The very next day, I reported at the 8 a.m. departmental meeting where I was introduced to the doctors in attendance. I joined Bente Schumacher at the Outpatient Clinic. Patient consultation was largely done in Danish, but Bente was kind enough to explain some things in English.
The day after, I was allowed to scrub in for surgeries, mostly as the first assistant. I assisted all the surgeons at the Spine Unit of the hospital at different times, and it was really interesting to see different approaches to solving a variety of spine pathologies. They definitely have experts there who made some of the procedures appear much easier than they really were.
Pleasantly, I discovered that my anxiety at what to expect at the centre, considering my very hazy foundation in spine surgery up to this time, was rather unfounded. Everyone, including the surgeons and the nurses, was patient enough to explain away any confusion that I might have had, thoroughly answering all my queries.
I joined in for the early morning reviews of trauma cases, some outpatient consultations, inpatient reviews, Wednesday morning spine meetings, neuroradiology meetings where the images were studied and management plans for the cases discussed; and also the Friday research meetings where my ideas about research were refined and broadened.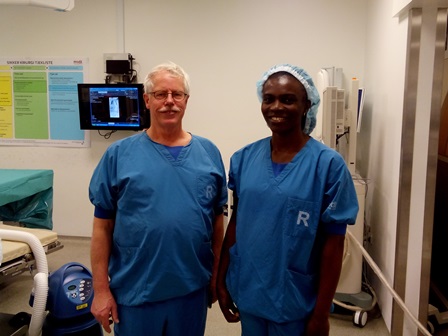 With Prof Cody Bünger
I participated actively in a wide range of cases, ranging from the simple decompressions with instrumented or uninstrumented fusion for degenerative spine conditions, trauma surgeries, infections, tumours, deformity corrections and so on. There was always something to be done at all times, including some of the weekends. As Prof Cody Bünger once said: "It is not a resting house", and I definitely agreed with him.
There were sessions with Kestutis Valancius, the youngest member of the team, and it was with him that I did the surgeries with the O-arm for intraoperative computer navigation. While working with him was challenging, I was also excited that the next time I attend a conference and participate in a session where they argue on the merits and limitations of Computer Navigation, I would use less imagination to appreciate the discussion. With Kristian Høy, I participated in many cervical spine procedures, including the occipito-cervico-thoracic fixation. That was a very exciting surgery for me.
Ebbe Stender Hansen was very helpful with advice on how to get along and many teachings on practical ways to overcome difficulties in setting up a Spine Unit. In addition, he also let me perform some of the steps during surgeries in order to make my fingers stronger. I also had some sessions with Haisheng Li and Peter Helmig.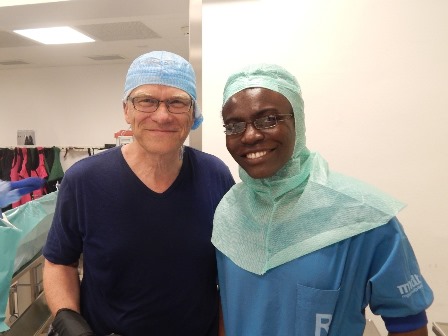 With Dr Ebbe Stender Hansen
It was not all work and no play, as Ebbe made sure I got a good dose of the Danish hygge. He integrated me into his family and made sure I enjoyed as much of Denmark as possible, attending orchestras and jazz concerts, visiting museums, going on bicycle tours and taking boat trips.
We had time to visit the historic Tivoli Gardens at Copenhagen, and see the 2015 edition of Sculptures by the Sea while walking around the beach. I also dined with Kristian Høy and his family at their home.
In every way, my stay at the Århus University Hospital was enriching. I acquired enough skills to effectively operate a Spine Unit, which my centre is willing to start. This should improve patient care in my area. I also gained education in other aspects of life, with broadened views and a deeper inspiration to excel.
I thank all who contributed to the success of this fellowship: SICOT for providing the opportunity and all the members of the Spine Unit at the Århus University Hospital for making it worthwhile. I would gladly recommend this fellowship to all young surgeons, especially those who have an interest in spine surgery and deformity corrections.